Opening Thoughts – Spellbinding Episode:
Ohkay so, this episode of Alif was spellbinding. Alif is the kind of drama that has to be approached a certain way. It is not your typical commercial drama therefore you just can not watch it without taking away so much from its episodes if you have not paid attention to the point of being invested in it. Alif is different from the kind of content Pakistani drama viewers are used to watching, therefore it has to be approached a certain way, with a different mindset and undivided attention. This is how the viewers will be able to enjoy this experience. The best part of watching Alif for me is that they have put so much detail in every single scene which I enjoy exploring, this way I am able to understand the characters better & know what they are feeling. This episode, like all the previous episodes of Alif was perfect!
Momina & Her Emotions:
Momina's parents found out about Faisal. This was something that Momina should have told them herself considering she is shown to be comfortable around her parents. She made such a big decision but to deprive them of the details was unlike Momina. While watching her performance I couldn't help but notice how they have established the fact so well that because Momina has been through so much, because she has lost her brother, all these emotions that she pours into her performances stem from her losses & the pains that she has endured. I am not sure if this is how it was meant to be but when it comes to Momina's performances, I always think about the fact that losing Jahangir has added so much depth in her acting skills. Though this was not what Momina wanted, but this is basically a way for Momina to channel out her emotions.
Qalb e Momin came to see Abdul Alla & then they took us to the backstory of Taha & Husn e Jahan once again. I really must say this has to be the best approach of the director where he is giving us all the information of what actually transpired in the past to understand the future happenings better. I am glad we are getting to see Husn e Jahan & Taha's story at this stage of the drama. Qalb e Momin had no idea that he will end up with Abdul Alla's confessions. Finally, Abdul Alla admitted that he was the one who did not forgive when the time was right. He was the one who was being rigid to the point that he ended up losing his son!
Abdul Alla's Love For Taha:
Taha met Husn e Jahan & while Abdul Alla tried to distract him, he could not take his eyes off her – another brilliant detail that I enjoyed noticing. It's little moments like these that set Alif apart & take it to another level of drama-watching experience. They briefly showed what Taha meant to Abdul Alla & also that Taha was ambitious. Yes, Taha inherited the artistry from his father, he was a calligrapher too, a whirling dervish as well but he had his ambitions & he was passionate. Abdul Alla was happy with his minimalist outlook on life but Taha wanted to explore, he wanted to know & to be known – this is where he was different from Abdul Alla.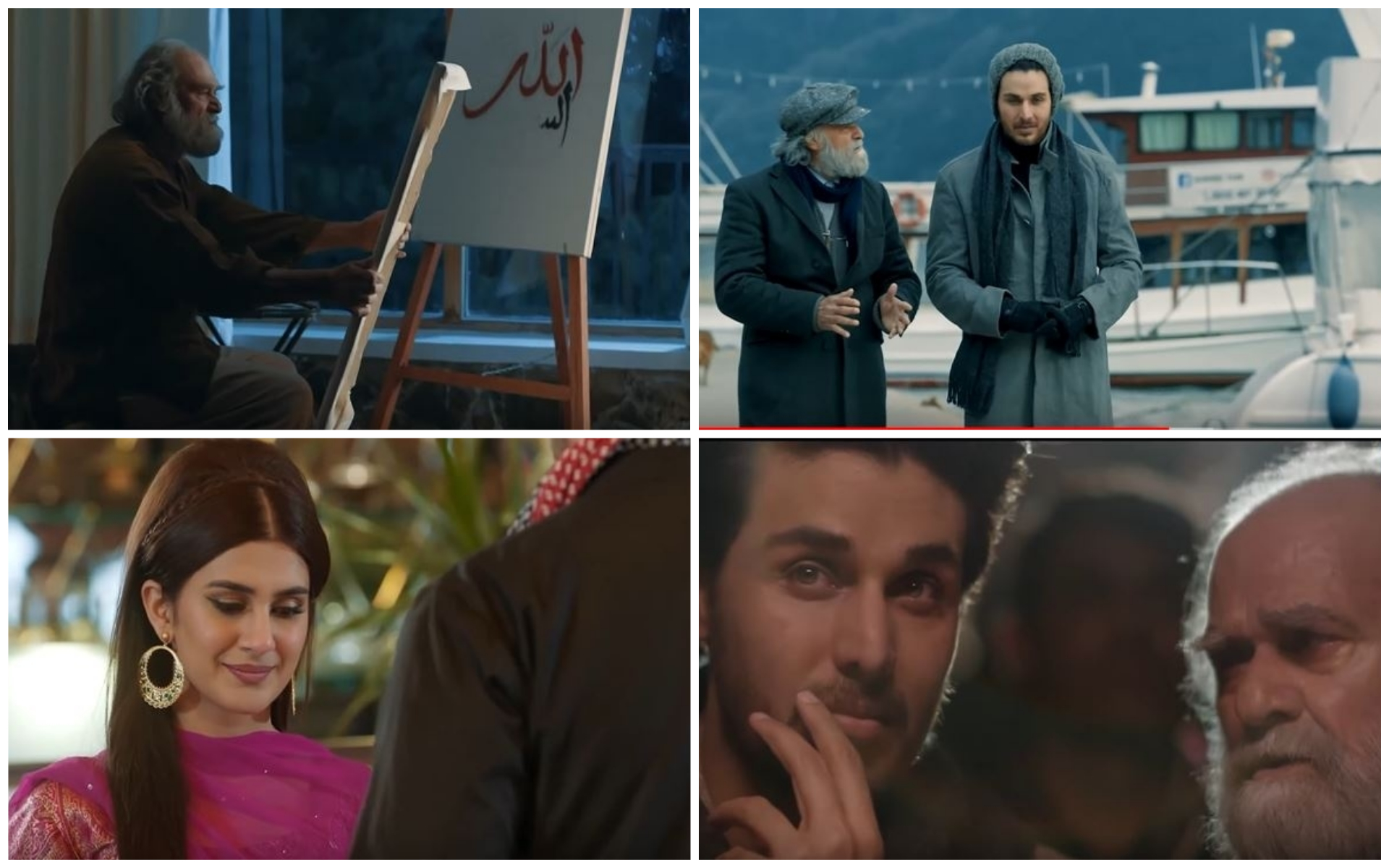 The reason why Abdul Alla is so lenient towards Qalb e Momin, the reason why he does not judge him or is rigid anymore is because he has lost his son due of his behavior & he does not want to commit the same mistake. Taha was all that Abdul Alla had & because he loved him so much, he wanted to control him. Abdul Alla obviously wanted the best for his son but it was beautifully shown how when you love something so dearly, you can not fathom the idea of losing a grip on it. Abdul Alla's love for Taha was exactly like that, to the point of it being suffocating for him. I loved drawing a comparison between Abdul Alla of before and Abdul Alla that we get to see now. He is still the same when it comes to calling a spade a spade but he is far more gentle & considerate towards Qalb e Momin. It is interesting how Abdul Alla, who thought he knew it all, ended up learning so much from Husn e Jahan. He judged her based on her profession & the outer beauty but after it was too late, he learned that he was wrong. This is the reason why Abdul Alla calls her 'naik rooh'. Abdul Alla must've never thought that the woman he was so quick to judge would end up teaching him a lifelong lesson of not being judgmental & this is the reason why he is so easy on Qalb e Momin. This is exactly why Abdul Alla believes in giving Qalb e Momin a chance because he knows that he will have his awakening when it is destined to be.
Best Scene of The Episode:
The letter reading scene was my favorite from the entire episode. The camerawork, the lighting, background sound & Saleem Mairaj's expressions made that entire scene a treat to watch. The way Sultan smiled when he read Husn e Jahan talking about having faith in Taha more than him & the way he nodded showed that he so yearned for a chance. Sultan knows it in his heart that if Husn e Jahan had given him the chance to be with her, he would've never let her down the way Taha did. Sultan's feelings for Husn e Jahan are of some other kind. Simply beautiful!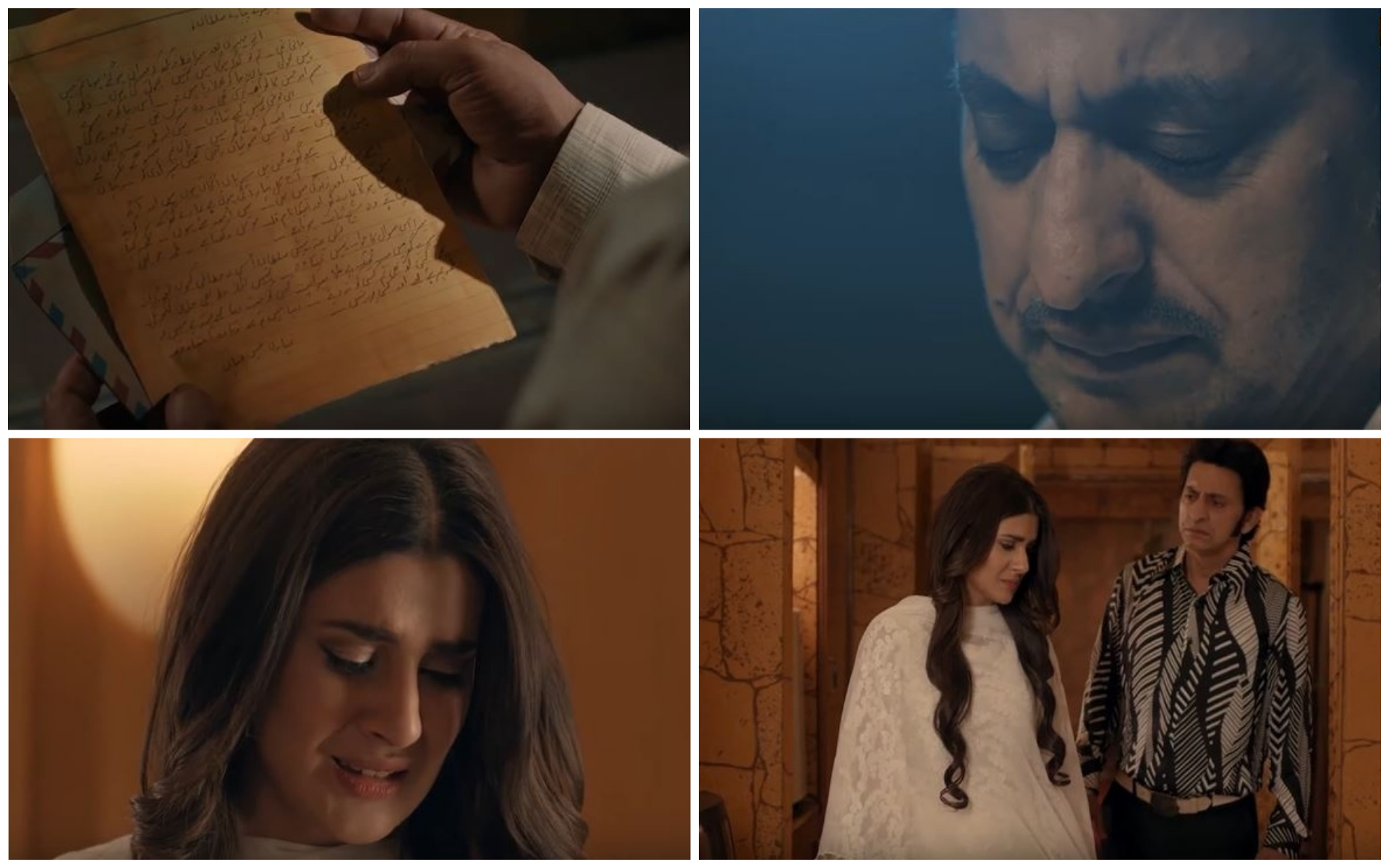 Closing Thoughts – Absolutely Beautiful:
This episode of Alif was absolutely beautiful. There is so much to learn about the characters & I am glad that even after so many episodes, we get to learn more & understand them better. For me this entire episode went by quickly because I was too busy noticing the details. Alif is a masterpiece & it has been treated that way. Saleem Mairaj, Ahsan Khan, Kubra Khan & Manzar Sehbai made this episode a treat to watch. Manzar Sehbai's grip & command on the character of Abdul Alla is commendable. I am enjoying the pace of the drama too. I like how in such brief interactions they carefully add such dialogues which tell us about the characters, their personalities, their thought-processes & their thinking. Without taking much time, they give us an entire picture. I will cut it short & just say that this entire team deserves a standing ovation for giving Alif such a beautiful treatment. Please share your thoughts about this spellbinding episode of Alif.
Keep Supporting,
Cheers,
Zahra Mirza.