How is it possible that every single episode of Alif leaves its viewers spellbound & emotional? I think Pakistani drama buffs should be thankful to Umera Ahmed, Haseeb Hassan, the producers & then all the actors who have teamed up to bring Alif to our TV screens because they have not only created magic but have compelled the viewers to think, analyze & ask questions. This was yet another brilliant episode of Alif, it was emotional, it showed the contrast between lives where someone is touching the skies & someone else is engulfed in loneliness & misery. Alif brings human emotions to life on screen in such an articulate manner that it leaves you speechless. Absolutely brilliant.
Momina's Success
Momina's personal life has a huge baggage to it, the loss of her brother & the fact that her parents still have not moved on. I find this portrayal very realistic, they were still not coping well with Jahangir's loss that they actually had to change their home & leave the one which held all the memories they made with Jahangir. This change in the long run is definitely going to be beneficial for them but at this moment, their hesitancy in accepting the change & the new house denoted the fact that they were grevious of the fact that in this new chapter of their lives, they won't have Jahangir around. The fact that Sultan immediately found a spot for all of Jahangir's pictures & accolades was emotional, it showed that he still wanted to dedicate a place to Jahangir no matter where he went, because even if Jahangir is no more, he is very much going to be a part of their lives as long as they live. Momina tries really hard to help her parents overcome Jahangir's death but she often just lets them be because she can't muster up the courage to tell them to move on. This emotion has been brilliantly portrayed by Sajal Aly in every single episode, she always shows how Momina is also grievous but is putting up a brave face only for her parents, but then gets disappointed when she sees that no matter what she does, she remains unsuccessful in her attempts. I feel for her a lot.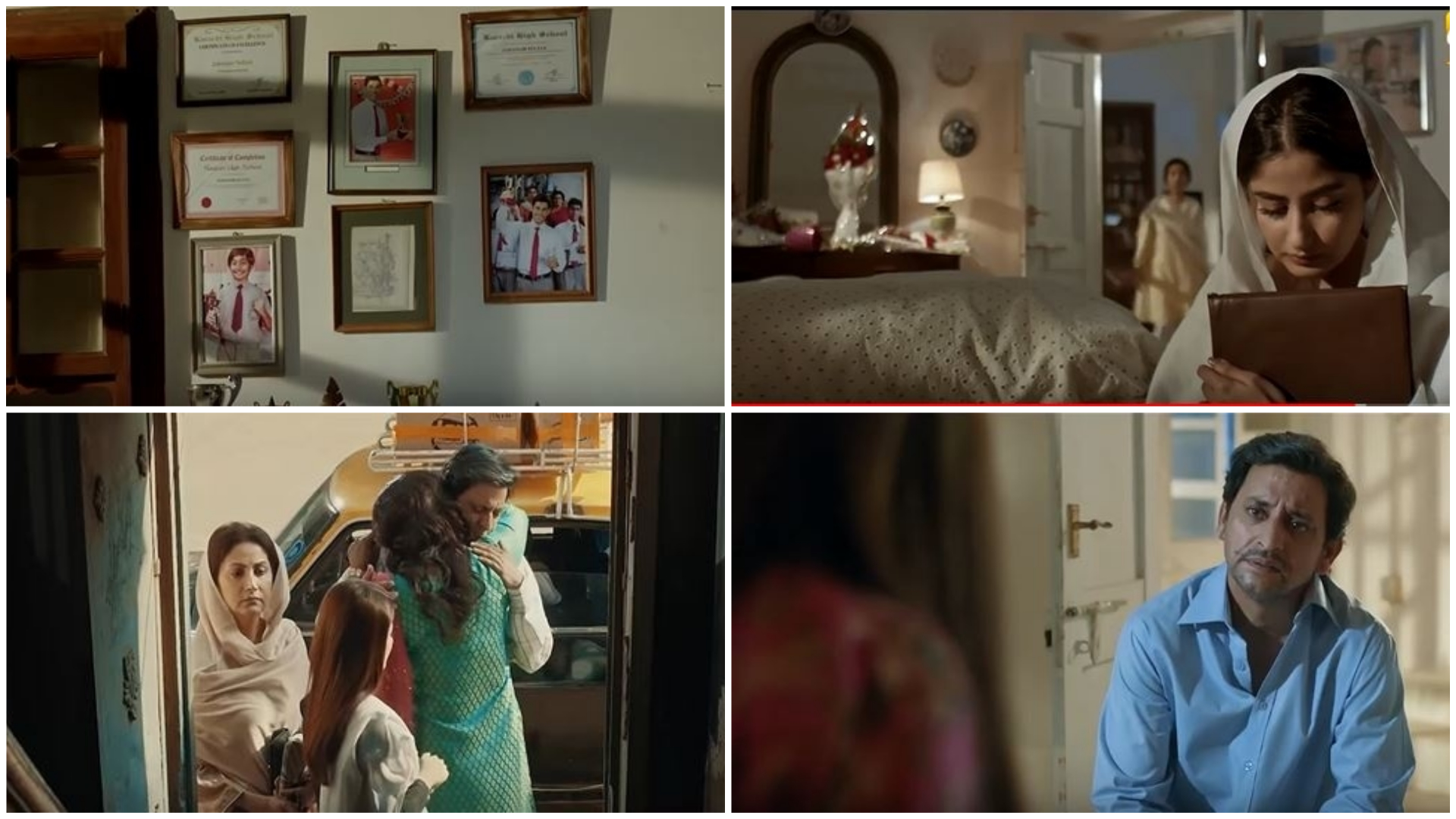 Momina unlocked another achievement where she scored herself an Oscar award. I love how they always show Momina being in touch with her spirituality, always finding solace in the recitation of Holy Quran, away from the noise of her success & the world around. Momina knows the price she has paid & how much she has lost to be where she is. I think this is also a commendable effort by the writer to show the actors in a more humane & relatable spot. Quite often people judge the actors & assume they are only doing everything wrong or are only running behind the worldly success but Momina's character shows them in a very different light. There's Momina, who is stepping on one level of success after another but no one sees her for who she is. No one knows her, or the fact that she is a calligrapher herself who loves to maintain her relationship with Allah & His Book. Just a very different way of perspective alteration & Umera Ahmed deserves all the credit for that.
Qalb e Momin's Struggles:
It was definitely a much needed change in Qalb e Momin's scenario where they covered the struggles of his professional life at this stage. No one was ready to work with him. Abdul Alla's suggestion of financing his movie for him through his paintings was absolutely sweet. He wanted to support Qalb e Momin in everything that he did, this was something he confessed before too & he was standing by what he said. In this moment of loneliness, Abdul Alla's supportive words healed Qalb e Momin & gave him some encouragement that he was looking for. Qalb e Momin is slowly & steadily learning about the superficiality of the world that he is associated with, this is the reason why he is finding himself getting detached from it as the days are passing by.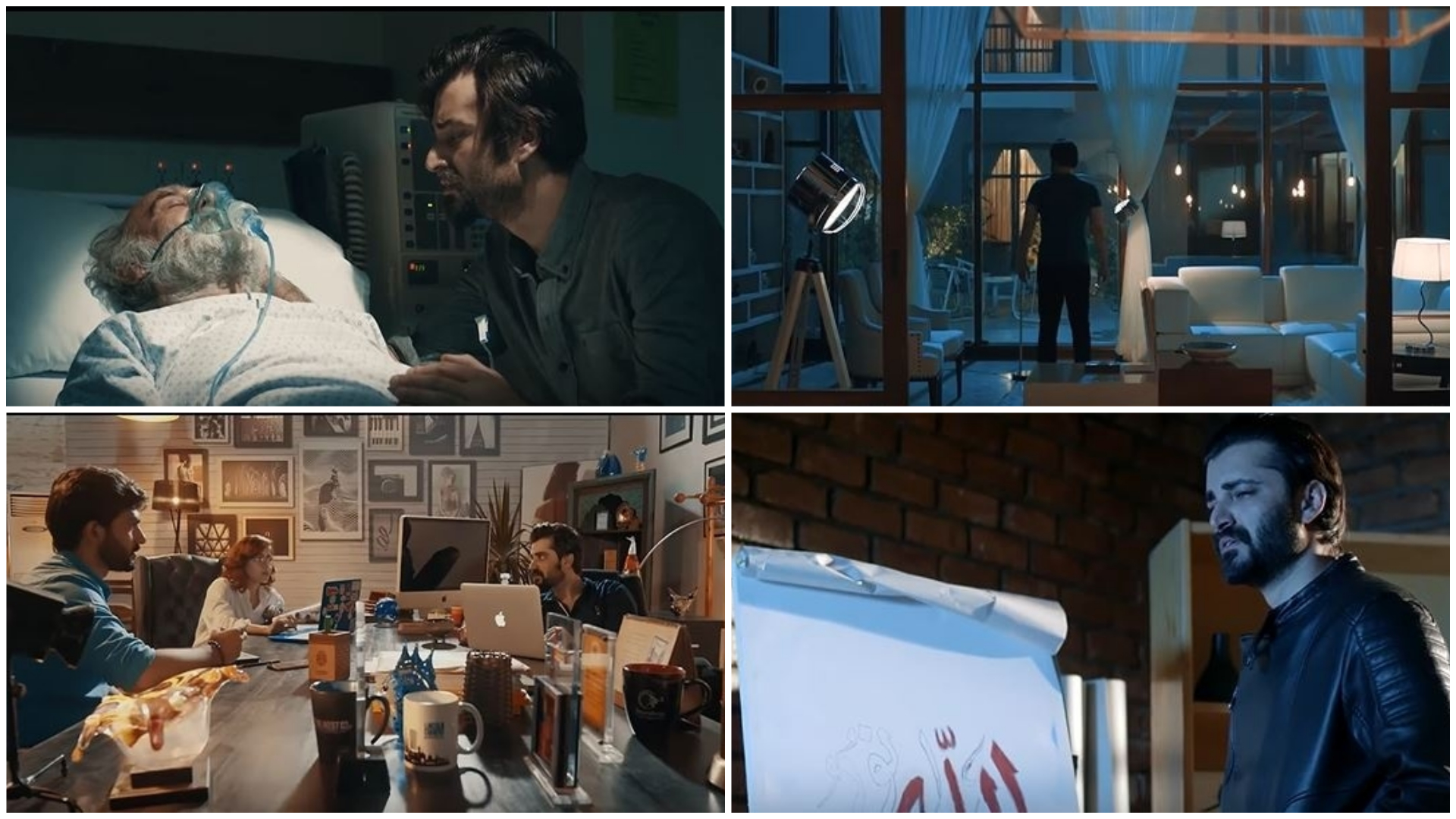 I don't know about others but I am definitely going to mourn the loss of Abdul Alla for weeks to come. Why did he die? All the scenes covering Qalb e Momin's misery after the departure of Abdul Alla were brilliantly shown & acted phenomenally by Hamza Ali Abbasi. Momin finally learned more about Abdul Alla but unfortunately it was too late. All this while I was wondering about all the things Momin would be wanting to ask his grandfather but sadly, he will never be able to have a conversation with him again. Once again, Qalb e Momin was full of regrets, he regretted not knowing about the success that his humble Dada Jaan achieved in his life, he regretted misbehaving with him, he regretted losing him & in the end, Qalb e Momin was once again lonely. He has lost his father, his mother & now his grandfather too. The famous Qalb e Momin is lonely, he is an orphan who has no one by his side. I feel for him too.
The Prayer:
Qalb e Momin has finally acknowledged the fact that he went astray. He lost his path & forgot about his Creator. Acknowledging the problem is the very first step of making amends & Qalb e Momin is finally ready for it. The dua scene was so powerful, it was spellbinding, impactful & just perfect. In most parts of this episode, Hamza Ali Abbasi did not have much dialogues, he just had to act & convery the emotions & feelings through his expressions & he was phenomenal in all of those scenes. The very last scene was the highlight of this episode & it left me overwhelmed. Sheer brilliance!
Sultan wants to get in touch with Qalb e Momin. I think he doesn't know that the famous director Momin is Qalb e Momin because everyone around him has only referred to him as Momin. Be it Daood, Tina, Shakoor, Neha or Shelly. He is known as Momin & in all of the scenes, either Momin has referred to himself with his full name or it was Abdul Alla who preferred calling him Qalb e Momin, therefore not many people know his real name. This is the reason why Momina was forced to think about the possibility that may be Qalb e Momin was the son of Husn e Jahan that Sultan was talking about. I am sure this is the reasoning behind Sultan not knowing who Momin is, otherwise he would've known himself, considering he has been involved in Husn e Jahan & everything related to her, all his life.
Alif Is Magic:
This episode was emotionally charged & absolutely beautiful. Alif has allowed viewers to not only experience a unique storyline but also come across such brilliant acting where every single actor is doing justice to their characters & elevating the level of this drama. Sajal Aly, Hamza Ali Abbasi, Saleem Mairaj, Lubna Aslam as well as all the supporting actors who are playing the characters of Jhumar, Daood and Tina have given their 100% to this drama. Every scene is skillfully brought together, be it the art direction, aesthetically pleasing locations and spaces, angles, camera work, lighting, background scores, everything is just brilliant and adds more charm to the drama watching experience. I am sure the prayer scene is going to stay with me for a long long time, it was a work of art & just took me to another world. Alif is magical. The preview is already making me look forward to the next episode, I can't wait for Momin to get in touch with Master Ibrahim & then Sultan to learn more about Abdul Alla as well as his mother, it sure is going to be an interesting journey. Please share your thoughts about this episode of Alif.
Keep Supporting,
Cheers,
Zahra Mirza.