Tonight's episode of Mere Pass Tum Ho had some new developments and there were a lot of scenes which were repetitive. Just like the past few episodes, this one too focused on bewafai and whether an unfaithful partner should be forgiven or not. Danish clearly thinks that Mehwish does not deserve forgiveness. Salman and Ayesha's dialogues were confusing since they clearly wanted Danish to take Mehwish back when it is just not possible. Shehwar and Maham's scene was intriguing. It seems like Rumi isn't the only one who doesn't understand the meaning of 'divorce'.
Rumi's Dialogues and Situations
I must say that watching a 6 year old kid talk about attempted suicide was more disturbing than all the matchmaking attempts by Rumi. Shees Sajjad Gul is absolutely adorable and his acting has been impressive but Rumi's role in this episode was extremely hard to digest. Through these scenes, the writer helped the viewers understand the feelings of different characters but Rumi's scenes really irked me. The way this 6 year old is left unattended and misses his parents should have been the focus of attention because this part of Rumi's track actually shows how divorce impacts children. Rumi's fascination with his teacher is understandable but the way he keeps on changing his mind makes him come across as a really disturbed child who is constantly trying to take control of situations which should be handled by adults. This makes me wonder if some of Rumi's scenes were added later because the viewers find his interactions with his father in particular cute.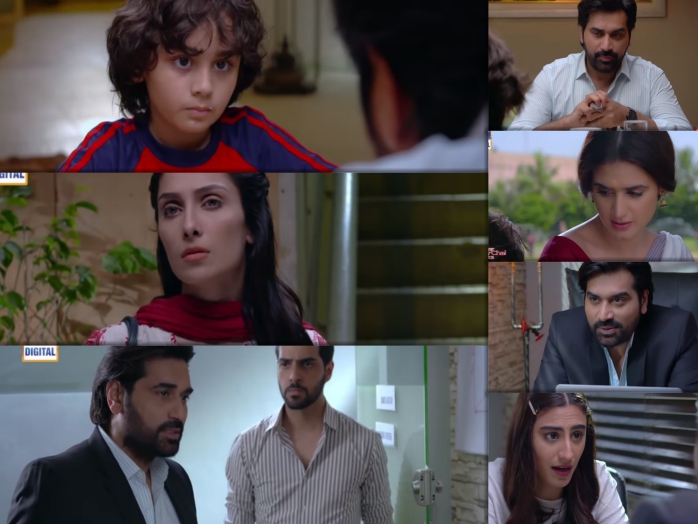 Shehwar and Maham
Shehwar and Maham's scene was interesting. It was almost as if Maham thought that putting Shehwar behind bars wasn't enough – he deserved worse. The explanation she gave Shehwar and what she had said to Mehwish earlier clearly suggested that she wanted to make Shehwar suffer on her terms and conditions. The look on Shehwar's face was priceless when Maham told him what are plans were! He is clearly scared and completely unsure what Maham is going to do next. These scenes also suggested that Maham might give Shehwar a death sentence – is she going to kill him? So far, Maham keeps you guessing, it is difficult to predict what her next move will be. Savera Nadeem and Adnan Siddiqui both acted superbly in this scene. It was also directed brilliantly, the flashback scenes and the present scenario showed just how much things had changed in the past few months.
More of Rumi
There was an overdose of Salman and Ayesha's scenes in this episode and most of these scenes didn't have anything new to offer. Salman and Ayesha have been pleading Mehwish's case as if Danish and Mehwish are not divorced. This entire 'experience' has been quite 'educational' for Rumi – he has learned about divorce, he has heard his mom say that Hania is his dad's girlfriend, he has learned to propose on his father's behalf and last but definitely not the least he knows that if you cut your vein you can die! Rumi is the one most affected by his parents' divorce yet that is not being shown as an issue at all. On the contrary, Rumi's dialogues and scenes are supposed to be entertaining. There is nothing entertaining about a 6 year old acting like an adult!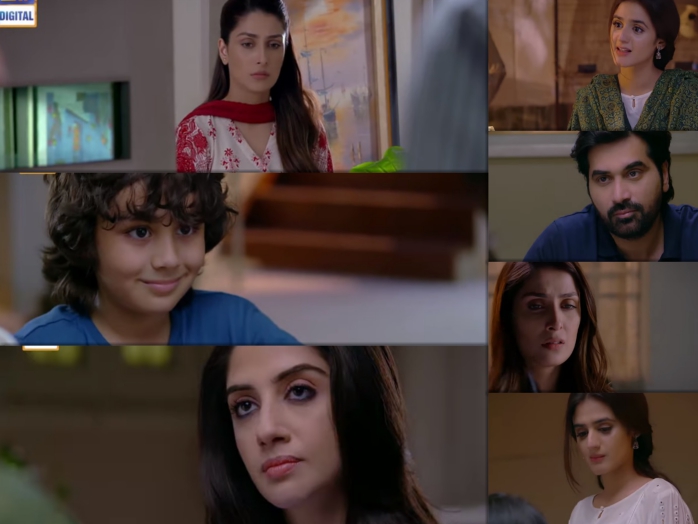 Favorite Scene
My favorite scene from tonight's episode was the conversation between Danish and Mehwish. Mehwish was always just as naive as she was greedy. This conversation basically showed that she had not grown as an individual. Mehwish still thinks she can mould relationships, stay in someone's life and leave whenever it suits her. My favorite dialogue from this scene was, "dekho meri ankhoon mein ansoo aa gaye aur tumhare liye rona mujhe acha nahi lagta." This was such a meaningful dialogue which showed why Danish does not want any interaction with Mehwish. Danish is done investing his feelings in this relationship. There couldn't have been a better way to get the message across to the viewers. Humayun Saeed does exceptionally well in such emotional scenes. Mehwish buying the flat was yet another development which depicted how immature she still was. If Danish wanted to buy the flat, he could have conveniently done so. Monty's inviting Mehwish for tea was actually funny! Yes, he is married now but he obviously finds it really hard to just ignore Mehwish!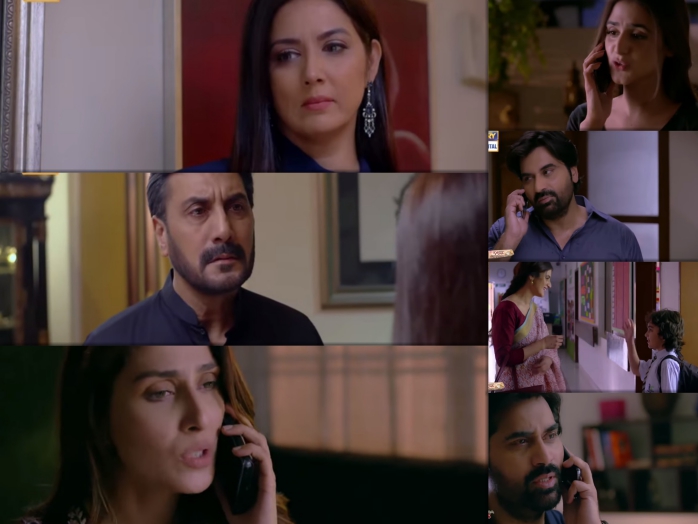 All of Mehwish's scene tonight showed how regretful she was. She cried in almost all the scenes and her dialogues suggested she wanted the life she once lived with Danish back. When Mehwish left Shehwar's house, she was immediately looking for a job but now her sole purpose in life is to get back into Danish and Rumi's life/house!
Final Remarks
Iqra Aziz and Yasir Hussain's announcement of making an appearance in this episode was obviously yet again marketing strategy. The producers added the promo of Jhooti to the drama itself but that obviously had nothing to do with this episode or Mere Pass Tum Ho. The next episode was supposed to be the last one but the promo of the upcoming episode suggested that it is going to be the second last episode. Mere Pass Tum Ho has been an emotional and powerful journey overall but tonight's episode wasn't the best one. Just like every week however, it had a few good scenes and dialogues but overall there was a lot of repetition. I am not rooting for Hania and Danish at all! Definitely waiting to see how this drama ends.
Waiting to hear what you guys have to say! Share your thoughts in the comments section.