Opening Thoughts – Brilliant Direction & Acting:
Ohkay so, this episode of Alif was simply beautiful & absolutely sweet. Alif happens to be one such drama which forces you to think about spirituality & all of it being conveyed with so much effortlessness. Brilliant direction along with fully dynamic & complete characters make Alif a beautiful & unique drama. Haseeb Hassan deserves full credit for not only directing Alif in such a unique manner but also guiding the actors to showcase their acting skills because their powerful performances leave an impact & long-lasting impression on your mind even after the episodes have ended. Alif is truly a masterpiece & I can not wait to see more of it.
A Walk Down The Memory Lane:
This entire episode was dedicated to Momin & Abdul Allah. Momin did spend time with his grandfather when he was a child & he still remembers each & everything vividly. It was beautiful to see how every single time Momin felt shocked when he saw that Abdul Alla remembered minute details about those days that they spent together & also that he knew Momin so well. Momin obviously lied that he had come to see the location, whereas he only came to Abdul Alla because he wanted to run away from all the negativity that had overtaken his professional life & was draining him personally as well. Momin never ever imagined that just by walking into Abdul Alla's place, he will be taken back to his childhood every step of the way, be it the conversations related to calligraphy or Momin's own artwork displayed by his grandfather as prized possession on the wall.
Momin learned something new this time. As much as he enjoyed listening about his father Taha, he got to know that Abdul Alla was never in favor of his marriage to Husn e Jahan. Taha was an artist, a spiritually blessed soul who was an ideal son & a source of pride for Abdul Alla. The way Abdul Alla described his personality was simply beautiful, it was like I learned about him enough to feel as if I know him now. Another thing I loved noticing during Abdul Alla & Momin's interactions was that they both were artists, but were on absolutely different spectrum of art. Their entire family is of artists, Abdul Alla, Taha, Husn e Jahan & now Momin. No wonder why Abdul Alla feels a little disheartened seeing Momin & the path that he has chosen for himself because someone so in touch with spirituality & who wanted to see his offspring on the similar path too must have actually found it hard to accept that his only son decided to get married to a woman who was desired by so many men. I have absolutely loved how Abdul Alla has never once said anything against Husn e Jahan, in fact he also told Qalb e Momin that his mother was a very good human being, obviously the way he saw Husn e Jahan in such a miserable state because of Taha, it must have changed his mind about her. Another thing which is important to note is how Abdul Alla has never once judged Momin for his choices, yes he states what he feels is right & talks about all the things that are wrong, but he never once makes Momin feel uncomfortable. Yes, it is the truth which irks Momin but then even he knows that whatever Abdul Alla says is absolutely right, therefore he can not let his words escape his mind, even if he wants to.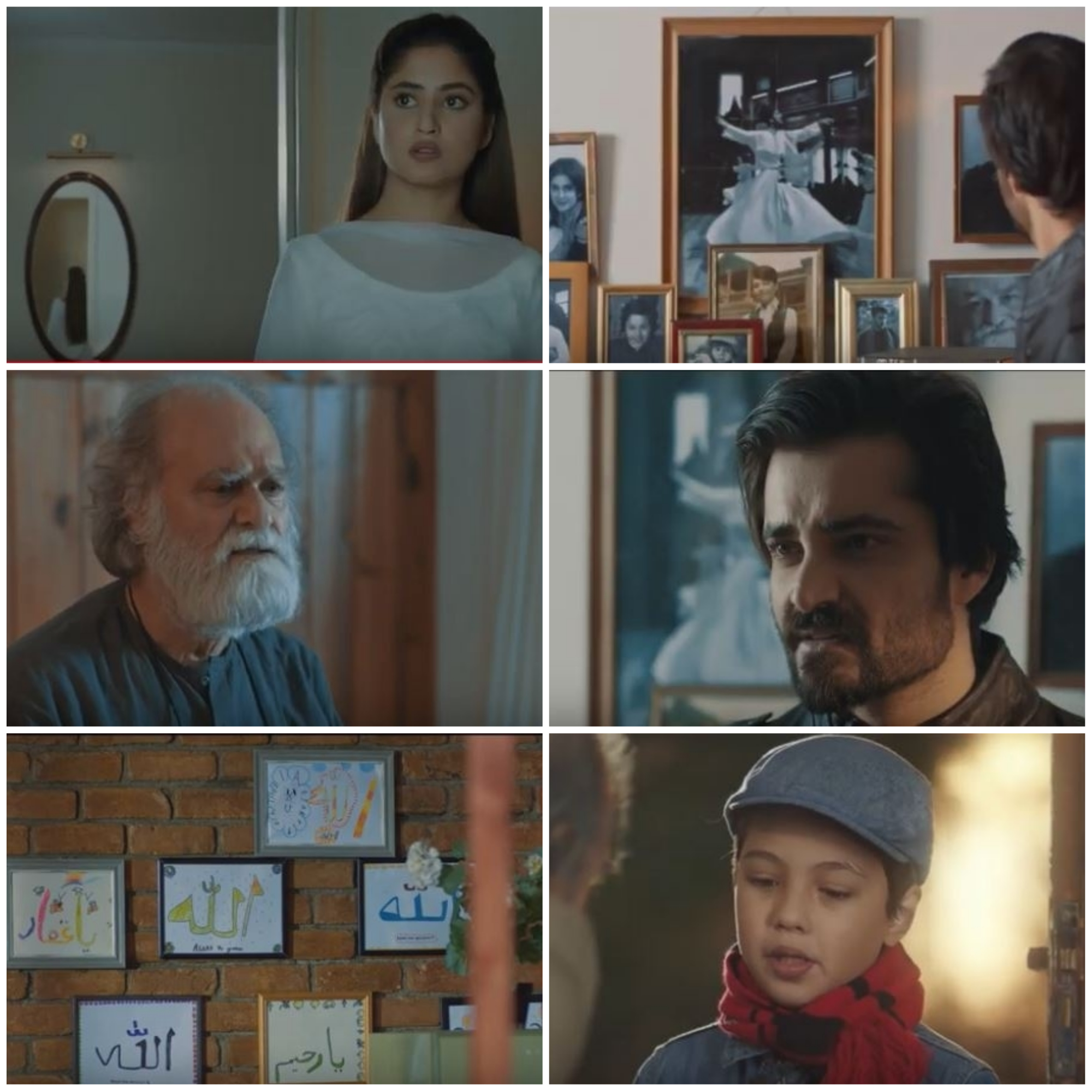 Neha made a huge deal about Momin not working with the writer Akhtar, but then again, it was obvious that she was doing all of this because of an ulterior motive. Akhtar was just a pawn & the mastermind was Neha. Neha did hit the bullseye because this chaos has only brought heaps of publicity & profits her way. Momin actually is hurt & this is something that Neha will never be able to understand. Momin must've loved her but for him, this is another unbearable thought that Neha could cheat him, someone as famous, as popular, as successful & as supposedly complete as Momin. This is the bruise on Momin's ego & this is why he is unable to deal with it.
All of Momin's interactions, be it the ones that he had with Abdul Alla in his childhood, or the ones that he was having now were simply beautiful & heart-touching. He was getting to learn so much but he obviously was not in the right headspace. Momin did end up admitting that he was looking for 'peace' around him but then again, Abdul Alla being the truthful person that he is, could not help but remind Momin that the path he is walking upon is definitely not going to bring him the peace that he is after. I absolutely love how Abdul Alla has this confidence in Momin that he is going to come back to his roots, he is going to come back to calligraphy, he is going to do what his father & forefathers used to do & have done all their lives. It is absolutely beautiful seeing the kind of confidence & faith he has in Momin. Abdul Alla knows that Momin has lost his direction for now & although he is quite eager to see him coming back, he is ready to wait. How beautifully Umera Ahmed has shown a character like Abdul Alla who knows how to entice & invite people back to the right path, without being judgmental, without holding anything against them. Simply beautiful!
Momina got to meet Faisal & now her mother was keen to get her married to him. Momina has kind of lost that hope because she knows she does not have the time to get married because she has to deal with the loans first. Obviously her mother doesn't know & she being a mother thinks everything is smooth & easy for Momina but the reality is different. Faisal has obviously come back with the intention of rekindling an old affair but he is selfish. He got engaged, which shows that Momina was never a priority & neither did he have the courage to take a stand for her. Faisal expects a lot from Momina & this is something that Momina is aware of that she can never fulfill his expectations. This is the reason why Momina was numb & didn't show any signs of happiness that Faisal & her mother spoke about the marriage. Momina did go back to work but it was obvious that she has lost that passion, the determination & the drive because now she has no other motivation than just to simply earn money & fix the financial crisis her family is faced with.
Closing Thoughts – Absolutely Sweet & Meaningful:
This episode of Alif was absolutely sweet. I must thank Pehlaaj Hussain for bringing so much sweetness to this drama, all of his scenes only bring a smile to my face & the innocence with which he has portrayed the character of Qalb e Momin is commendable. Hamza Ali Abbasi is right in his element as Momin, every single expression, minutest ones are so perfectly portrayed by him which allow us to understand all the things that are running through Momin's mind. Manzar Sehbai is the life of his drama, his body language, his dialogue delivery, his voice, everything is simply perfect as Abdul Alla. Sajal Aly is a gifted actor for sure. Sadaf Kanwal has surely done a great job too, yes, in the initial episodes I was not too convinced & still feel her dialogue delivery at times is off but overall her performance as selfish & mean Neha is worthy of appreciation.I absolutely loved watching this episode of Alif, feel that they have created is simply magical, every single episode of Alif just takes you somewhere, love it. Oh yes, can we just take a moment to appreciate the gorgeous Islamic artwork & calligraphy that they have showcased in this drama, I could not stop looking at each & every piece in awe, this is the kind of Islamic artwork that I personally love so it served as such a visual treat, perfect choice I must say. Another beautiful aspect of Alif is that all the conversations, despite being meaningful are conveyed in such easy words & the chemistry between the characters is always perfect because it actually leaves an impression & strikes a chord. Well done Team Alif. Please share your thoughts about this episode of Alif.
Keep Supporting,
Cheers,
Zahra Mirza.
PS: Team Ishq Zahe Naseeb, please take a few pointers from Team Alif on how the OST should be used to add depth & impact in any given scene.