Tonight's episode of Mere Pass Tum Ho for the most part was convincing and this was definitely another interesting episode of a drama which continues to be engaging. This was the first episode in which Ayeza Khan completely stole the show with her brilliant performance. Ayeza Khan's body language and expressions throughout covered her confidence as well as her insecurities perfectly well on screen. She is definitely not the same person she was before, Mehwish seemed to be more in control and interestingly enough looked a lot like Shahwar today! Having said that there were moments when she was seriously disturbed when things were not in her control. Spending 3 months with a man who is used to having his own way has molded Mehwish's personality. At the same time the changes in Danish's character were subtly visible too. Hania's character tonight was much more likable. Apart from the confusion surrounding the mobiles in this episode and a timeline which continues to confuse, Mere Pass Tum Ho never fails to impress. The director Nadeem Baig deserves an award for paying great attention to detail and the camerawork in this drama has been beyond amazing.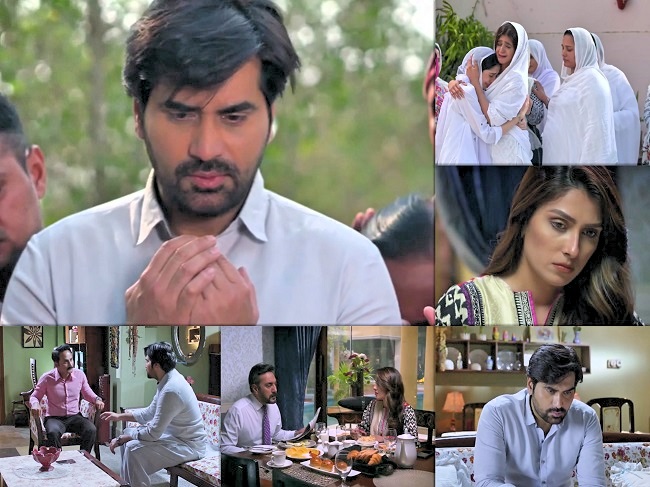 Hania and Danish
Hania got to know a lot about Danish by reading her father's diary and also because of the phone calls. While it was believable that Hania did not immediately realize that this wasn't her father's phone, it was hard to believe that Danish made a phone call without realizing that he wasn't using his own phone. Mehwish's chance telephonic conversation with Hania was the perfect way to introduce these characters to each other. This introduction was especially apt considering that Hania was also Rumi's teacher and these two were bound to interact later on too. Hania was much more likable tonight and her conversation with Danish was covered convincingly. There were some light moments and emotional ones but when Hania commented on Mehwish, Danish completely ignored her comment. I am glad Danish did not open up and decided not to respond since he has never talked to anyone except Mateen sb about Mehwish or his personal life. This conversation showed how close Hania was to Rumi and after reading her father's diary she was more keen than ever to help Rumi adjust in school. The chai comment was an emotional addition to this scene.
Hania comes across as a sensitive and intelligent young lady who is not afraid of speaking her mind. Apart from Mateen sb's daughters, Danish is the only person most affected by his demise. Danish's state of mind reminded me of the scenes in the first few episodes when he had just realized that Shahwar was taking interest in Mehwish. The deal of the apartment was slightly delayed because of this loss and therefore it remains to be seen how this plans goes forward from here on. Hira Mani's dialogue delivery especially when she was talking to Danish was quite impressive. Humayun Saeed looked like someone who was going through hell and his acting was right on point, like always.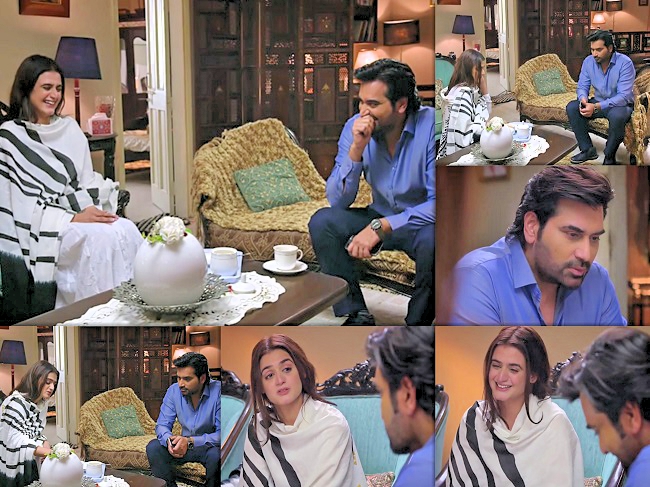 A whole month has passed since Danish met Rumi although it surely didn't seem like it. The timeline in this drama has been confusing right from the beginning therefore sometimes it is difficult to relate to this time lapse.
Shahwar and Mehwish
Shahwar and Mehwish's scenes were quite meaningful tonight. These scenes made it clear what Shahwar expected from Mehwish. The writer did a great job of utilizing each one of these scenes to show a different side of Shahwar's personality. On the other hand he told Mehwish that she did not need to ask him before doing anything she wanted to do and on the other hand he told her he wanted her undivided attention. Shahwar is still as 'fascinated' by Mehwish as he was the first time he met her but he has no intention of marrying her. His dialogues tonight made it quite clear that Mehwish was his 'mehbooba' and he wanted things to stay that way. This obviously means that she will never be his wife and he won't allow her to be Rumi's mother. Adnan Siddiqui once again gave an outstanding performance throughout.
Mehwish and Shahwar's first conversation on the breakfast table had some meaningful dialogues too. Mehwish actually defended Danish and assured Shahwar that he would never turn her son against her – this was really interesting! Shahwar did not get 'jealous' when he heard that, he found Mehwish's remarks amusing and did not even stop Mehwish from meeting Danish, a development which showed he wasn't the least bit insecure! It was funny hearing Shahwar call Danish '2 takay ke log'. Mehwish never asked Danish before stepping out of the house and whenever he tried to control her she used to get really annoyed but tonight she was continuously seen seeking Shahwar's approval.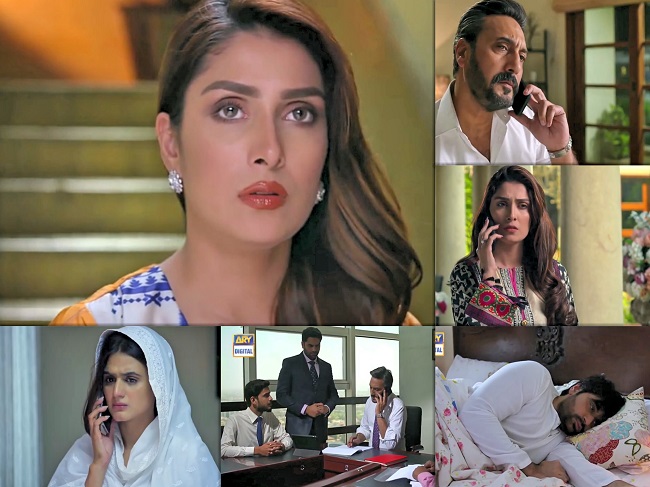 The scene covering the stock exchange rates was interesting and it made me wonder if Danish will take advantage of this opportunity. Although it is quite early for anything like that but you never know! The preview of the next episode suggested that Danish might be in a bargaining position after all. I absolutely loved Mehwish's meeting with the principal, it was written and executed so realistically. Mehwish's expressions when the principal refused to give her the permission to take Rumi with her showed just how offended she felt knowing she needed Danish's permission. The guard knew perfectly well that Mehwish was waiting for Danish in the car yet he told Monty that it was some lady, this was one conversation which was difficult to relate to.
Final Remarks
Tonight's episode of Mere Pass Tum Ho was definitely engaging and well-put-together. The performances never fail to impress since every actor completely owns the character he or she is playing. Nadeem Baig's direction has been impeccable and Khalil-ur-Rehman's script continues to be interesting. The preview of the next episode suggested that Rumi will push his father to be strong – looking forward to that!
I am wondering if Anoushey Abbasi will be playing Mehwish's sister's role!
Did you watch this latest episode of Mere Pass Tum Ho? Do share your thoughts about it.