Sanam Jung, Imran Abbas and Shehzad Kashmiri who created magic on screen in Dil-e-Muztar are back with Alvida and these three are the primary reason why I was waiting for this play for several months now. I am not expecting the story to be anything more than that of a love triangle as is evident from the promos therefore little expectations would mean lesser room for disappointments! Yes this play has been written by Samira Fazal therefore it comes with a BIG warning – be careful you might be heading into dangerous territory!! The play has been produced by Momina Duraid Productions, Hamayun Saeed and Shehzad Naseeb.
This first episode did remind me of Dil-e-Muztar because of the relationship dynamics between Haya (Sanam Jung) and her cousin Haadi (Imran Aslam) but quite unlike Dil-e-Muztar's Adeel, Haadi is very well-off and confident. He knows what he wants from life and is very passionate about his work. Our heroine Haya is head over heels in love with her cousin Haadi; it seemed more like a case of childhood crush which Haya never got over maybe because Haadi was around all the time. Haadi is probably the only man Haya has been this close too and she obviously is very attracted to him and she also thinks that Haadi feels the same way about her too. We learned today that Haya is adopted; she has been brought up by her Taya and Tayee. Her mother died probably when she was born and her father gave her away to his brother because he had three other daughters to look after. Haya is a pampered child who believes in expressing how she feels. Her conversation with her cousin Fariza (Sara Khan) went to show that she does not have a very high opinion of her Tayee or maybe she thinks it is "cool" to feel that way about her Tayee! Haya is insecure because of her past and honestly speaking I am slightly scared of what her character might be capable of doing! Fariza "secretly" hates Haya probably because she was brought up in a rich household!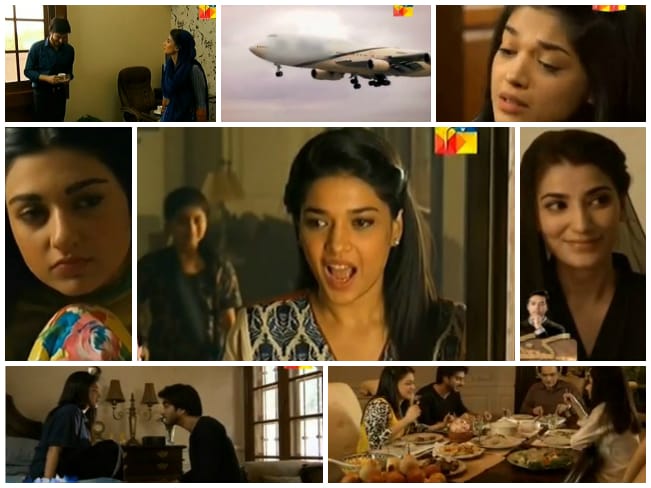 Haadi on the other hand treats Haya like a kid, more like a little sister and has no idea that Haya feels something entirely different about him. While Haya is someone Haadi thinks he needs to look after and pamper, his cousin Aroosa (Naveen Waqar) is the one who has always stood by him. Haadi sees a companion in Aroosa and both have a history together too. Haya thinks Haadi is coming home to her after 5 years of staying in London and then Somalia but Haadi actually came back to Aroosa. Haadi's mother does not think Aroosa is the right match for his son because of the class difference. We know very little about Aroosa but we do know that Hadi's father owns a hospital and he wants his son to run this hospital for him some day. Haadi's mother's statement about Aroosa clearly indicated that Aroosa's family was not as rich as them therefore this rishta was not meant to be at least for now.
This first episode was definitely fast paced. I am in two minds about Haya's character for now but I am waiting to find out more about her. I hope that the negative streak in her personality does not get the best of her. All the main leads are playing characters different from the ones they have played before therefore I am waiting to see what they have in store for us next. The characters in the play are complicated and there are multiple tracks as well so this might just be a heavy duty drama. Imran Abbas and Sanam Jung look really cute together, it will take time for me to warm up to Haadi and Aroosa's couple. I was hoping that we will see some happy times before the real story begins maybe because I really wanted to see more of Imran Abbas and Sanam Jung together but that was not meant to be!
Did you watch the first episode of Alvida? Do share your thoughts about it.
Fatima Awan