This was the best episode of Alvida so far; every scene was beautifully directed and I could totally relate to everything that went on in Haya's life except for the last part of course which was too sudden and shocking! The wedding ceremony was beautifully covered with short and to-the-point scenes and attention to detail. I never thought that brown color could look so good on a Mehndi function but it did. Haya's attempts to miss the Mehndi and then making sure that she sits with her back towards the stage were details that made the viewers relate to how difficult this was for Haya and how hard she was trying to be "brave"! Farisa's insecurities got the best of her and she decided to share her "true feelings" with Haya who was shocked to hear all that coming from her best friend. Saim reminded Farisa that this was a very difficult time in Haya's life therefore she should be there with her but Farisa was too scared of "losing" Saim therefore she decided to leave Haya alone at the most difficult juncture of her life. Haya's character is shaping up to be interesting. Haya might be a teenager who likes to get what she wants but she also knows when it is time to make an exit from someone's life. Farisa is an insecure girl who might accuse Haya of being self-obsessed but she is quite self-centered herself.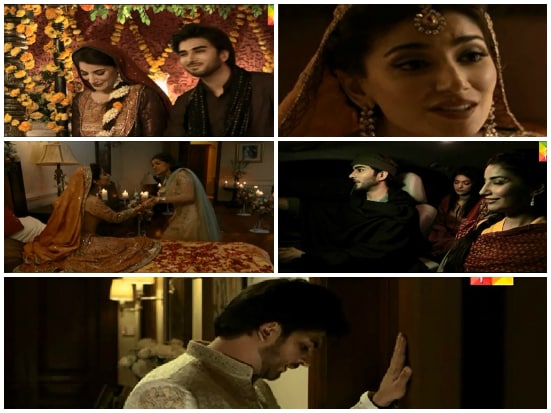 When Haya decided to flee the house and she actually had a plan to go ahead with her decision I was really surprised. Was she planning to leave the house any way after Haadi got married? Because no one could have made these arrangements in such a short span of time. Naveen Waqar looked beautiful as a bride and the scene in which Haya walks in Haadi's room to talk to Aroosa was a visual treat. The decor of the room was very different from what we usually see in our dramas and the candles in the background looked very pretty. Haadi's reaction and his conversation with Haya showed how different he is from Haya. He is mature enough to handle the most difficult situations without losing his grip, Haya on the other hand lets her emotions guide her.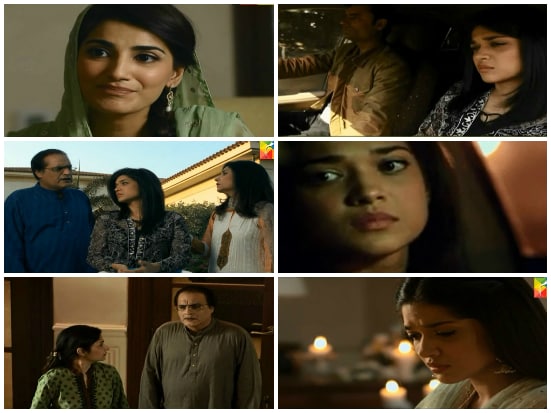 Aroosa is very sure that Haya will get over Haadi soon enough and things will be back to normal. Haadi knows Haya more than anyone else and he thinks that Haya might never come back. Aroosa kept her cool after finding out about Haya's feelings for Haadi, she knew that she had to handle the situation wisely. Imran Abbas and Sanam Jung were flawless all through tonight's episode just like the previous one. The chemistry between these two actors coupled with their brilliant performances made their scenes an absolute treat to watch. There were times however when I felt like Naveen Waqar could have delivered her dialogues more convincingly especially when she told Haadi that everything was going to be okay on the night of their wedding. Sara Khan's performance has not given me anything to complain about so far, she fits perfectly in her role. Sanam Jung looked adorable in every single scene. She has beautiful eyes and she knows how to put them to good use!
I watched the episode online therefore I missed the preview of the next episode. Will Haadi go and talk to Haya so that he can bring her back? I am definitely waiting to find out. Alvida is definitely a good play to watch on a week day but I am not attaching any high hopes to the drama yet – once bitten twice shy!!
Do share your thoughts about tonight's episode.
Fatima Awan