The "zabardast kisam ki ghalt fehmi" turned into an undeniable reality in tonight's episode. I felt a bit rushed while watching the first half of the episode and the way Haadi was pushed into getting married to Farisa was somewhat unconvincing. Haadi's mother kept on believing Farisa even though Haadi's father was continuously trying very hard to knock some sense into her. Oh well! The marriage was bound to happen but I was hoping that it would be done in a slightly more realistic manner. A man like Haadi won't get married to someone he does not even like only to please his mother and relatives. If Farisa somehow managed to convince Haadi a little even that he "needed" her in his life it would have been far more plausible.
The best part of this episode had to be Haya's return. Haya's meeting with Kaukab was really well done and the way Haya reacted to Haadi's wedding was spot-on too. I was hoping that Haya would mention that she talked to Farisa after Aroosa's death but she "forgot" to mention it to her that Aroosa had died. I am sure we will be watching many more confrontations between Haya and Farisa in the upcoming episodes and hopefully Haadi will be able figure out that Farisa did not sacrifice anything for him and Saadi but she did everything because she wanted a better future. Farisa got what she wanted and Haya is no match for her. Farisa is conniving and selfish but Haya is straight forward and honest. When Haadi questioned Farisa about the call she made to Rawalpindi his expressions clearly stated that he did not trust what Farisa was saying. The only reason Haadi walked out of the room at that time was because he did not want to create a scene and not because he believed the explanation Farisa gave him. Imran Abbas' acting was absolutely flawless in tonight's episode. The expressions on his face when he saw Haya and when he confronted Farisa said more than any words could. Imran Abbas has definitely brought out the best in Haadi character which is sensible and mature therefore I am finding it very hard to digest the fact that Haadi let his mother push him into tying the knot.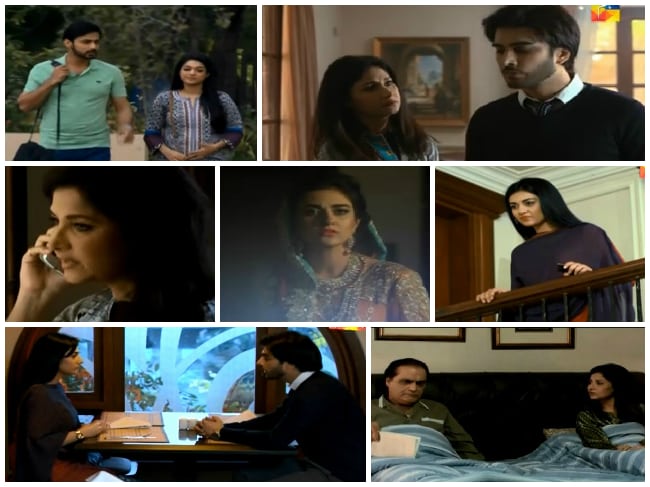 Ramis and Haya have turned from colleagues to friends in these five months. Ramis continued to remind Haya that she was much more to him than just a friend and the way Haya kept on telling him to keep his feelings locked up was shown flawlessly. Sanam Jung's body language, expressions and dialogue delivery were picture perfect in tonight's episode. All of her expressions were very natural and spontaneous. Ramis and Haya's scenes were very nicely written, directed and acted out. Zahid Ahmed and Sanam Jung have a great on screen chemistry and I am definitely looking forward to finding out how the relationship between their characters develops.
I am sure after watching this latest installment everyone hates Farisa! The way she plotted and lied to have her way without ever thinking about the consequences showed that she can do anything to get what she wants even if it means breaking someone's heart. Farisa is greedy and self-centered without a doubt but another characteristic of her personality that stands out for me more than any other is her immaturity and ignorance. How can she possibly think that forcefully entering someone's life will guarantee happiness? People like Farisa think that they can manipulate their way into everything but they do not stop for a second to think what will become of their life and future when the manipulation doesn't work and when people start seeing them for who they are! In my opinion Farisa needs a reality check and I am quite sure that we will see her regretting everything she did at some point. Sara Khan is very well-suited for this role; she has portrayed Farisa's confidence in herself and her tactics faultlessly. I definitely do not agree with the way Haadi's mother sealed his fate tonight but I absolutely love the way Lubna Aslam manages to nail every single character given to her till date. Mahmood Aslam was also brilliant as usual, his acting and character both are commendable but he needs to tone down on the make-up.
Alvida has its flaws especially when it comes to the narrative but it always gives you something to look forward to. It is free of clichés till now and the story is no longer predictable either. There is no zalim samaj and it doesn't have those done to death dialogues which we hear in our dramas all the time which is definitely a plus.
Do share your thoughts about this episode, I will be looking forward to your feedback:)
Fatima Awan