App Ke Liye – Episode 04!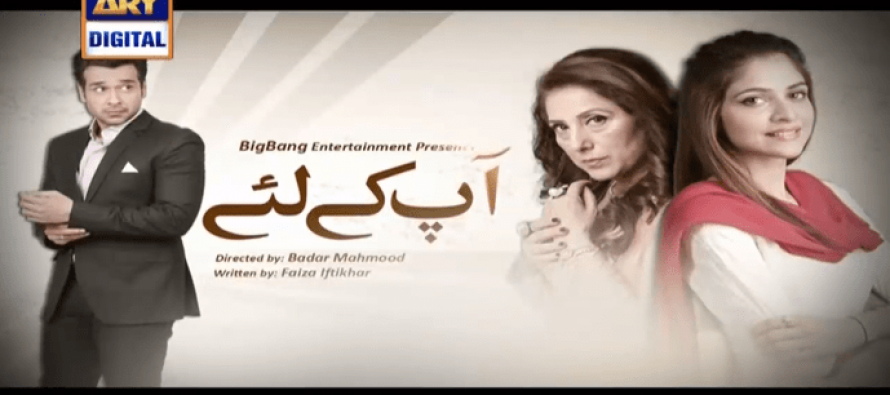 Ohkay so, honestly speaking, out of all the episodes of App Ke Liye that have gone on air, I enjoyed watching this one the most only because of Shaheer & Washma & their conversations. Things are being taken forward in regards to Shaheer & Washma's track, so it makes the upcoming episodes look promising because apart from their characters, the rest of the characters are quite typical.
Maryam went to Arsalan's place but he told her to go back to her husband's house. I think in stead of using Washma as a scapegoat, Arsalan should have the decency to at least be honest about everything in front of his sister & own his mistake like a man. Waheed has been financing Arsalan's education so it is understandable that he feels burdened & doesn't want to hurt Waheed especially after all that he has done for him, but what Arsalan can do is, tell his sister about the reality so that she stops being so nasty with Washma & stops blaming her for everything. Maryam will obviously have to keep things to herself because after knowing that it was Arsalan who forced Washma to do the heavy-lifting, she will stop being so bitter about it & will accept everything since she will know that this is exactly what her brother wanted too.
Oh dear, the scenes & dialogues of Nishat Apa are just as OTT as her character is. The entire conversation about giving away her child to Shaheer after beating around the brush for million seconds was so not done well. I am sure that it is not the direction, it is the acting of Samina Peerzada that is making it hard for me to tolerate Nishat's character. It is actually quite ridiculous that she wants Shaheer to adopt her child, whereas Shaheer has been bearing their expenses right from the beginning. He has taken care of his entire family so what's the point of adopting Nishat's son? Nishat thinks that her husband's name won't make things easier for Ali so can she please elaborate how using Mamu's name will shape Ali's future? Nishat obviously has her sights on Shaheer's property & wealth, so that in any case is being shared by his family members, so can she stop being so petty brained & not use her son for her ulterior motives? Thankfully, Shaheer talked her out of it & didn't just surrender to this order by his Apa since he does everything that she tells him to do.
Areesha has asked Shaheer to meet Omar so that he can give his blessings to them. Areesha prepared Omar for the meeting & made him familiar with Shaheer & his personality. It is good that at least Shaheer is far more considerate about others choices in comparison to Nishat because she is a control freak & wants everyone to follow what she prescribes for them. Areesha doesn't know but Nishat is planning her wedding with Imdad's brother. I want to see how Areesha will take a stand for herself against Nishat's orders!
I loved the way Washma taught Imdad a lesson & luckily, Shaheer found out the truth that Washma was only explaining things to Arsalan & wasn't actually spending time with him. It is good to see that Shaheer doesn't just believe in listening to the one side of the story & gives fair chance to everyone. I liked the conversation Shaheer & Washma had, it's like Shaheer has found a new friend who he knows will walk an extra mile for him, but before even talking about his personal issues, Shaheer gave the chance to Washma to vent out where she explained what Arsalan put her through & how she accepted everything for the sake of her brother & his wife's happiness. Washma & Shaheer might be oblivious of it right now but these conversations are giving them an insight into their natures & likes & dislikes, which is a good thing because unconsciously, Shaheer & Washma will start depending on each other for moral support & then they might even fall for each other as well. Well, Washma assigned herself a duty of doing a background check on Omar for Shaheer's peace of mind & I am sure this is another quality of Washma that Shaheer will admire that she is good at heart & believes in helping people without expecting anything in return.
Well, I am getting tired of Maryam's character but yes, the only good thing about the bickering scene between Waheed & Maryam was the insight that we got into what Waheed feels for Washma & how he has raised his sister. It is actually quite refreshing to see that Waheed believes in giving Washma a complete freedom of choosing what she likes for herself & not only that, he has empowered her by turning her a confident individual. It is a rarity in our dramas to see such brothers who trust their sisters & respect their judgments – that entire conversation was done really well & I commend the writer for coming up with such a unique bonding of Waheed & Washma that is built solely on trust.
Overall, this episode was good & I really enjoyed watching Shaheer & Washma's bits. It looks like Shaheer will have no idea when he will start relying on Washma because she has such a positive attitude & energy that he will find himself drawing closer to her unconsciously. I can't wait to see what these two have in store for us. Please share your thoughts about this episode of App Ke Liye.
Keep Supporting,
Cheers,
Zahra Mirza.
Zahra Mirza
The one who starts her reviews with 'Ohkay so'. ;)
---