This recent episode correctly depicted how a woman like Fauzia, who thought the world outside her village would treat her right only because she expected just that, gets a reality check at every step. Tonight's episode also showed how women like her were exploited and judged by people they came in contact with. Fauzia will learn the hard way that being confident and driven alone does not get you what you want. I have always felt that this drama has way too many "evil" characters and that trend continued in this episode as well. Everyone Fauzia came across in this episode wanted to exploit her!! There isn't a single genuine person in her life which does make it look like the writer tried extra hard to make a victim out of her!
Fauzia is impulsive and gutsy but she was never mature enough to think things through. Also, the fact that she takes everything at its face value and does not look at the bigger picture has been the reason why she made the wrong decisions right from the start. When Abid told her he will support her in every way possible she believed him even though he later on made it quite clear that he wasn't going to do anything extreme to marry her. At that time Fauzia did not even once pause to think that a man who promised to stand by her for the rest of her life shouldn't be backing off at such a point and went ahead with the marriage. Similarly, when her new boss told her she would get a commercial, she did not even once think that there was something fishy about the whole thing. Tonight, when she landed at the women's hostel, the warden's body language said a great deal but since there were so many women there and this was after all a shelter for women, she did not think these people might also have ulterior motives.
So far, the writer has shown Fauzia as someone who defies norms but at the same time she has certain boundaries of her own. She does not try hard enough to fit in but wants to be accepted for who she is. I liked how the writer raised the point that wearing modern dresses does not make a woman characterless. It was also shown how Fauzia's outfit in particular made the warden and other women question her character. Although Fauzia comes from a rural background but her thinking is anything but outdated which is why she never really fit in with her family members and had a difficult time fitting in with the women in the hostel. The way Fauzia's reaction was covered when she found out what she had to do to get herself work in an advertisement was completely in line with her character. Fauzia's antics in the women's hostels were covered in an interesting manner too. She is constantly trying to make a place for herself everywhere she goes but ultimately she will realize that she has chosen a very difficult path and that is when she will go back home!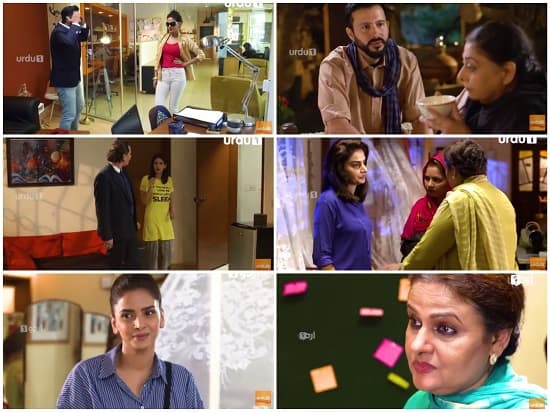 Abid has clearly moved on and was shown planning his next wedding! Realistic portrayals by all the actors involved have been the best aspect of this show especially since the past few weeks. Saba Qamar is definitely more convincing in this new avatar and Rabia Noreen was absolutely phenomenal as the warden of the women's hostel. Rabia Noreen's body language and expressions couldn't have been better. The flawless performances by both these actors made their scenes even more realistic and a treat to watch. Once again Fauzia's brother was completely out of the picture, I am wondering if we will ever get to see his reaction to the latest developments in Fauzia's life.
Baaghi's story is predictable but these past few episodes have been quite interesting. Although I don't really feel for Fauzia since she made these choices herself but I can clearly see that this drama will probably have a lot of lessons not only for such girls but also their parents. Baaghi reminds me of drama serial Abro, the only difference is that Fauzia's character has some positive qualities as well unlike Abro. The preview of the next episode showed Fauzia coming back to her village. She will ultimately go back to the city again and I am guessing that her parents will drive her away this time around.
How many of you watched this latest episode? Don't forget to share your thoughts about it.