Fauzia's dialogue about everyone she has met so far pretty much summed up Fauzia's journey. Right from the beginning she has been surrounded by people who are constantly trying to use her in some way or the other. First her brother forced that marriage on her to please his wife then her father let her down, her husband betrayed her, the person she went to work for wanted to use her as well, the shelter she took refuge in was the same and now she has no one to turn to! Now it seems that Fauzia will do whatever it takes to earn money because she wants to fight a legal battle to take her son back. Since this story is based on Qandeel Baloch's real life story therefore one cannot help but notice the fact that the writer has done everything to prove that whatever she did was a direct result of the situations people put her in and not because she left her home looking for a "career" like the one she adopted. I was hoping that the writer would take a more nuanced approach but clearly every single scenario has been created to make the viewers feel for Fauzia and to justify her actions.
Had Fauzia's marriage worked out and if Abid was willing to support her, things would have been completely different for her, therefore, right now whatever Fauzia is going through is more of Abid's fault than her own. She was always honest with Abid and right from the first day she told him that she wanted a career in showbiz. Also, the fact that she only decided to walk away after Abid admitted to being unfaithful to her and was abusive also justifies Fauzia's actions. Her parents did not support her hence she has no one to turn to now and had no choice but to go back. So far Fauzia's character has absolutely no weaknesses, except that she is gullible, naive and impulsive. She has human flaws but no negative traits but everyone else around her is either vile or is an opportunist. It is definitely a case of Fauzia against the world  kind of a situation which is a little hard to digest and makes this look like a one-sided story! I can't help but compare this drama to Mein Sitara over and over again because this too is a story of a girl coming from a rural background who wants to make it big in showbiz. Sitara however made mistakes, there were times when she was emotionally vulnerable and she wasn't picture perfect, which was definitely easier to relate to.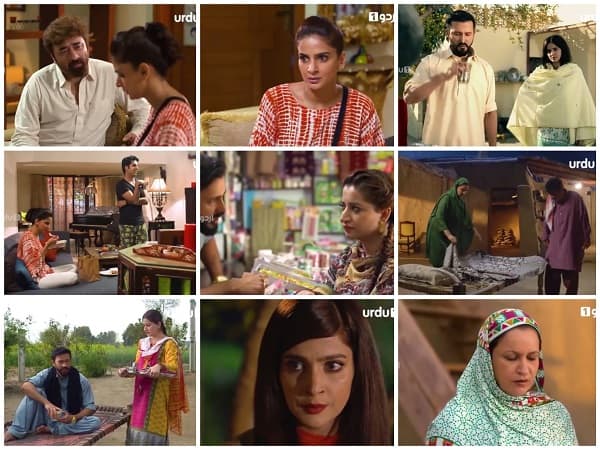 Tonight's episode showed how Fauzia decided to return to her husband who did not take very long to get married again. Meeting Ruby and hearing from her that Abid had given their child away came as a rude shock and proved to be the final nail in the coffin. This particular scene was directed and acted out brilliantly. Fauzia stood there wondering if she could go back to her house but the flashback scenes suggested that it was not an option. Saba Qamar's faultless performance continues to be the best aspect of this play. Unfortunately, the characterizations however leave a lot to be desired. The element of surprise is also missing from the drama. Ali Kazmi is also impressive as Abid; a man who thinks he can do whatever he wishes and has shocking double standards. Although we see men like him in our dramas all the time but this is the first time that he is playing such  a role.
The past few episodes were definitely better than this one. I am slightly disappointed with the writer's approach in this particular episode. Right now, the story seems more predictable than ever. Fauzia's elder brother's disappearance is also sticking out like a sore thumb!
How many of you watched tonight's episode? Do share your thoughts about it.