The number of advertisements during the commercial breaks suggest that this drama really is getting the ratings the makers targeted for and after watching tonight's episode, I am sitting here and wondering why are people tuning into this drama every week??? Yes, I have been given the difficult task of reviewing this play therefore I have no choice, sitting through it then going through the ordeal of writing about an episode like tonight's episode which was neither entertaining nor impactful isn't the least bit exciting! Kanwal Baloch's character and the way it has been translated on screen is annoying to say the least. Also, I don't get why she has been turned into such a victim. Even if you look at her life objectively so far, she hasn't been through as much as her breakdowns suggest! Also, just like our "favorite" character Mannu a lot of Kanwal's problems are self-created! A woman who was actually quite strong in real life has been turned into an ultimate bechari because somehow becharapan sells and our viewers find it difficult to like women who are strong.
Honestly speaking, this wasn't the kind of episode which gives you tons to talk about. Kanwal is still finding it hard to get over the fact that the husband she so wanted to leave and who she didn't even plan to live with, went ahead and married someone else! The dialogue "ghalt baat nahin bardasht hoti mujh se" has been repeated over and over again to get the message across that Kanwal always wanted to choose the "right" path. This episode also showed how important ratings and PR are in the industry – surprise surprise. So far whatever we have seen suggests that Qandeel Baloch never "planned" to get all this attention, all these fights, that appearance in Pakistan Idol and everything else which brought her in the limelight in the beginning wasn't a publicity stunt but that was who she was! Somehow I am finding a really tough time digesting that!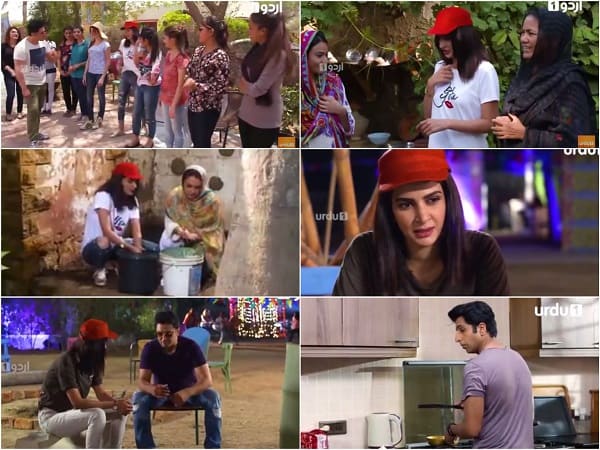 Kanwal's older brother finally made an appearance tonight but the viewers did not get to see how her parents reacted to her appearance on the show. The focus was entirely on Kanwal and her antics which had nothing new to offer. Even though Saba Qamar is doing exactly what was expected from her but even the brilliant performances from her and Khalid Malik in particular fail to make this the kind of drama I would want to tune into every week. Kanwal's story isn't working for me at all especially now after she has been turned into a victim and the fact that she never set out to do what she ended up doing is being reinforced over and over again. This drama however has proved that proper marketing, a leading actor with a strong fan base and choosing a topic which would make the viewers inquisitive will get a channel TRPs irrespective of how the story unfolds on screen. This drama does not even have the edge of being unpredictable therefore all those people out there who want to watch cat fights and of course are Saba Qamar fans should definitely tune into this one because she plays the lead and obviously gets tons of screen time. Otherwise, just skip it and watch it Mein Sitara, which definitely fits the bill!!