This was yet another episode of Baaghi which was dedicated mostly to Kanwal Baloch planning a bright future ahead completely ignoring the fact that a loud personality alone does not guarantee that! The way the makers of the drama have relied solely on Kanwal Baloch's weird personality which isn't just annoying but also quite boring makes this drama a pain to watch! Tonight's episode was even worse than the previous one because the entire episode focused on a single incident! Just like always, I found it really difficult to feel for Kanwal while she shopped for her "big step forward" and planned in advance. These scenes were stretched and can easily be termed as useless filler scenes. Surely, Kanwal has no talent therefore being over-confident alone wasn't going to bag her a seat in this contest! A woman like her who had the guts to come this far would surely know better. Somehow I have a really tough time believing that whatever Qandeel did on the show wasn't a publicity stunt but that was just who she was!
I am also surprised that while the makers of the drama have put in their best effort to make Saba Qamar look like Qandeel Baloch and even say the same lines as her, they didn't put in enough effort to breathe more life into the character. Why exactly should the viewers be interested in Kanwal's journey? What has the writer done to highlight different shades of Kanwal's personality? The previous episode covered the desi kuryan scenario and this one covered Pakistan Idol one and in both these situations Kanwal was shown as someone who was simply being herself and nothing she did was a way to get attention from the public. Unless someone her age and exposure had some kind of a disorder, she couldn't possibly have been as naive as she has been shown in the drama. I feel that the writer is questioning the viewers' intelligence on so many levels! The director Farooq Rind also tends to go overboard with many scenarios, he did so in Mohabbat Tumse Nafrat Hei and he has done it again in Baaghi.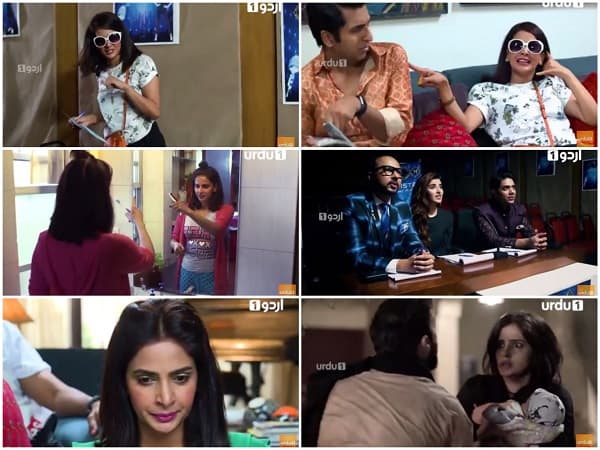 Saba Qamar and the entire team of Baaghi made some really tall claims before this drama aired but the fact of the matter is that Baaghi is an ill-conceived drama. The writer and the director failed to give their leading lady a definite personality and are relying heavily on her "innocence" as well as her weirdness and I am wondering why that is supposed to be appealing! Qandeel Baloch's eccentric behaviour always got her the kind of attention she wanted and now the makers of the drama are also making the most of that aspect of her personality although they promised something entirely different. Those chapters of Qandeel's life which everyone has seen online a million times are being replicated on screen while those parts of her life which were hidden and actually needed to be highlighted haven't been covered in detail.
Overall, this was the kind of episode which puts you to sleep! By the end of it Kanwal Baloch decided to go back to Gohar – no surprises there!! And in the next episode Kanwal will resort to shortcuts to get attention from people and it will work like a charm! Obviously a person who has no talent at all would have to resort to such means to gain popularity! Baaghi's script is all over the place therefore it is really difficult to connect to any of the characters at this point. It is going further downhill with every passing episode.
Here is a clip of Qandeel Baloch's actual audition in Pakistan Idol which basically shows that the makers of the drama replicated this particular situation but failed to do proper research in areas which truly mattered!