This was yet another episode of Baaghi which showed how Kanwal Baloch is being abused and victimized every step of the way. Although she talked about women empowerment, which to her means allowing women to do whatever they want to do and criticized men for their double standards yet more than once she has allowed men to use her whenever it suited her "needs"! Although the writer has tried to show that every time she does something which does not conform to the social norms or moral values it is because she is majboor but somehow her majbooris most often don't make a lot of sense. For instance in tonight's episode, she could have easily asked one of her "clients" to help her out or Shehryar would have happily done everything in his power to bail her brother out had she asked him but since she is an "empowered" woman therefore she went there herself even though she is quite "famous" for her videos now! Yes, this development also showed how corrupt our police officers are but the fact that this incident could easily have been avoided cannot be ignored. Kanwal also had the option of calling Shehryar when things were not going as she planned but she didn't do that either.
On the one hand they are showing that Kanwal is so famous now that she hides her face when she goes out in public so that no one recognizes her and on the other hand her siblings who have seen her videos cannot tell that the girl in the videos is her! This had to be the most unconvincing part of this recent episode! Even if someone wears heavy make-up, their family members will surely recognize them! Also, once again everyone in Kanwal's family was shown using her in some way or the other. All of them want money or things from her but apparently even the brother who once loved her does not feel the same way about her, Kanwal however is really emotional about her family and everything that she is doing for them is out of love. Even Kanwal's bhabhi who is constantly asking her for huge favors was shown backbiting about her. Kanwal has been shown as someone who has made some terrible choices in life but she has never even thought about harming anyone and easily believes people.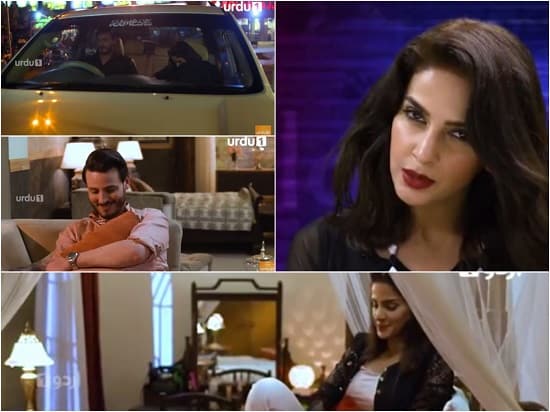 Kanwal's reaction when Shehryar gave her that ring showed that she always wanted to be loved the way Shehryar loves her and this was something special for her. Shehryar's scene with his mother later on however showed that these two can never have a future together. Shehryar's mother did not like Kanwal's boldness for obvious reasons and he isn't the kind of person who would be able to plead his case strongly. Also, the preview of the next episode showed that Kanwal's majbooris perhaps pushed her to break up with Shehryar. This drama should have been titled "Majboor" and not Baaghi! Baaghi is someone who is strong and determined and does things on his or her own terms and conditions! Kanwal's story on the other hand has been strongly driven by her majbooris. Strength does not lie in forgetting the difference between right and wrong to fulfill the needs of the people you love, it lies in making your own path and not letting your circumstances dictate how your life will turn out to be ultimately.
Every episode of Baaghi is the same, it has to be one of the most predictable and overrated dramas of recent times. Yes, Saba Qamar's performance is impressive but the story isn't the least bit impressive.