This was another episode of Baaghi which showed Fauzia making plans to live a life which other girls around her could not even dream of. Fauzia Batool does not believe in limiting her dreams and plans because people around her expect her to act differently and this has to be one trait of her character which has been reinforced repeatedly in all these 3 episodes. Fauzia's husband-to-be Sajjid has been shown as a characterless man who wants to "own" her more than anything else therefore Fauzia's instincts in that particular aspect are absolutely right. Another reason why Fauzia does not want to get married to him is that she wants to marry someone who will give her the freedom to pursue her dreams of having a career in showbiz some day. Although Fauzia said multiple times in tonight's episode that she was not going to allow anyone to touch her but when her brother hit her, there wasn't much she could do about it. This incident however made her even more rebellious and as a consequence she decided to take matters in her own hand. Fauzia's conversation with Abid showed she was only going to consider him as her future husband if he guaranteed that he will let her live her life, the way she wants to. Fauzia likes Abid too and probably thinks he is more liberal therefore she would much rather take a chance with him then let her brother and sister in law in particular make this decision for her. Fauzia trusts Abid more because she does not know yet that he is just as capable of lying as anyone else around her!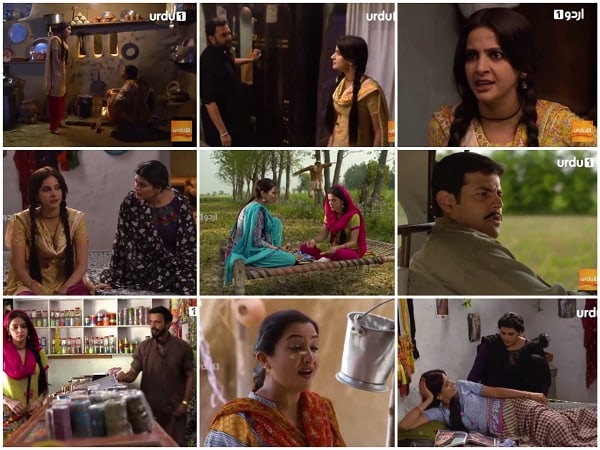 In the opening scene Fauzia said to her mother that she did not want to get married because she wanted to study and her mother said, "bara prh liya hei tunay" but in another scene of the first episode when Fauzia was seeing her brother off to school she says to her mother, "wese kya tha agr mujhe bhi thora prha deti." which basically showed that she never went to school! The incidents leading to Fauzia's decision to elope with Abid were covered convincingly. Even though Saba Qamar's performance is beyond brilliant but I don't find myself looking forward to Fauzia's journey perhaps because a lot of the main twists in the story were revealed not only in the promos but they are even shown in the beginning when the drama starts! The viewers know exactly what the outcome of this marriage will be although Abid seems like the perfect candidate right now. So far I feel that the writer is trying to show that had Fauzia been given the opportunity to educate herself and pursue those dreams which were unconventional but worth a shot then she might have had a very different life.
This episode was directed really well and all the actors are phenomenal in their respective roles. Nadia Afghan and Saba Qamar in particular have nailed their roles. The story however has nothing grand to offer which is why even with some spectacular performances you do not feel for the characters the way one would if the characters had more to offer. Although there are enough characters in the story but their tracks do not offer variety or novelty. This is going to be another drama which will highlight the double standards and hypocrisy of the society and so far there is nothing impressive about the situations or the characters that are being shown to highlight these issues. A lot of dialogues and situations in every episode show how the standards for men and women are different. The story moved forward with this episode and the preview of the next episode showed that Fauzia eloped with Abid on the day of their nikkah. Baaghi doesn't really give you a lot to write about since the story is so far simple and the characters don't have a lot of layers. Also, there is nothing exciting about the drama which would keep you at the edge of your seat.
How many of you watched this episode. Feel free to share your thoughts.
PS. Everyone is free to share their thoughts about this episode and the drama but if someone makes a personal attack on anyone at all, their comments will be deleted.