The story finally moved forward with this episode and this had to be the most interesting episode of Baaghi so far since it covered something other than showing the male mentality and Fauzia's rebellious nature. Chaudhry turned out to be the only male character in this drama so far who took a stand for Fauzia and looked after her interests. All the other men in the drama are the same which is one of the main reasons why I don't find these characters appealing. Either these men want to marry Fauzia or they want to control her, therefore Chaudhry's character was like a breath of fresh air. I was expecting Fauzia's character to be slightly more grey; someone who had flaws but at the same time had some good qualities as well. So far, Fauzia is not one of those characters, she is sensible and even this recent step taken by her was not impulsive; she tried to do everything she could to stop this marriage before she took this extreme step. Fauzia is young and therefore although she feels that she made the right decision even after Abid clearly told her that he was not going to do anything against the wishes of their families and his mother also showed her displeasure with this marriage. She was unable to judge Abid properly because of his "profile". Saba Qamar was absolutely brilliant in this episode in particular. I especially liked her acting in the scene covering Fauzia's conversation with the Chaudrani in which she tells her about Abid's proposal.
Although Nadia Afghan has once again nailed her character in this drama but all the scenes covering her and her husband's track are getting monotonous. The fact that her husband does not have a mind of his own and she is a drama queen has been well-established by now therefore there is no point in giving this particular track so much screen time. It was good to see Fauzia's mother defending her when she was not around and she actually looked happy when Abid's mother came for the engagement ceremony. The engagement scene had to be my most favorite scene because of the way it was shot. The way Abid's mother looked at those pictures on the wall and the manner in which Fauzia's feelings were shown was right on point. Fauzia knew exactly what she was looking at and what must have been going through her mind but even then she faked a smile every time Abid's mother looked at her.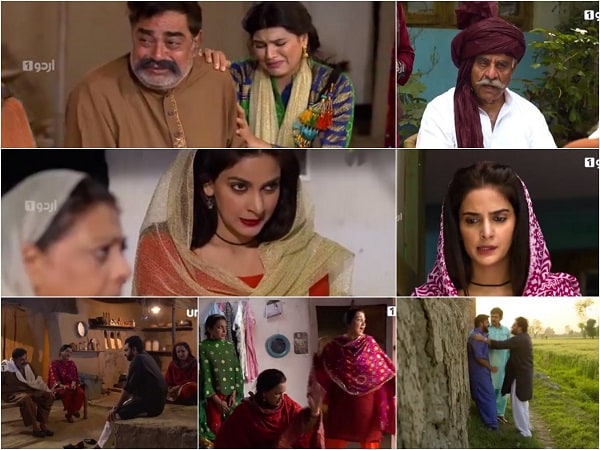 Saba Qamar, Naeem Tahir, Saba Faisal, Irfan Khoosat and Nadia Afghan performed exceptionally well in this episode. Overall, this was a decent episode which was somewhat unpredictable as well. The director has managed to translate rural life in an apt manner but the characters so far do not have the kind of presence which truly makes an impact. I also think the script is quite plain especially when you compare it to some recent dramas which covered problems faced by women in a male dominated society. I hope that Fauzia's character development is covered convincingly in the upcoming episodes. Will Fauzia be turned into another bechari or does her character have more to offer? I am waiting to find out. The preview of the next episode showed Abid giving a "reality check" to Fauzia much sooner than anyone would have anticipated.
How many of you watched this recent episode? Do share your thoughts about it.
PS. Everyone is free to share their thoughts about this episode and the drama but if someone makes a personal attack on anyone at all, their comments will be deleted.