Ohkay so, the writing of Qaisara Hayat, direction of Siraj ul Haq & the production of Momina Duraid Productions; Daldal commenced tonight on a very promising note. There were little details through which the director established the vision of the writer & the circumstances plus the nature of the characters. I feel this is a must in the first episode of any drama that the viewers should get enough background to understand the struggles of the characters in order to be able to form a connection with them & relate to them & while watching Daldal, this is exactly what happened where we got a clear insight into all the characters & their lives effortlessly. I had a good time watching this episode & definitely recommend it to those who are on the fence about it!
So, we got introduced to a few families. First one being Sakina's (Asma Abbas) family, who has a husband (Abid Ali) & 4 children; Shuja (Zahid Ahmed), Kamran (Muneeb Butt), a daughter Tamanna & a youngest son Imran. Asma & her husband share a very different perspective when it comes to life because Sakina wants ease in terms of finances whereas her husband believes in doing everything to educate the children, even if it means making sacrifices & this turns out to be the bone of contention between the husband & the wife.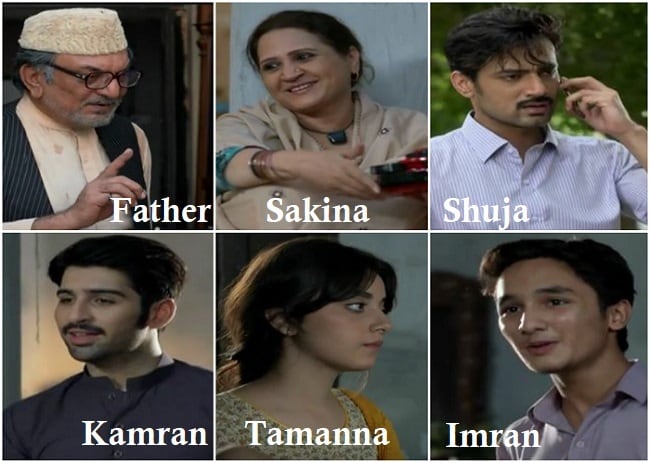 Sakina's sister Shaheen (Fazila Kazi) is married to Faraz (Ahson Talish) & they both have 2 children; Hira (Armeena Rana Khan) & a son. Faraz is settled in London therefore Shaheen's financial status in comparison to Sakina is better. Shuja & Hira love each other therefore they decide to get married but their mothers despite being sisters oppose the idea but then Shuja takes a stand for his lady love & that's how the mothers agree. Shuja is a government employee who is ambitious but he is frustrated with the way his life is panning out because he wants success & monetary ease as well which is hard for him to achieve due to the nature of his job. Every year it looks like Shuja expects a promotion but it is handed out to someone else who is one way or the other related to the senior employees. This makes Shuja even more frustrated & to add more to it, he feels his education hasn't helped him the way it should have. Shuja's father has always believed in working with utmost sincerity, even if it doesn't reap the rewards as per your wishes but this is what Shuja fails to acknowledge & to add more to it, he has his mother's back because even she shares the same perspective as Shuja because she is tired of seeing her husband & sons struggling hard to make the ends meet as well.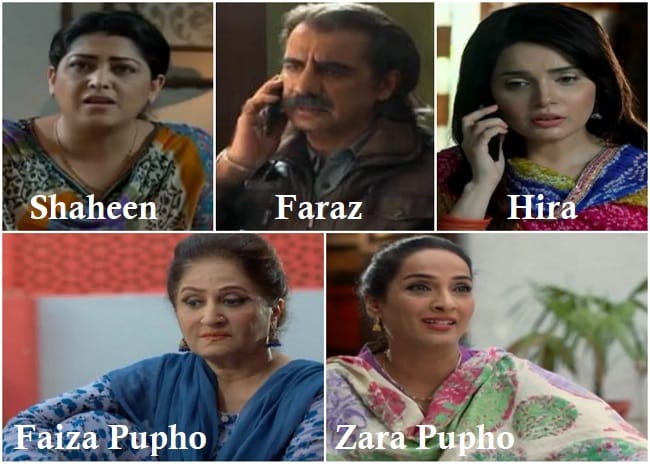 Hira on the other hand is a very content person who doesn't have big dreams. Hira thinks just because she & Shuja have love, they will lead a very successful marital life because she has no such demands from him. Despite knowing that Shuja & his family are not as financially stable as her father, Hira has chosen to get married to Shuja, so it shows that she really doesn't expect much from Shuja & only wants to be with him. This is the reason why Hira's aunts Faiza & Zara oppose this proposal too but they don't have much say as their brother Faraz has made up his mind.
Kamran is the only person who feels for his father & thinks on the same lines. He can see how hard his father works to give the best to his family & that is the reason he tries to lift the burden off his father's shoulders when he sees his mother demanding money for Shuja's engagement. Kamran tells his father that he will arrange the money for his college admission himself because he understands that if his father wouldn't fulfill his mother's wishes, she will make things harder for him. Kamran takes a loan from his friend Fahad, who happens to be his neighbor. Kamran & Fahad's sister Saniya (Kinza Hashmi) like each other & Saniya happens to be Hira's best friend too!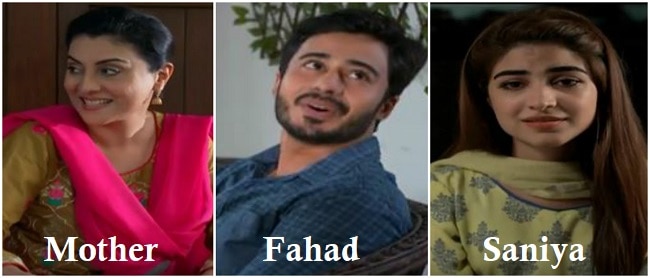 It was nice seeing how Shuja's entire family came together to celebrate this special moment in Shuja's life, like it was nice seeing them having a good time together because things are obviously not going to remain the same but it was refreshing for now. I liked how everything was conveyed realistically & noting was complicated for no good reason. Everything was straight forward & simple, like Sakina wanting to go to any extreme for face saving, Shaheen getting pressurized by her sisters in law, Sakina's husband trying to do everything to make his wife understand how important education is for their children. I also liked Hira & Saniya's friendship, it provided some lighthearted moments plus it effortlessly showed how girls of such age have such simple dreams & assume that things are going to all rosy & smooth just when they will get to be with the one they love because for them 'love' is enough & they assume that their marriage is bound to make them happy.
Well, the first episode began, it ended & I didn't for a second lost interest in the drama because the director build the curiosity perfectly & I found myself wanting to know more about every single character. There was honesty & charm in the family get together scenes, I also had a good laugh at the quarrels & typical sister-in-law-sarcasm, I felt it just completed the picture in a very realistic manner because no matter where you are or who you are getting married to, there are always going to be such people who aren't happy with the engagement/marriage. Even though there were a lot of characters but I felt everyone got a fair share of coverage to establish where they stand & what their importance is in the story. I must say all the actors did a brilliant job like they seamlessly fitted into their characters & didn't make me feel like I was watching them for the first time or was finding it hard to relate to them.
Zahid Ahmed was impressive as Shuja, like he portrayed the frustrations of a government employee perfectly. I also liked how they showed that Shuja might be a bit too ambitious but he was responsible too because he actually got worried when he found out that Kamran had to take a loan to apply for college, he also questioned his mother about her needless spending for his engagement, like it showed that he understands the struggles of his father & that makes him more frustrated. Muneeb Butt was good as a decent & responsible Kamran who wants to help his father out. Armeena Rana Khan not only looked pretty but she portrayed the subtle & content Hira beautifully as well. Kinza Hashmi made Saniya's character a treat to watch, like she performed without holding herself back & that is why her chemistry with her best friend was endearing as it looked natural. I must say Asma Abbas & Abid Ali were beyond brilliant, like what-else can be expected from such experienced senior actors. I had such a good laugh seeing Sakina & Faiza (real life sisters) quarreling over who was better & who wasn't, it was hilarious. The direction was simple but perfect, the script of the first episode was perfect too, I am sure we have a lot more to explore so I am definitely looking forward to it. Please share your thoughts about the first episode of Daldal.
Keep Supporting,
Cheers,
Zahra Mirza.