Ohkay so, the writing of Qaisara Hayat, direction of Siraj ul Haq & the production of Momina Duraid Productions; Daldal commenced tonight on a very promising note. There were little details through which the director established the vision of the writer & the circumstances plus the nature of the characters. I feel this is a must in the first episode of any drama that the viewers should get enough background to understand the struggles of the characters in order to be able to form a connection with them & relate to them & while watching Daldal, this is exactly what happened where we got a clear insight into all the characters & their lives effortlessly. I had a good time watching this episode & definitely recommend it to those who are on the fence about it!
So, we got introduced to a few families. First one being Sakina's (Asma Abbas) family, who has a husband (Abid Ali) & 4 children; Shuja (Zahid Ahmed), Kamran (Muneeb Butt), a daughter Tamanna & a youngest son Imran. Asma & her husband share a very different perspective when it comes to life because Sakina wants ease in terms of finances whereas her husband believes in doing everything to educate the children, even if it means making sacrifices & this turns out to be the bone of contention between the husband & the wife.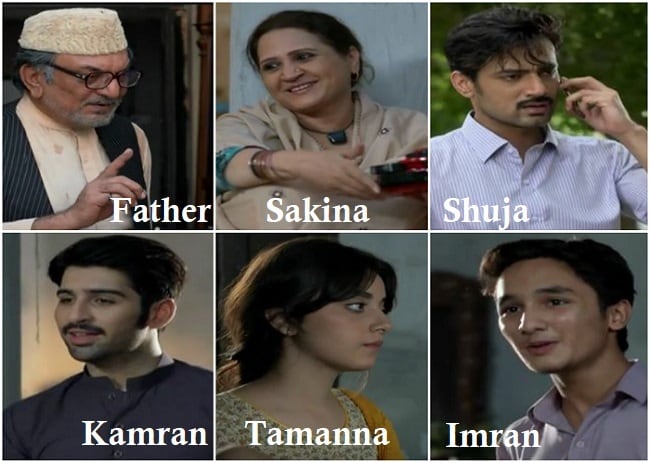 Sakina's sister Shaheen (Fazila Kazi) is married to Faraz (Ahson Talish) & they both have 2 children; Hira (Armeena Rana Khan) & a son. Faraz is settled in London therefore Shaheen's financial status in comparison to Sakina is better. Shuja & Hira love each other therefore they decide to get married but their mothers despite being sisters oppose the idea but then Shuja takes a stand for his lady love & that's how the mothers agree. Shuja is a government employee who is ambitious but he is frustrated with the way his life is panning out because he wants success & monetary ease as well which is hard for him to achieve due to the nature of his job. Every year it looks like Shuja expects a promotion but it is handed out to someone else who is one way or the other related to the senior employees. This makes Shuja even more frustrated & to add more to it, he feels his education hasn't helped him the way it should have. Shuja's father has always believed in working with utmost sincerity, even if it doesn't reap the rewards as per your wishes but this is what Shuja fails to acknowledge & to add more to it, he has his mother's back because even she shares the same perspective as Shuja because she is tired of seeing her husband & sons struggling hard to make the ends meet as well.