Tonight's episode of Baaghi covered a period of more than a year in which Fauzia learned that Abid was never going to give her the freedom she needed to make her dreams come true. Her life also changed with the birth of her son because while she was busy taking care of him, Abid was busy having an affair. Even with all the rude shocks and reality checks Fauzia got in this one year, she did not resign to her fate and decided she was going to do whatever it took to make her dreams come true. Fauzia's married life had done-to-death written all over it – a mother in law who was always complaining, a husband who was cheating on her and parents who wanted her to compromise. Just like everything else, this latest development was covered in a simple manner. Abid turned out to be a typical husband who believed that a woman's sole purpose in life was to stay loyal to her husband and the husband had absolutely no obligations towards his wife. Gradually, Fauzia realized that all the promises Abid made to her were false.
Fauzia and her brother's relationship was the perfect opportunity for the writer to show another side of Fauzia's personality but unfortunately these two did not get a lot of screen time together in these 6 episodes. Tonight too the scene in which Fauzia questioned her brother about his studies was confusing because he complained that he got bad marks because Fauzia was no longer teaching him. Later on, she also helped him with a complicated subject like science. Wasn't Fauzia supposed to be uneducated? This particular aspect is seriously confusing because 5 weeks back Fauzia's biggest deprivation was that she never went to school and now the scenes in this and previous episode suggest that she went to school or perhaps college! This is a major loophole which leads to confusion. I guess she went to school after all and that entire conversation between her and her mother shouldn't have been there in the first place. Also, I am wondering why someone like her was making parandas to earn a living when she could have taught children to earn a livelihood.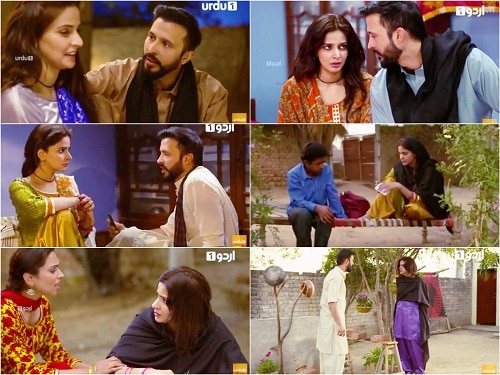 Fauzia's state of mind however was the only different aspect of tonight's episode. For the first time Fauzia had a real conversation with herself and this aspect was covered really well. She thought about all the dreams she had, what she expected from this marriage, what could she do now to get what she always wanted and also considered her limitations. Fauzia also dreamed of a better future for her child because she did not want him to end up like her. Fauzia's reaction to the news that her husband was cheating on her was also covered superbly. Her reaction was completely in line with her character and the fact that even with all her fearlessness at the end of the day, she was helpless was highlighted clearly.
Saba Qamar has given a phenomenal performance in this play. Her overall look and her acting is faultless. Ali Kazmi has also translated his character brilliantly on screen. The story and the screenplay however so far is average. All the men in the play have the same mindset with the exception of the Chaudhry who obviously isn't a leading character in the play and Fauzia's relationship with many of the characters directly linked to her hasn't been explored properly. I have said this before but I feel the need to say this every time I watch a new episode of Baaghi; the characters are one-dimensional which is why so far Baaghi hasn't exactly won me over. I watch every new episode of Baaghi with the hope that this episode will be the one but the overall impact of the story and the characters isn't as powerful as one would expect from a drama serial which was promoted like it was the next big thing.
How many of you watched this episode? Do share your thoughts about it.