Baaghi's story has finally taken off with Fauzia Batool starting the new journey of a life she dreamed of for a really long time and one she is so willing to live! The fact that she barely paused to think about what she had left behind went to show that Fauzia's ambition came before everything else – she didn't even let the thoughts of her child, who she clearly loved, derail her. This episode was executed well with the exception of the timeline which was yet again confusing and some details which were not covered. So far the impressive performances by all the actors involved have to be the best aspect of Baaghi. Just like every other episode of Baaghi Saba Qamar's effortless portrayal of a girl who was doing everything she could to play the role she had "rehearsed for" and waited for, for years now, was faultless. The manner in which her etiquette changed the second she entered the office which she felt was going to be the place which will alter her life forever was the first scene which showed that she was more than ready to fit into this new environment. The coffee scene was amusing and what followed later on was entertaining but somewhat rushed as well.
This episode opened with Fauzia trying to convince Abid to let her go to the city to avail the modeling opportunity. She however wasn't going to hear no for an answer. The way Fauzia continuously asked Abid for a divorce even before this showed that she wanted this relationship to end. The fact that this job offer came after Fauzia found out about Abid's affair is also another reason why she does not feel the need to invest more time and energy into this marriage. While it is good to see a woman who knows that she deserves better and that she shouldn't be forced to live with a husband who is abusive and is cheating on her, Fauzia is definitely not someone who thinks things through when it comes to pursuing her dream. The fact that she does not let anyone or anything stand in her way is her greatest strength and it is also her biggest weakness! Firstly, she blindly trusted Abid and took a stand to get married to him only because he promised that he will help her make her dreams come true. Then, she went ahead and trusted all these people in a completely new place solely because they are helping her start a career in showbiz. Fauzia has been shown as a strong headed girl with tons of confidence who is more naive than anything else.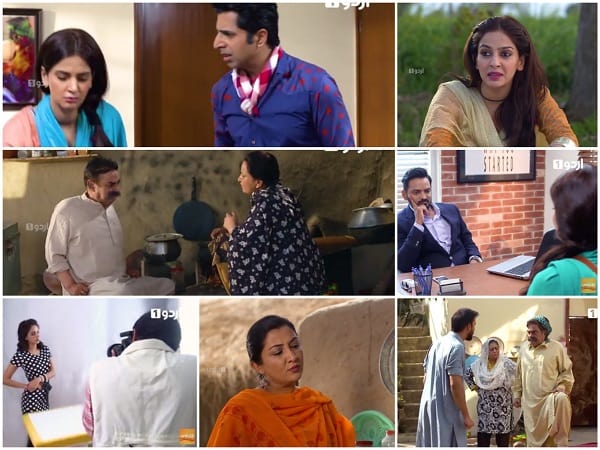 Overall, this episode of Baaghi was fast-paced and entertaining. There were however some developments which seemed rushed and some scenes could have been added to fill in a few gaps between the scenes which effected continuity. For example one minute Fauzia was standing in Abid's house and crying and the other moment she was in the bus travelling to the city. Also, her reaction after her makeover should have been covered since this was a major change in her outlook and could be shown as the first time when she realized that she was nearer to her dreams today than she ever was. Also, why is Fauzia's brother completely out of the picture?
Apart from Saba Qamar, Ali Kazmi and Saba Faisal have given outstanding performances throughout. Seemi Raheel and Irfan Khoosat are also Phenomenal actors who nail every role assigned to them. All these actors look and act the roles they are playing which makes their characters easy to connect to. The impressive performances have definitely elevated the level of this drama.
I am waiting to find out what Fauzia's new "mentor" wants in return for all the favors he is doing for her since polishing and grooming a girl like Fauzia seems like more of an investment than anything else. Also, I hope that Fauzia's journey is covered in more detail and not the way the few days (or perhaps one??) of her new life were covered in this episode.
How many of you watched this episode? Do share your thoughts about it.