Baba Jani continues to be pleasantly surprising, it does not have dramatic twists but is well-paced, it is simple yet very appealing. It also falls in the category of few dramas nowadays which can be termed as family dramas. Asfand's maturity, his cool-mindedness, the confidence with which he solves every problem that comes his way and most importantly his 'shortcomings' make him one of the best male protagonists we have seen in dramas this year.
A Way Out
Asfand made an impulsive decision after Najiba refused the proposal initially but Najiba figured out that getting her son married to Nimra will reap more monetary benefits than she ever imagined and she changed her mind. Asfand has been shown as an intelligent man throughout therefore the fact that he decided to talk to Saqib instead of telling Naila what had happened, was something which was completely in line with his character. I was expecting him to lose his cool this time around but he knew that doing something drastic would hurt Naila more than anyone else therefore he made sure that Naila didn't find out the truth. Asfand felt relieved knowing that there was finally a way out which seemed like the best possible option but Nimra wasn't happy with this decision. The way Nimra's thought process was shown to the viewers was the best part of the latest episode of Baba Jani. It is always good when you don't have to wonder why a certain character is confused or upset. Although Najiba is manipulative and greedy but Omair seems to be a nice boy who is genuinely interested in Nimra. The most refreshing element of this entire development is that Asfand wants Nimra to study and is in no rush to marry her off. Faysal Qureshi acted brilliantly tonight especially because he managed to convey how much thinking and mental exertion went into being the mature responsible person who wanted to protect everyone.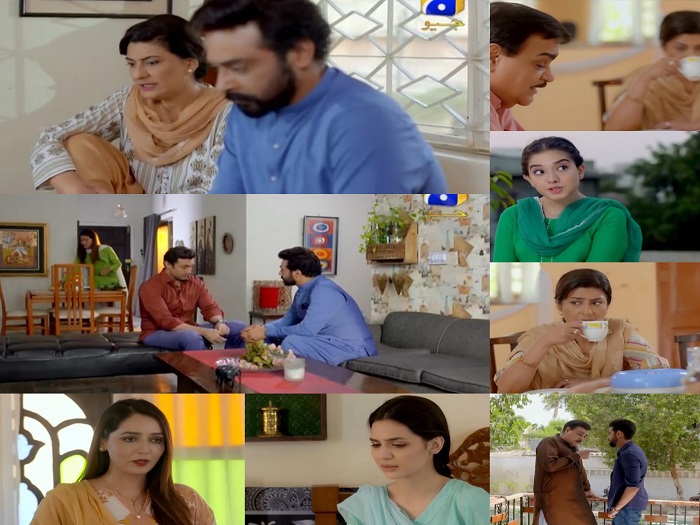 The Best Scenes
Like every other episode of Baba Jani, these episodes too had quite a few scenes which were relatable as well as very well-put-together. Asfand's conversation with Saqib, the subtle manner in which he put his message across and the affect it had on Saqib was covered superbly. The scene in which Asfand tells Nimra that she could stay in the house and everything else he had planned was also written and acted-out so well. The background score in this scene could have been better but overall it was such an emotional scene. Madiha Imam and Faysal Qureshi played their parts so well, They are also really well-suited for their respective roles.
Overall Impression
Every episode of Baba Jani has something substantial to offer. There are times when you feel that some of the characters completely disappear when they should be shown but other than that this drama never disappoints. The new turn in the story has made things even more interesting. Asfand and Nimra's relationship and Asfand's character continues to be the best thing about this drama. Apart from Faysal Qureshi and Madiha Imam, Aamer Qureshi's acting tonight was right on point, loved those expressions in the end! Baba Jani is such a refreshing break from dramas which revolve around female protagonists who are most often either weak or too negative. This drama has given the viewers an extremely likable and unforgettable male lead and it keeps on giving us something to look forward to. The preview of the next episode suggested that Najiba might just tell Naila the truth! Mehwish will also make an appearance in the next episode.
How many of you watched this episode? Do share your thoughts about it.