Baba Jani Episode 19 Story Review – This was another episode of Baba Jani which showed the maturity and foresightedness with which Asfand handled every single perplexing problem. In rest of the scenes the viewers were shown Nimra's confusion, Najiba's manipualtion, Omair's likeness for Nimra, Naila reaction to finding out about Saqib and Asfand's meeting with Mehwish. Baba Jani has been exceptionally well written throughout. It is a refreshing break from the over-commercialized plays and continues to be convincing. The performances never fail to impress and even after so many weeks, Baba Jani continues to be entertaining.
Nimra's Confusion
There were many scenes in this episode which rightly depicted Nimra's state of mind. Madiha Imam translated this confusion faultlessly on screen. There was no reason for Nimra to refuse this proposal, she also did not want to make things even more complicated for her baba jani but it seemed that the thing which confused her the most was that she could not figure out why Asfand had made this decision. Nimra's imaginary conversation with her mother was the highlight of this episode. Their bond was always heart-warming and this scene was covered intelligently. It basically showed the viewers how Nimra was trying to convince herself and the explanation she gave herself made perfect sense. Nimra's conversation with Omair was also another meaningful conversation in this episode. Omair might be Najiba's son but he is not like his mother at all. He definitely likes Nimra and respects her as well because he was willing to bear the brunt for her.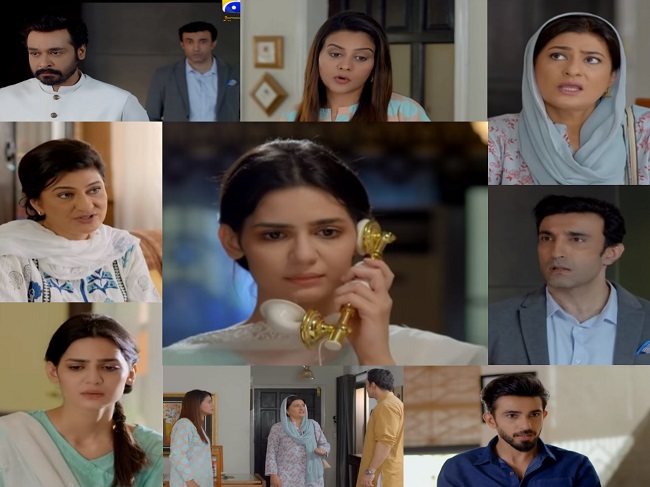 Najiba and Naila Defend Asfand
For a change Najiba and Naila joined hands to defend Asfand when Saqib tried to prove Asfand wrong. Later on too when Najiba was talking to her husband, she blamed Nimra only. There is obviously a good reason why they have so much faith in Asfand. It was good to see them supporting him but they don't love him enough to respect or love the people he values. Najiba in particular is extremely insecure and greedy which is why her love for Asfand usually takes a backseat. Asfand on the other hand, covered up for Saqib because he knows what the outcome will be if Naila finds out the truth. Now that Nimra knows the truth, she will finally have the reason she has been looking for but it remains to be seen if that will calm her down or upset her even more. Asfand has always handled every situation in the most wise and calm manner therefore I am actually looking forward to how he deals with this situation and everything else which is going to happen in the upcoming episode.
Mehwish and Asfand's Meeting
Mehwish and Asfand's meeting was brief and it focused mainly on how broken Mehwish was now. Asfand married Sadia out of pity therefore I am wondering if he will also decide to marry Mehwish because that is going to be the best solution to all his problems once Omair refuses the proposal. Asfand's definition of loving people is quite different from everyone else we have ever seen in dramas – for him protecting and looking out for people he loves is the only way to show what he feels for them. That's all that he has been doing from the first episode and that is what makes his character so special.
Overall Impression
Baba Jani is one of the most balanced and well written drama on television right now. It has not disappointed in all these weeks and the promo of the next episode suggests that it will keep on giving its viewers something interesting to look forward to. This episode was well-written and well-executed. Faysal Qureshi is exceptional as baba jani and all the other actors are also doing complete justice to their roles. The preview of the next episode showed Omair telling Asfand that he could get married to Nimra and Asfand telling Najiba that he was getting married – what's going on? Dying to find out! Any guesses?
Do share your thoughts.