This latest episode of Baba Jani covered the changes in Nimra's behavior, Umair's newfound confidence and finally a wish from Asfand which was all his own. There has been absolutely no change in Najiba and Naila's characters – will their track ever take a turn for the better? Their insecurities, plotting and planning seems to be never-ending.
Important Developments
The most important development tonight was that Nimra and Umair formally started seeing each other. Umair made a declaration of his love for Nimra and was more willing now to take a stand for her. Nimra too felt differently about Umair now since he played a big role in clearing the misunderstanding between her and Asfand. This relationship has evolved gradually therefore this entire development has been quite convincing. The second important development tonight was that Nimra and Mehwish started getting along with each other. Nimra took the initiative but later on Asfand was shown giving all the credit to Mehwish, which was strange. Mehwish's character keeps you guessing. There are times when you are not sure what is going on in her mind. Mehwish's reaction when Asfand said that he wanted to have a child was understandable since she is still not sure if she will ever be truly happy with Asfand. Also, it is completely natural for her to think if Asfand will put his own kid above his adopted son. Except for Asfand, all the other characters have some insecurities or the other. Nasir remarks about Asfand were right on point – he truly is someone who feels happy when others are happy because of him. All these tracks are gradually headed towards an ending which will most likely be a happy one. Umair and Nimra are destined to be together.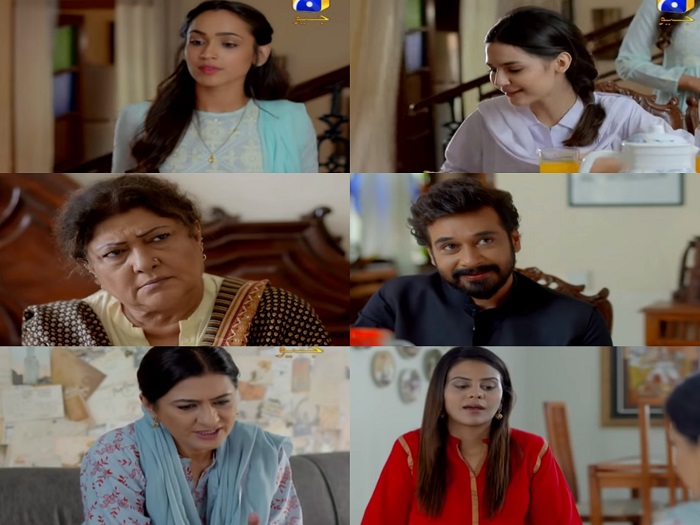 Najiba & Naila's Plans
Najiba and Naila teamed up yet again, this time against Mehwish and Nimra both. Their scenes had been-there-seen-that written all over them. Their conversations in this episode were not the least bit amusing since it was a repetition of past events. No matter what they have against each other, they always join hands whenever there is some stability in Asfand's life. Although their dialogues suggest that they are over-possessive about their brother but their actions show that they are just incredibly insecure, greedy and manipulative. Sundas Tariq and Saba Hameed have played their parts well but the amount of screen time these sisters have been getting makes their scenes difficult to watch. This time Saqib too is assisting them and taking Umair and Nimra's picture had to be the worst thing they have seen so far but the promo of the next episode suggested that they are probably not going to follow this plan through.
Overall Impression
The best thing about this play is that every episode has some tangible development in the story. The most clichéd aspect of this play has to be Najiba and Naila's track but the good aspect of this track is that the writer has not overdone the negativity. There are times when Najiba and Naila's conversations are amusing as well but that was not the case in this episode. Personally, I am growing weary of watching Najiba and Naila in the same light. The performances in this play never disappoint. I must say that this is the first time I am watching Afshan Qureshi in a balanced and positive role. The preview of the next episode suggested that Mehwish will get a call from her ex-husband. Baba Jani has been a really decent watch throughout therefore it should not be stretched and the story should be wrapped up in the next 2 weeks or so.
Do share your thoughts about this episode.