Baba Jani Episode 4 Story Review – Tonight's episode of Baba Jani covered a different side of Asfand's personality. While he still felt the need to please his sisters and was looking for their approval but the fact that he could not back out from a commitment made him go ahead with a major decision made entirely by himself, for himself. This was an important development which basically showed that Asfand wasn't just a loving brother but a conscientious person who could do something radical to do the right thing.
Character Development
Asfand already knows what his sisters did but he chose to keep quiet. If he hadn't known the truth he would not have gone to his khala for help and support. Also, he would have given his sisters more of a benefit of the doubt had he not known what they had done to have their own way. This entire development was covered in a logical and convincing manner. Najiba's 'love' for her brother is impossible to relate to. She comes across as a highly manipulative person who cannot look past her own needs and wants. Tonight too it seemed like she might eventually make an appearance at the nikkah because of what her son said. Her children also take after her but her husband has learned to have his own way without letting her know! Tonight, he warned Asfand and later was there for him too when the nikkah took place. His advice to Asfand was one of the reasons why Asfand decided to talk to Sadia.
Situations and Performances
There were many times when Asfand was shown having second thoughts, this was convincing and totally in line with his character. Asfand has definitely learned a few lessons and is not the same person who asked Mehwish to ask for an apology. Asfand's flaws make his character even more likable because in a way his weaknesses make him a empathetic person. It is also great to see few people in Asfand's life who can see that sometimes his niceness makes it easier for his sisters to exploit him. His conversation with his friends always gives an insight into a different side of his character. Asfand's sisters' scenes have been more or less the same throughout and definitely not the best part of this play so far. On the one side we have a refreshing character like that of Asfand and on the other hand we have these manipulative and conniving women who don't have anything new or exciting to offer. Faysal Qureshi and Madiha Imam gave the best performances tonight. While Faysal Qureshi got a lot of screen time and hence plenty of opportunities to showcase his brilliant acting skills, Madiha Imam managed to make her presence felt in scenes which were brief and to the point. Watching Faysal Qureshi and Savera Nadeem together again on-screen was an absolute delight.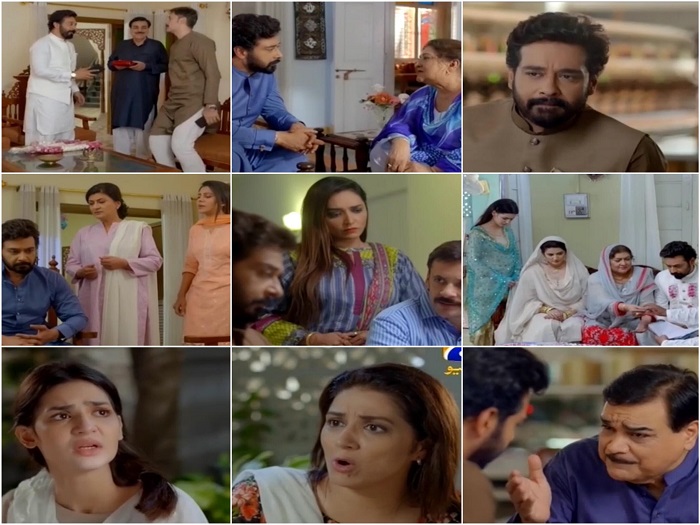 Overall Impression
I have to admit, the previous episode raised the bar really high therefore I had huge expectations from this episode. This episode primarily laid the foundations for what is coming ahead. Really looking forward to these new relationships growing. The preview of the next episode also showed that Mehwish will be back in Asfand's life and will have some interesting questions to ask. This scene suggested, she still hasn't moved on! Some of the scenes also suggested that Asfand will not let his sisters get away with having their own way once again… definitely looking forward to that too.