Written by: Nadia Akhtar
Directed by: Shahid Shafaat
Produced by: Momina Duraid
Schedule: Every Sunday 8 pm on Hum
Bakhtawar is one of those dramas which aired without prior marketing or excessive promotions. After watching these two episodes, I can safely state that sometimes dramas that are not hyped-up tend to pleasantly surprise the viewers. Bakhtawar's first two episodes were just what the doctor ordered, I had been waiting for such a drama to air on Hum in particular because every season, the channel airs at least one such drama that is unconventional and stands out for that reason. These two episodes of Bakhtawar were fast-paced, meaningful, entertaining, and exceptionally well written. The casting couldn't have been better; Yumna definitely stole the show. Bakhtawar is a beautifully etched-out character who has a really interesting story to tell. It is always refreshing watching a drama with a female protagonist who breaks stereotypes. Such a drama is an actual success when the viewers do not feel like they are being lectured while watching the show.
Nadia Akhtar let her characters tell their stories instead of relying on preachy dialogues. The writer took inspiration from at least two well-known real-life stories while penning down these two episodes which I felt was quite intelligent since the premise of the story is such that it could invite a certain kind of criticism. Most of the time viewers find such stories unbelievable because they cannot relate to them but when you have seen interviews of a real-life woman who spent half of her life on the streets of Lahore disguised as a man, you cannot call the writer out for penning down fiction which might be too far from reality for many!
Thrilling, Adventurous, Emotional Journey
The opening episodes of Bakhtawar did so much more than simply introducing the viewers to the characters. They took the viewers on an unexpected heartwarming adventure led by Bakhtawar herself. Bakhtawar's journey started with losing her beloved sister to a bad decision made by her father and losing her only brother because of the lack of finances. The exploitation at the hands of people who were supposed to protect her started from the first episode and continued till the end. Right from the beginning, the writer established the fact that even though all the odds were against her, Bakhtawar wanted to make a difference by educating herself and standing on her own two feet. That one scene with her sister in which she tells her not to settle for the same fate as hers was the highlight of the first episode. It made an already determined Bakhtawar even more so. Yumna Zaidi played the role of a strong girl who wanted to educate herself and change her destiny even in Ishq-e-Laa but that particular character was not as well written as this one. Bakhtawar only spoke out for herself or her mother when there was a need to do so. Sometimes our writers tend to confuse strength with batameezi, I am glad that was not the case here! Her strength was shown through her swift decisions and actions and not the fights she picked with those who wronged her. Apart from Yumna Zaidi's performance, her makeover couldn't have been better. She looked younger than ever before which I believe was an important requirement for the role. Her expressions definitely add to that impression as she brings out a certain innocence of her character even though Bakhtawar's strength is her main personality trait.
Another aspect of the story which stood out for me was Bakhtawar's mother's support for her. This mother-daughter duo is a team that I feel is rare and makes all the difference. Most often the mothers in such situations do not "team up" with their daughters the way Bakhtawar's mother has. She trusted her daughter more than once and willingly went along with some of her lies as well when it suited the situation. Bakhtawar did not choose to run away on her own but this was something she was doing for both of them. This makes her journey more meaningful and compelling. It also adds that heartwarming bit to the story which would have been missing had Bakhtawar left her house on her own. Huma Nawab fits the role perfectly especially because she did not even once overdo any of the emotional scenes. Her performance has been subtle yet it leaves an impression on the viewer.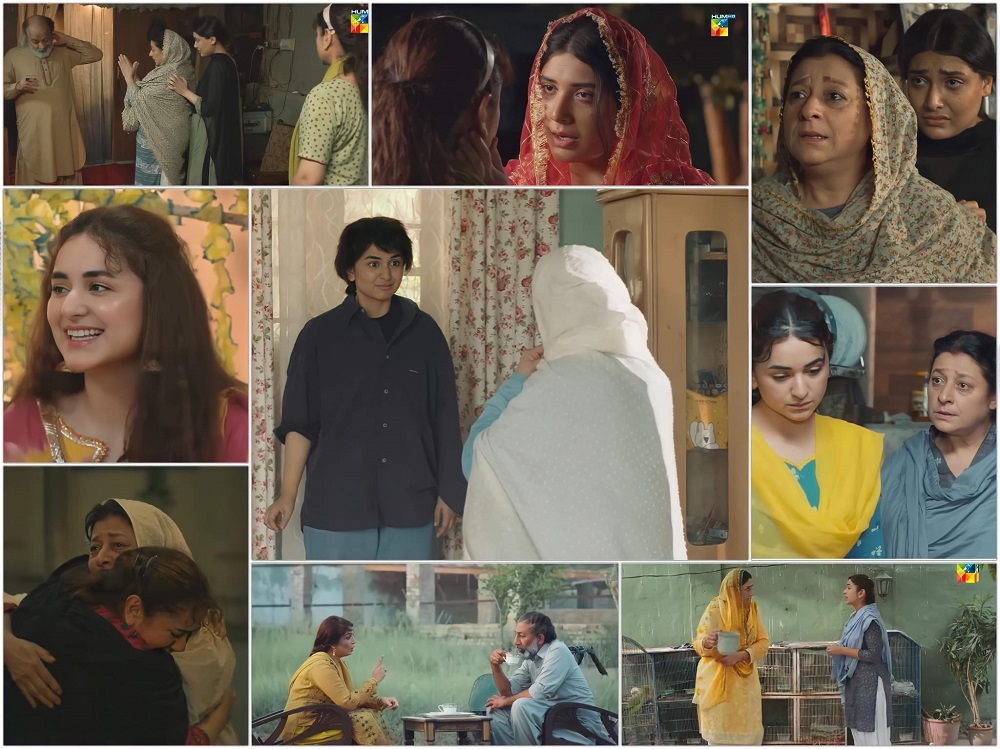 Another aspect of the story which impressed me was that even though Bakhtawar has come across so many people who tried to exploit her, she has never been portrayed as a victim. I found myself rooting for her more than anything else. And then there was Ahad's character which broke the monotony and showed that the writer penned this script down with an open mind. The message sent through this character was that all men are not the same. He helped Bakhtawar even after she rejected his proposal. This character reminded me of Kaamil's character in Sinf-e-Aahan. We definitely need to see more such male characters in dramas. Ahad's role in these first two episodes was to the point but pivotal nevertheless.
Most of Bakhtawar's journey focused on how difficult it was for a girl to get her basic needs met in a society that was constantly putting pressure and limitations on her. This was definitely something that hit home because most women have faced similar situations more than once. By the end of the second episode, Bakhtawar had decided that she could not make her dreams come true without hiding her actual gender and identity. This was indeed sad, especially considering the fact that Bakhtawar was so determined to prove herself as a beti and not a beta!
Final Remarks
Bakhtawar definitely has a great deal going for it, it can be this season's Parizaad if it continues moving forward with the same pace and the content continues to be as good as it was in these two episodes. Shahid Shafaat is a gifted director who excels at translating meaningful scripts on screen. However, there were times when I felt that certain aesthetics seemed out of place. The bed in Bakhtawar and her mother's room when they were staying in her friend's house and the curtains in their new rented room looked too stylish and modern for the setup that was being shown. Other than that, the makeovers of the actors were visually pleasing as well as realistic. Also, these two episodes were overall the most well-put-together fast-paced ones we have seen in a long time. I felt the first episode was slightly rushed at first but the second episode had so much to offer as well which means the writer is keen to tell the story and has enough content to keep the viewers hooked. The premise of the story is brand new, the performances have been on point and these two episodes were visually pleasing as well. The script also has a definite purpose and meaning, which is something I personally prefer.
Did you watch these two episodes of Bakhtawar? Share your views about them. And if you missed them, go watch ;)