This recent episode of Bakhtawar highlighted the hardships faced by the main protagonist. The decision Bakhtawar took when she decided to be Bakhtu was not an easy one and now it is only logical to show its repercussions. She was shown having a difficult time keeping her secret now because everyone around her seemed to be more interested in Bakhtu's sister than anything else. Some of the dialogues in this episode were beautifully penned down and Yumna Zaidi's performance was outstanding as usual. I was expecting things to go in Bakhtawar's favor therefore the way the story progressed in this episode definitely came as a surprise. The one thing which has kept me hooked on this drama right from the start is the fact that the story is unpredictable. The entire situation regarding Bakhtawar's whereabouts and people's reactions was ironic, to say the least, and went to show how conveniently everyone judged Bakhtawar. Bakhtu, Dilawar, and Hooriya track is not the best thing about the story. I don't find myself invested in this particular track and it is serving as a "distraction" for now. The story could have gone forward without introducing the "prince charming" at this point.
Determined To Succeed
The story opened with Sheeda making his way inside Bakhtawar's rented place and that is when everyone from the landlady to the neighbors got involved in the situation. Since the landlord had already asked Bakhtu where Bakhtawar was, it was even more difficult for Bakhtu to make an excuse. However, one thing is certain so far Bakhtawar's confidence skyrockets every time she faces these men as a man! She does not have the same courage when she is confronting them as a female. Watching all these characterless men accuse Bakhtawar like that was unfortunately extremely relatable. This was as close to reality as it gets! Very often men, who cannot convince a woman to date or marry them, turn to character assassination as a control tactic. Unfortunately, our society is filled with such men.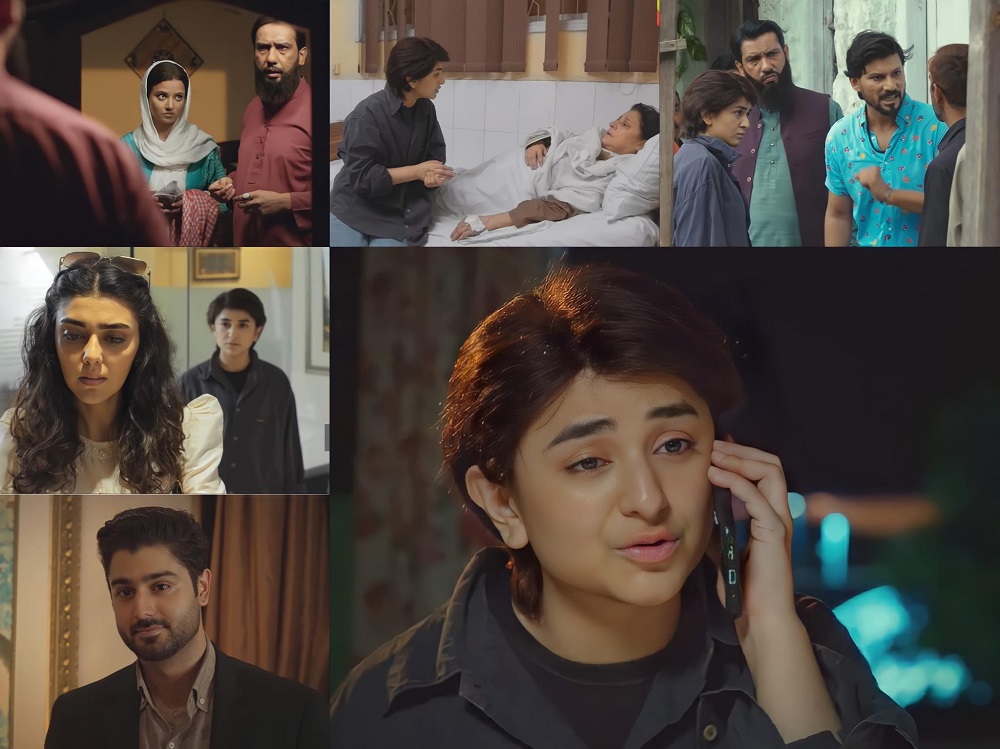 Bakhtawar's conversation with her friend was just what the doctor ordered. I had been waiting to hear her internal dialogue and what she actually felt about this situation. Whenever she talks to her mother, she is never honest and always sugarcoats. We have only seen her crying when she is alone. This was the first time that she actually voiced her opinions. Hooriya and Bakhtu's scene yet again showed just how controlling this woman is. She really needs to get a life! The fact that Dilawar is not even convincing as a trophy husband makes this track even more annoying.
Bakhtawar and her mother's scenes are always my favorite. Their relationship has been the highlight of every single episode. Bakhtawar's advice to her mother was the best, the writer managed to say a great deal through that one dialogue. I also liked the scene covering Dilawar taking a stand for Bakhtu and for himself. He is a wise boy but unfortunately, his father sees things very differently. It was however a pleasant surprise when his mother voiced her concerns.
Final Remarks
After watching this episode, I am wondering if Bakhtawar and her mother will end up leaving this place and somehow move closer to Dilawar's family. This drama has only been on air for 8 weeks and so much has happened already. There is a lot more to look forward to. I am waiting to find out what turn Bakhtawar's story will take and when and how will Dilawar find out the truth about Bakhtawar.
Did you watch this episode of Bakhtawar? Do share your thoughts about it.