This latest episode of Bakhtawar was beautifully penned down and showed everything which I am certain most viewers were waiting to watch. This was the kind of episode that most women could relate to irrespective of their age or struggles in life. Our society expects more from women and judges them continuously, that fact was yet again highlighted in this episode. The bitter fact is that every woman out there needs a male "savior" no matter how strong and for Bakhtawar, Bakhtu has been that savior. Bakhtawar is finally opening up about leading a double life, something which was not addressed in the previous few episodes. Her inner dialogue was presented in the most impactful manner through the conversation between Bakhtwar and Bakhtu.
Yumna Zaidi performed exceptionally well in this recent episode, it is truly impressive watching her pushing boundaries and excelling at it while translating this role on-screen. The writer once again showed the double standards and hypocrisy of the people who claim to be righteous. Hooriya's character continues to be the most boring aspect of an otherwise exciting drama. The previous episode suggested that everything was being shown for a reason and that reason proved to be the most pleasant surprise. I would love to see Bakhtawar moving forward and reaching her goals with her actual identity, hopefully, we are headed there.
Problems and Determination
Bakhtawar's life is not getting easier as the story is moving forward. In fact, things are getting more complicated. The opening scenes of the episodes showed how Sheeda decided to get back at Bakhtu by spreading rumors about his sister. The reaction of the people living in the neighborhood said a great deal about whom they believed and that is when Bakhtu decided to take matters into his own hands. Just like before, as Bakhtu, Bakhtawar was confident and was not going to give in to pressure. The first scene with the landlord was brilliant; it showed that even though Bakhtawar was young she knew how to take charge. The landlord and Sheeda both are hoping that Bakhtawar will marry them as a last resort but she made it clear that was not going to happen.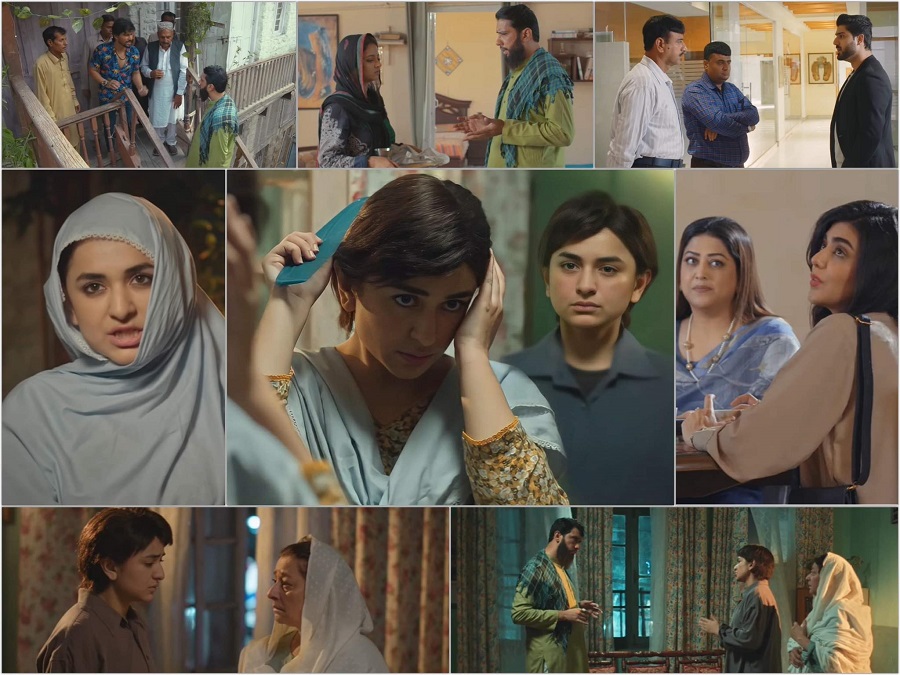 The best part of this episode was Bakhtawar facing the world courageously as a young woman who knew the odds were against her. She gave both the men who were assassinating her character a much-needed wake-up call. The dialogues between Bakhtawar and Bakhtu reflected the inner struggles of the character and also answered a few questions which might have been in the viewers' minds. Bakhtawar has been using Bakhtu as a shield and it is true that this was supposed to be something temporary which is now turning into a permanent feature and creating more problems for the protagonist. This conversation summed up Bakhtawar's motives and also reminded her of the person she once was. Bakhtawar has a different plan for the future, it remains to be seen if she will actually be able to execute it.
Dilawar and Hooriya's scenes are more or less the same in every episode. Hooriya continues to be herself; shallow rich spoiled brat with no values. And Dilawar makes sure he lets her know that he does not even like her yet she continues to ignore the fact that they are poles apart. Dilawar and Bakhtawar's scenes in this episode were meaningful. Bakhtawar wants to come out clean but she has seen Dilawar telling people off for lying to them. I hope that Bakhtawar will eventually tell Dilawar the truth herself instead of this entire development turning into one of those misunderstandings that linger on.
Final Remarks
The pace of the drama has slowed down and some of the scenarios are repetitive at times but overall Bakhtawar still continues to be a quality drama with a protagonist that holds your interest. Unlike many other dramas nowadays, Bakhtawar does not have the best sidetrack. Bakhtawar's track continues to be the story's biggest strength and appeal.
Did you watch this latest episode of Bakhtawar? Do share your views about it.