Ohkay so, the production of Big Bang Productions, direction of Badar Mehmood & the writing of Zanjabeel Asim Shah – Balaa is a prime time drama that airs on Monday on ARY Digital. The first double episode of Balaa laid the foundation in which the drama is set & elaborated the dynamics between the characters & their families – where one family has made it based on their hard work & the other one has this sense of entitlement which can also be classified as a superiority complex!
Zafar (Sajid Hassan) has a daughter Nigar (Ushna Shah) & a son Junaid (Asad Siddique). Nigar is physically disabled but she uses it to her advantage. Junaid got married to Zeba, an orphan in order to save her from getting married to a man twice her age but Zafar & Nigar make sure to use it against him only to make him feel guilty all the time. Usually people think that those who are physically disabled are polite & do not blame anyone else for their hindrances but Nigar on the other hand has an inflated ego & it won't be an understatement to say that she is quite a manipulating & conniving person who thinks she is entitled to everyone's respect even if she doesn't extend it towards them. Zafar is also responsible for Nigar's attitude & the way she has turned out because he has gone out of the way to make her feel she is loved, so much so that he has fed it to her soul that she is someone super special & has the right to look down upon people even if it is her brother or his wife. Nigar is beautiful but unfortunately her personality is ugly!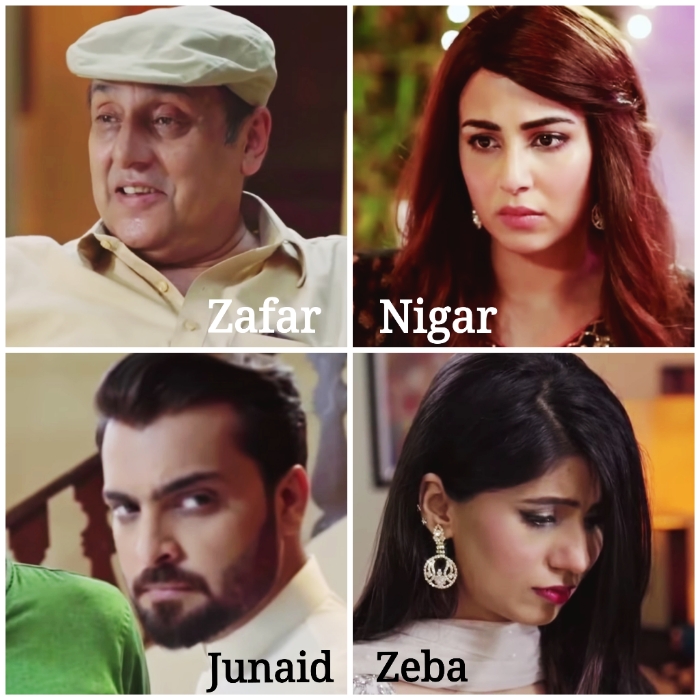 Taimoor (Bilal Abbas Khan) is Zafar's nephew. Taimoor's father passed away & he has worked really very hard to bring himself to the level that he can now take care of his family which consists of his mother (Samina Peerzada) & 2 sisters Saleha & Batool. They are a close knit family that only speaks the language of love & respect with each other. Saleha takes after her mother in having a God-fearing heart whereas Taimoor & Batool are practical & not overly emotional to an extent of putting people before them even if they don't deserve it.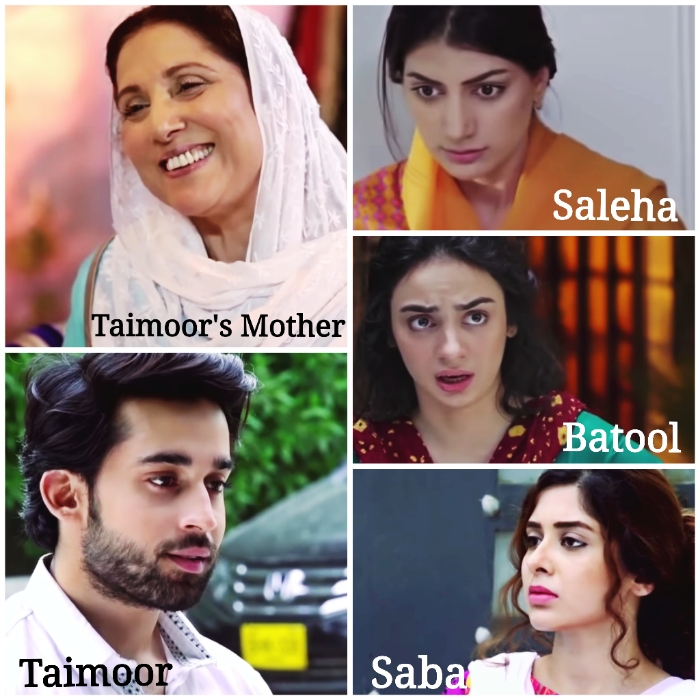 Zafar pays a visit to Taimoor's place on the occassion of Saleha's engagement but just then & there he lets everyone know what his deceased brother's family means to him by looking down on them. Zafar makes sure to let Saleha's fiancé know that he is a wealthy businessman only because of his daughter's luck. Zafar uses Nigar's luck as a billboard to advertise how much wealth he has accumulated over the years. Nigar sees Taimoor on the engagement & that is when she lets her father know that she likes him & would want to get married to him.
On Taimoor's front, he likes his family friend Saba but when his mother puts forth his proposal, Saba lets her mother Rashida know that she is interested in someone else. Even though Saba mother accepts Taimoor's proposal then & there, I am sure Saba will make it very clear to her later on that she will not get married to Taimoor. Everyone in Taimoor's family rejoices over the news of his marriage with Saba but Zafar who comes to fix the marriage of Nigar & Taimoor ruins everything. It was good to see Taimoor standing up for himself & reminding Zafar that he shouldn't play the Taya or Ghar Ka Bara card because he never once showed up at their doorstep after they lost their father but then Zafar being the unreasonable person he is, tries to pressurize Taimoor as well as his mother to accept Nigar's proposal or else he will make sure everyone else cut ties with their family.
Zafar's unreasonability can be measured with his order to Junaid to divorce Zeba & get married to Batool in order to prove it to Taimoor that Zafar treats them as a family. Even Junaid knows that he has no value in Zafar's eyes & he is saying all of that to fix Nigar's wedding but then even he starts thinking on those lines & to make matters worse, he lets Zeba know who loses her calm giving a rise to another mayhem. Nigar who already was on Zeba's case makes sure to play the victim card & blame it all on Junaid & Zeba whereas deep inside, she feels shattered that Taimoor rejected her proposal & for a girl like Nigar who can't take no for an answer – it is a big deal.
Well, a lot happened in the first two episodes & because of the way this drama has been directed along with the way the actors have acted, it surely has piqued my interest & I will be looking forward to the rest of the story. Even though the scenario with which the drama has begun is not something new but with Zanjabeel Asim Shah as a writer, I am ready to invest my time in this drama as I am sure she is going to bring something amazing to the table. Everyone acted brilliantly & it did look like everyone has worked really hard on the look of their characters to make them look realistic but I am not too sure why Ushna Shah chose to wear a wig in stead of relying on her natural hair? Everything else was good & just the way it should have been. These weree two very strong episodes which I will most certainly recommend to the drama buffs. I am definitely looking forward to the next set of episodes. Please share your thoughts.
Keep Supporting,
Cheers,
Zahra Mirza.