Opening Thoughts – Decent Episode
Ohkay so, this episode of Balaa was decent. It is pretty obvious that the story of Balaa is nothing new, it is based on an evil character Nigar. Balaa shows how far Nigar can go & wherever she goes, she only brings destruction, be it her own home & now the home of her husband. Top notch acting & skilful direction makes Balaa a decent watch but more than that I hope to see someone standing upto Nigar & her evilness!
Nigar Is Winning A One-Way Battle:
Taimoor has started to see things through Nigar's perspective. Though Taimoor is not fully convinced but it won't be too long before that happens because firstly Shama is not behaving the way she should & secondly, Nigar is constantly brain-feeding to make him see what she wants him to. Slowly & steadily, Taimoor has started to react on things that he wouldn't have before his marriage that is only because Nigar makes sure that nothing goes unnoticed in front of Taimoor. Taimoor trusts Batool but only because he was pushed & pressurized by Zafar, he reacted.
Batool's character is definitely nice, like she started thinking about what Taimoor expects from her & how she should not do anything to shatter it. Batool likes the guy who happens to be Shama's doctor but oh well, Nigar had to find out about it as well. It is too obvious that Nigar is now going to invest her energies on ruining Batool & Doctor's relationship so that she gets married to her hopeless pathetic brother Junaid. The way Nigar got involved in this entire matter once again showed that she now found herself a new adventure that she was ready to take on.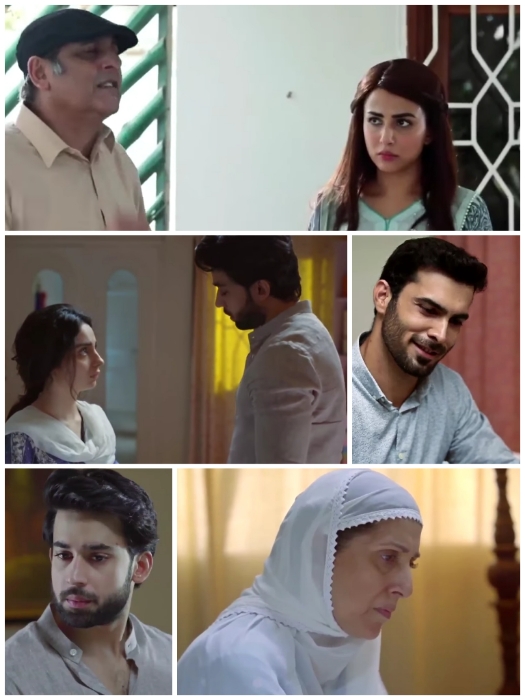 Nigar is slowly & steadily drifting Taimoor apart from his mother & sisters but it is unfortunate that none of them is doing anything to stop her. Shama can see what Nigar is doing & so does Batool but they are too forgiving I feel or are just ignoring things for the peace which Nigar is bent on ruining. Nothing can be expected from Saleha because she is too sweet & simple but at least Batool should speak up. Shama should make up her mind, either she wants to side with Nigar & ruin everything or she needs to take charge of the situation. Yes, Shama is simple & doesn't posses such a nature to create issues but she has seen how Nigar is disturbing their lives that too with the support of Zafar, so Shama should really buckle up & do something about it.
Nigar is evil, so much so that she even held her father accountable & told him off for supporting her brother Junaid. I guess this is enough to see the kind of a person Nigar is because when she can not even stand her brother, then no wonder she is causing so much pain to Taimoor's family. For a second I did feel good when Shama ignored Nigar even when she constantly spoke about taking the charge of household expenses but then Shama lost control & let Nigar rule her again.
After Nigar left, it was too obvious that Taimoor was missing her & then he got the time to analyse the situation & unfortunately, he deemed Nigar right & felt that Shama was wrong. Oh well, the troubles for Taimoor are far from being over because now he has started to trust Nigar more than he should & she deserves.
Closing Thoughts – Looking Forward To More:
Overall, these two episodes were definitely better than the last few episodes but I wish they do not prolong Nigar's mind games & her winning for too long. I don't know why but I have a feeling Zafar's servant has an important role to play in the future, I hope there is something more to that character. Let's see. Please share your thoughts about this episode of Balaa.
Keep Supporting,
Cheers,
Zahra Mirza.