Opening Thoughts – Petty Issues:
Ohkay so, this episode of Balaa was again alright because the focus on petty issues makes it hard to take this drama & its characters seriously. The story hasn't really made much progress that is why the main topic of discussion happens to be things like chicken, yakhni, sonf, massi & joshanda. I totally understand that our writers take pride in showing close to reality stories but then no one is really looking forward to close to kitchen dramas because I don't think viewers who spent a fair share of time in the kitchen want to be reminded of the ingredients they should be adding in the next month's grocery list while watching a drama. Balaa had a lot of potential but these petty issues have reduced it to something else & make it look like a joke.
Shama & Taimoor Are Weak Characters:
Taimoor has finally started seeing Shama through Nigar's perspective. To be honest, I feel both Shama & Taimoor deserve what is happening to both of them because when they don't want to help themselves, no one can actually help them either. Shama & Taimoor were well aware of Nigar's nature before the marriage took place so it is ridiculous to see Shama allowing Nigar to do all this & Taimoor believing in one-sided picture that Nigar is painting in front of him.
No matter what, just like a mother knows her child in & out, a child also knows about the strengths & weaknesses of his/her parents. For Taimoor to actually believe that Shama is mistreating Nigar is quite unconvincing. Taimoor really doesn't know how to maintain a balance in the first place & that makes him quite a worst character who has no brains to analyze the situation himself. When he got married he rubbed his family on Nigar's face & now she is doing everything to remove the traces of that rubbing.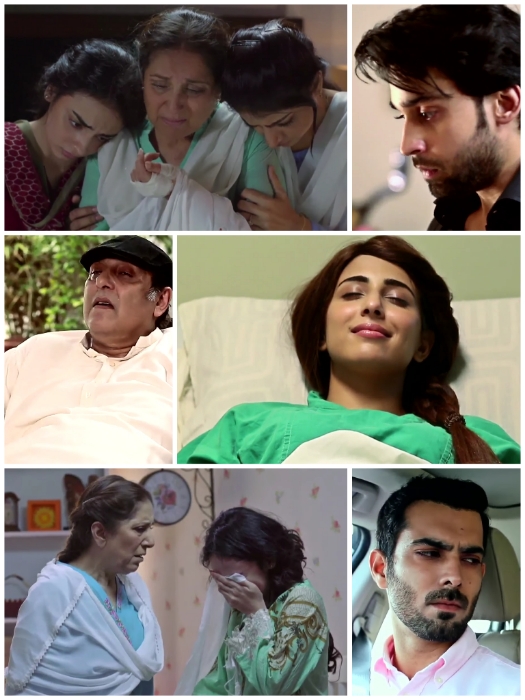 The only good thing in this episode was a face off between Shama & Taimoor where Shama fully supported Batool. At that moment I thought Shama has finally redeemed herself but oh well. Even after Batool told her that it was Nigar who sent Taimoor to that café as she knew Batool was meeting Hamza there, Shama in stead of doing something about it went to Nigar to plead her case? Like seriously? After everything that Shama can see & understand about Nigar, she still thinks Nigar will do as she requests? Also, when Shama can take a stand for Batool in front of her son Taimoor, then why did she say that she won't be able to do anything if Taimoor fixes her marriage with Junaid? Seriously?
Closing Thoughts – Fab Acting:
As the drama is progressing I am losing my interest in it because I am tired of seeing this one-sided match. Also, what more is going to happen for everyone in Taimoor's family to tell him the truth about Nigar & show him the other side of the picture? Everyone can see that Nigar is lying to him & making things up yet no one says a word & let's Nigar do more damage? The situations were petty but the acting of everyone was quite intense & they did a fab job especially Samina Peerzada & Meherbano. Please share your thoughts about this episode of Balaa.
Keep Supporting,
Cheers,
Zahra Mirza.