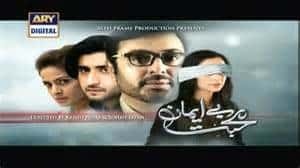 The drama has finally started to move forward- better late than never I suppose! Dania broke off her engagement with Naeem- she used her father's illness as an excuse but her parents have started realizing that he probably wasn't what they had thought. Naeem in turn goes and blurts out to Sobia about Baber and Dania's affair. Babar hates being cornered and has finally started showing his true colors- he was never man enough to marry Dania but he liked spending time with her- she was just the sort of distraction he needed in his life. Men like Baber are too afraid of taking a stand for themselves since they are entirely dependent on their family for support. Dania was confident that Baber loved her but she was in for a rude awakening.
Sobia, though devastated, took it in her stride with dignity- she is trapped and knows that Baber doesn't have the guts to call off the engagement and even though he mistreats her, he's the only man she has ever loved. It's hard sometimes when families arrange marriages ahead of time- young girls grow up fantasizing about their cousins as their perfect soul mates and when reality takes over, they are left helplessly lost and confused. Baber knows his father would sooner disown him than call off his engagement with Sobia and he sees no way out which is what drew him towards staring an affair with Dania. But seeing Dania dumping Naeem made him cautious since he knew Dania would try and force him into a commitment.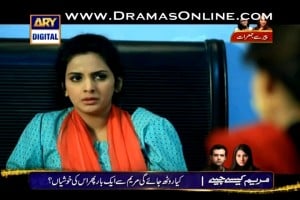 With Qazi Saheb's paralysis, Dania has to start seeking employment opportunities to support her family. She drops off her resume at Nabeel's work and runs into him. No sparks fly since she's not exactly up for small talk and Nabeel doesn't seem too impressed by her either. Maria, however, is wary of hiring a typical social climber and would rather take a chance on a newbie like Dania than have another seasoned secretary try and seduce Nabeel. Maria thinks that by keeping women at bay, she is safeguarding her marriage but little does she know, Nabeel isn't devoted to her- he is devoted to her money! Maria continues pressing Nabeel to agree to adoption but he flatly refuses saying he doesn't want any children except his own.
Now that Dania will be hired as Nabeel's PA, will she turn to him on a rebound or will she play hard to get? Dania always wanted a comfortable life and Nabeel could be her ticket to riches. Will she let Baber off the hook for deceiving her? This is where it starts to get interesting. Looking forward to next week.
Yours in watching,
Kanwal Murtaza