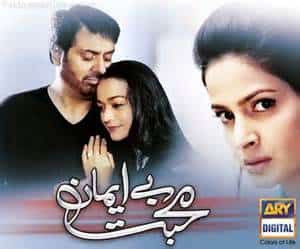 While Dania and Babar are out on a date- their very first outing, things are heating up at Qazi Saheb's (Dania's father) office. A new officer is reviewing all the paperwork and it has made everyone rather alert. Qazi Saheb confides in Naeem that he's a little perturbed but Naeem reassures him that he's got nothing to worry about. The officer summons Qazi Saheb and accuses him of teaming up with his son-in-law and approving illegal projects in exchange for financial gain. He threatens him with a detailed inquiry and Qazi Saheb suffers a heart attack. Naeem rushes him to the hospital and Dania's mother asks him to get Dania from Sobia's house. Upon reaching there, he finds out Dania never came there. He spots Naeem on the bike with a woman but doesn't see who she is. Unfortunately, his colleague notices Dania with Babar. Finally Naeem finds Dania at her place and she asks him to take her to see her father.
At the hospital, Dania tells Naeem not to let her parents know that she wasn't at Sobia's house. Naeem, who is completely smitten by Dania agrees to her without question and tells her he will spend the rest of his life agreeing to everything she says. Dania's disgust at Naeem is apparent and her apology seems insincere too. She's grateful to him for saving her father's life but she can't stand his presence. Babar was being his usual chichora self and it made me wonder- what exactly does she see in a guy like him who's not only cheating on his fiancée, but he's clearly just enjoying himself with Dania and has no real intentions of taking a stand for her.
Maria confronted Nabeel about Sumbal's accusations- Nabeel insisted that someone is trying to frame him and destroy his life. Maria comforted him and told him that she still trusted him. I really like Samiya Mumtaz in this role- it's such a refreshing change to see her play the character of a strong woman with a scheming mind. As they say- all's fair in love and war. Nabeel is still trying to get in touch with Sumbul and find out what really happened. He's frustrated with the way she left and especially since she escalated the complaint to Maria. He has tried very hard to maintain his image as a devoted husband and he wouldn't want anyone to hamper it- least of all another woman!
I wonder if Sobia will press Dania for where she went after knowing she used her as an alibi. I actually feel really sorry for both Naeem and Sobia- they are so completely in awe of their respective significant others and are blind to their flaws. With Qazi Saheb's deteriorating health, Dania may be in a situation where her parents pressurize her into a quick Nikah for their satisfaction. Knowing Dania, she won't refuse her parents outright, she will probably try and prolong it hoping by then Babar will fess up and ask for her hand in marriage- although my instincts tell me Babar is not to be trusted!
What are your thoughts about this episode? What do you foresee happening in the next episode(s)?
Yours in watching,
Kanwal Murtaza