Tonight's episode was frightening, disturbing and engrossing; the mystery, suspense and horror element of this play so far is flawless which is why anyone who will have sleepless nights watching a horror show shouldn't tune into it. Those people out there (like myself) who enjoy watching such shows should definitely give it a shot because this drama will give you your weekly dose of horror in the right proportion! The performances, direction, situations and the script overall has been up to the mark so far. The constant focus on the horror element of the drama makes it the kind of show which stays with you long after you are done watching it. The camerawork has been brilliant and the execution of the horror scenes has been impressive right from the first episode. Even someone who doesn't get scared easily will feel every terrifying situation which is being shown.
The new characters in the drama have added to the mystery since not much has been revealed about them but the way these characters have been introduced suggests that each one of them have a story to tell. Tonight's episode focused on Rameez and Alia since Tasha was in the hospital. Yet again the developments tonight showed that the "dayan" who was after this family will do anything it takes to harm all those people who try to make this house theirs. Since Aziz sahib's mother too was seen in the previous episode therefore it seems like all those people who lived in that house once never really left this world the way people do once they die. While the women in the house are convinced that this house is possessed, the men continue to be in denial even though they too have been in situations which suggested that there was paranormal activity in the house. Aziz Sahib is the only person who knows what actually happened here when everyone was alive therefore he is the one who will ultimately reveal who the "dayan" is and why his mother continues to have a presence in the house.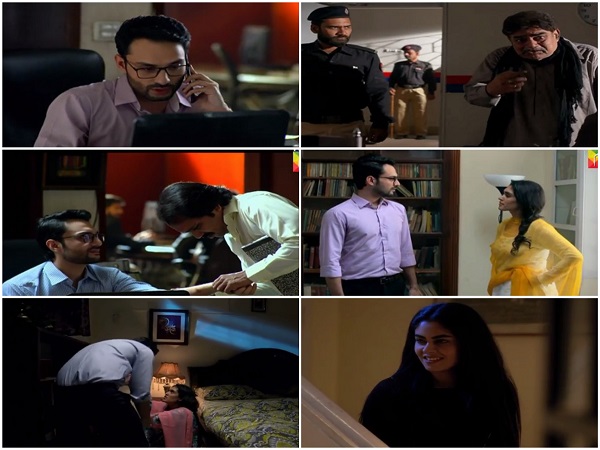 The most frightening and well-executed scene in this episode was the one in which Alia calls Rameez and begs him to come home. This entire scenario gave me goose bumps and even when Rameez came back there was no way of knowing whether he really was the actual person or not! Osama Tahir's performance tonight was brilliant as usual, he is a confident actor who never fails to impress. I am definitely looking forward to his future projects already.
I missed watching Sarah Khan in this episode since she has been performing exceptionally well and the last 3 episodes focused on her more than any other character. Am I the only one who is getting impatient already? I can't wait to find out what role Irfan Khoosat's character is playing in this entire situation and why is this house haunted. All the horror scenes tonight were impactful because they were written and executed brilliantly. I would highly recommend this show to all those viewers out there who like watching such shows since so far this is turning out to be one of the best horror shows which we have seen on our television screens since the plot and the execution is original as well as enticing.
How many of you watched tonight's episode? Don't forget to share your thoughts about it.