After watching this episode all I can say is that it is time to end this drama!! Every time it seems like the story is headed towards a conclusion a new twist, which is nothing more than a way to stretch the drama, is added to the story. Shehryar's intentions were quite clear even before therefore everything that happened today was quite predictable. What can I say, in a country where girls who belong to middle class families cannot find one decent suitor these girls in our dramas have a line of suitors who will do anything to marry them! Hira appeared out of nowhere and Shehryar's friend knows that but he doesn't have a problem with it. Zeeshan and Hira are poles apart but even then Zeeshan thinks Hira will make the perfect wife and do they even know that Hira isn't even divorced yet? Babur is another eligible bachelor who even now thinks that he can trust Hira's father.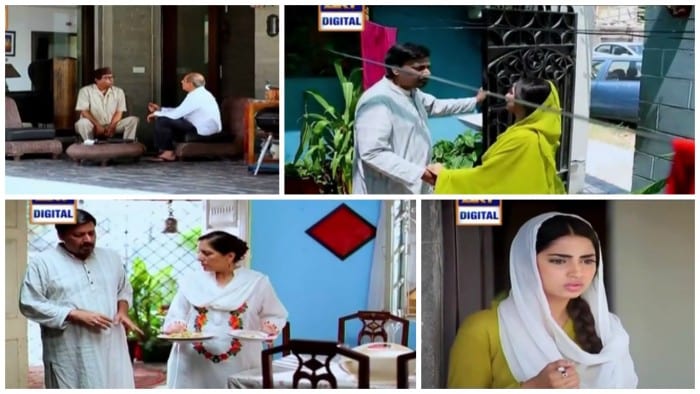 The only good thing about this episode was that Amin did not succeed in taking Hira with him. Other than that I have no expectations from this drama now since the writer is bent on stretching the story and any hopes of character development have dashed to the ground since the changes in characters seem more like mood swings than developments! Hira has forgotten that her 'ideal abu' once tried to marry him off to someone who was old enough to be his father. Just like all the previous episodes Hira's feelings for her step father were not the least bit relatable. She holds Shehryar accountable for everything but somehow she is willing to forgive Waseem for everything. Waseem's love for Hira did not move me at all since he has changed so many times in the past too but he always goes back to being his old self.
Even after everything that happened in the past Babur thought it would be okay to pay a visit to Waseem's house. Babur's mother's reluctance was definitely more convincing than his eagerness to support Sadaf since she is living in Waseem's house and they just cannot go there unannounced.
Hira, Sadaf and 'Abu' are one big happy family now but somehow at this point I am finding it very hard to feel anything for any of the characters since the story is being stretched for no reason. All the actors have done complete justice to their respective characters except for Saboor Ali who tends to go overboard most of the time. The production values of the drama like many of the other dramas on air nowadays is top notch too but unfortunately the repetition and unwanted excessive emotionalism tends to be really annoying. The director has always focused on excessive rona dhona right from the start and it is getting very irritating with every passing episode. Samina Peerzada looked beautiful and graceful in white. She has an undeniable screen presence and I hope to see her in more powerful roles in the future.
How many of you watched this episode of Beqasoor? Don't forget to share your thoughts about it and if you missed it watch it onhttp://www.dramasonline.com
Fatima Awan