Mere Pass Tum Ho's dialogues have very often gone viral. Mere Pass Tum Ho has some of the best dialogues which became even more powerful because of the situations and the storyline. Khalil-ur-Rehman Qamar is known for penning down soul-stirring and hard hitting dialogues which win the viewers over completely. Some of Mere Pass Tum Ho's dialogues were also the topic of discussion on social media and elsewhere. Mere Pass Tum Ho's story isn't new but the way the writer has highlighted the emotions and conflicts of the characters through his dialogues has given this old story a new feel.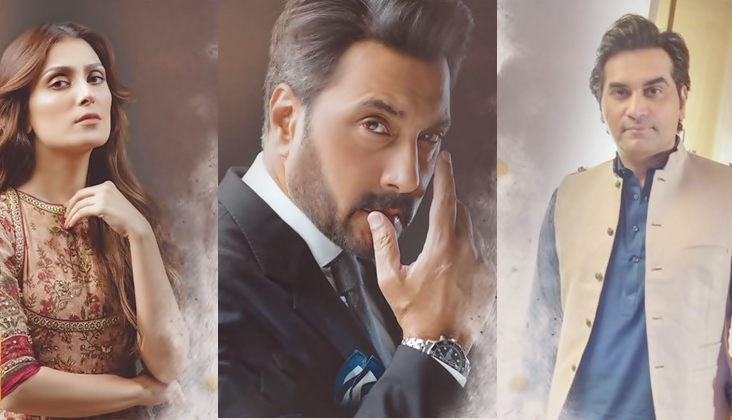 Mere Pass Tum Ho is the most popular drama on television right now and the dialogues in this drama have contributed to its popularity. These dialogues make the drama more powerful. Although it is nearly impossible to narrow down the best dialogues in Mere Pass Tum Ho in one list but this is an attempt to do so.
The Dialogue Which Went Viral
This dialogue from the 12th episode of Mere Pass Tum Ho went viral instantly. There were different kinds of reactions to this particular dialogue. It won't be wrong to say that this was the most debated and talked about dialogue of this year. In episode 11 when Mehwish finally makes up her mind that she wants to leave Danish, he asks Shehwar to pick her up after giving her a divorce. Shehwar had earlier offered him 50 million rupees for leaving Mehwish. Danish refused to take the money and before bidding farewell to Mehwish, he expressed his anger by telling Shehwar that Mehwish was not worth 50 million rupees. Those people who agreed with the notion and felt for Danish loved this dialogue. Others who thought that this dialogue was insulting and in bad taste, criticized it. For the longest time people shared their views about this dialogues and there were others who made memes to express their opinions. Surely, even those people who are not watching Mere Pass Tum Ho must be fully acquainted with this dialogue if not the context. The superb direction, acting and the timing of this dialogue added to its effectiveness.
Danish's Loss Summed Up
Episode 12 was the most powerful episode of Mere Pass Tum Ho because it had few of the most memorable dialogues from the drama. Danish for the most part was a 'good sport' when he divorced Mehwish and let her leave with Shehwar. In this scene, Shehwar thanks him for divorcing Mehwish and thinks this was 'great'. Danish's reaction to this basically summed up his feelings in this situation. His words also showed yet again what Mehwish meant to him. He made sure Shehwar knew that this was not great. Once again the timing and the delivery of these dialogues made all the difference. The viewers felt for Danish because of such dialogues in this episode.
Danish and Shehwar's Conversation
Danish and Shehwar's meeting in episode 11 was the most emotional scene of  Mere Pass Tum Ho. Shehwar had Mehwish's permission to do whatever it took to convince Danish to leave her. Shehwar showed Danish the pictures which were taken in the hotel room when Shehwar and Mehwish were there together. Even though Danish was highly disturbed by seeing these pictures but he continued making excuses for his wife. This explanation he gave showed how far he was willing to go in order to save his marriage. These dialogues were penned down beautifully and Humayun Saeed's expressions in this scene were superb. Right till the end Danish blamed Shehwar because he couldn't even picture Mehwish not being a part of his life.
Danish Decides to Let Mehwish go
These dialogues were mind blowing, they were the essence of the twist no one expected. After looking at Mehwish's pictures at the hotel, Danish did not go home and shout at her but he calmly sat down to explain to her how he felt when he saw those pictures. Danish always tried to make his wife happy but she was never happy with him. Therefore the smile on Mehwish's face in those pictures was brand new for him. These dialogues are just awesome and one of the many reasons why the viewers fell in love with Danish's character.
Roomi and Danish's Scene
Roomi and Danish's relationship has always been the most delightful aspect of  Mere Pass Tum Ho. Roomi was always more close to his father than he was to his mother. Roomi decided to go and stay in a boarding school after his mother left him. Roomi and Danish's meeting when Danish goes to meet him in the boarding school was emotional. The way Roomi reassures his father was the most emotional part of this meeting. These dialogues were so touching and Roomi's acting was wonderful in this scene.
Mateen Sahab Narrating His Story
Mateen Sahab was an important character in Mere Pass Tum Ho and his exit from the drama was emotional. Mateen sahab shared his story of regret which made the viewers feel for him more than ever. Through these dialogues the writer also conveyed that men too were not forgiven when they were unfaithful. Also that a man too becomes worthless when he does not value the woman who loves him. Muhammad Ahmed's brilliant acting added to the emotional aspect of this scene. It was the best scene with the most heart touching dialogues.
Danish and Mehwish's Confrontation
Danish decided Mehwish will not go to the office after he found out that she lied to her. This confrontation and the exchange of dialogues between Danish and Mehwish was penned down and directed so well. It showed how much had changed between them, how differently these two people viewed their relationship now and how eager Mehwish was to leave Danish. The dialogues of both these characters articulated their frame of mind perfectly.
Emotional Dialogues
In this scene Danish figured out that Mehwish was not going to listen to him. After reassuring her of his love repeatedly, he reminded her that Roomi was also part of their lives and if this marriage ever came to an end, he would also suffer. His dialogue about Roomi was another emotional and beautiful one.
Meaningful Dialogues
These dialogues were meaningful because they did not only give an insight to Danish's character but also answered the questions which viewers were asking again and again. Many people were wondering why Danish was going along with everything knowing fully well that this could harm his marriage and his relationship with his wife. The writer through these dialogues answered that question in episode 9.
Mehwish's State of Mind Explained
In episode 4 when for the first time Danish realized that Mehwish actually gave in to the temptation he confronted her more than once. This was one of those confrontations in which Danish tried to explain to Mehwish what she was doing and why it wasn't acceptable.
Did you like these dialogues? Share your favorite dialogues from Mere Pass Tum Ho in the comments section.