Pakistan International Screen Awards 2020 were held in Dubai last night. This was the very first time these award functions were conducted. It is unfortunate that they were surrounded by controversies where the organizers didn't give up a proper protocol to a lot of celebrities who they committed to bring to UAE to make a part of the event. A lot of renowned celebrities accused the organizers of PISA 2020 for false advertisement. However, a lot of celebrities joined hands to make this function a success.
Award functions bring celebrities together where they acknowledge the great work that the industry has done and along with that, they also get to dazzle the red carpet with their beautiful looks and dresses. PISA 2020 was attended by a lot of famous Pakistani celebrities. Where quite a lot of them failed to impress, there were a lot of such celebrities who looked spectacular.
Let's take a look at the Best Dressed Celebrities spotted at PISA Awards 2020:
Sarah Khan
Sarah Khan knows how to slay at the award functions with her carefully picked outfits and beautiful looks. Sarah Khan wore two outfits at the event. A gorgeous black chiffon saree with embellished blouse and a gorgeous green gown when she did the honors of opening the award ceremony with Pakistani National Anthem. It's safe to say that she looked spectacular in both the outfits. Sarah Khan is one of those few celebrities who not only dress modestly but also know what looks good on them. She looked like a vision in the black saree and showed how simple outfits can make a statement. Sarah wore her hair straight and kept her makeup simple, but she scored a spot in this list with flying colors.
Reema Khan
Reema Khan is a timeless beauty. She is also one of those celebrities who never compromises on her touch of tradition, that is why despite picking up modernized versions of gowns, she brings in the ethnic charm to all of her looks at award functions. Reema wore a beautiful silver gown with multi colored print on the bottom of her gown, but let's just say, she safely and gracefully scored a spot in this list. Everything about her look worked, be it her gorgeous silver outfit which complimented her hair and complexion, her choice of accessories, her hair and beautiful makeup.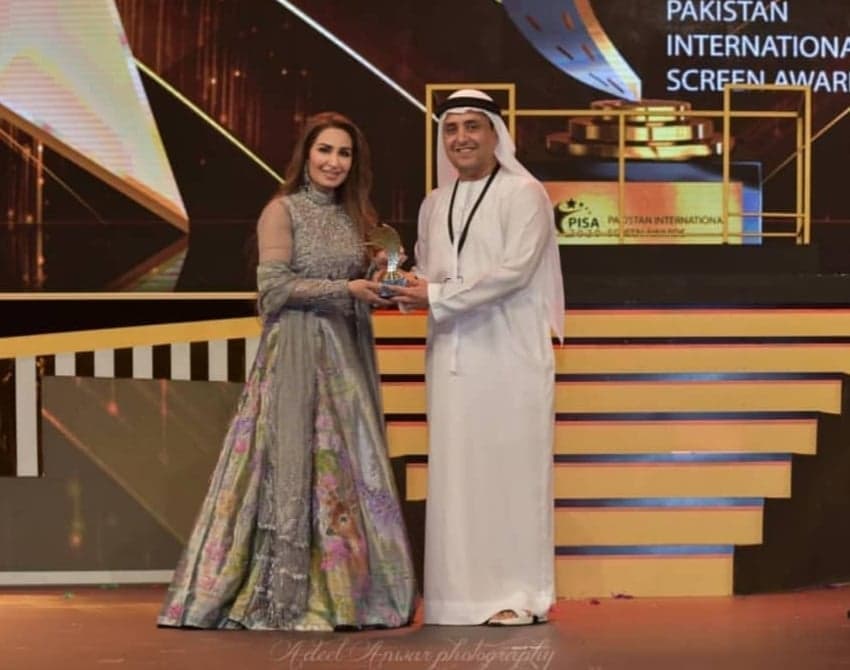 Imran Abbas
Imran Abbas wore a suit created and designed by Rehan Junaid Salaam. It was a simple black tuxedo, but the article of clothing that amped up the look and made it award night appropriate was the dazzling embellished velvet coat. Another pick that completed Imran Abbas's look and added another touch of pizzazz were the specs that he wore to the red carpet. Imran Abbas surely looked dashing at PISA 2020.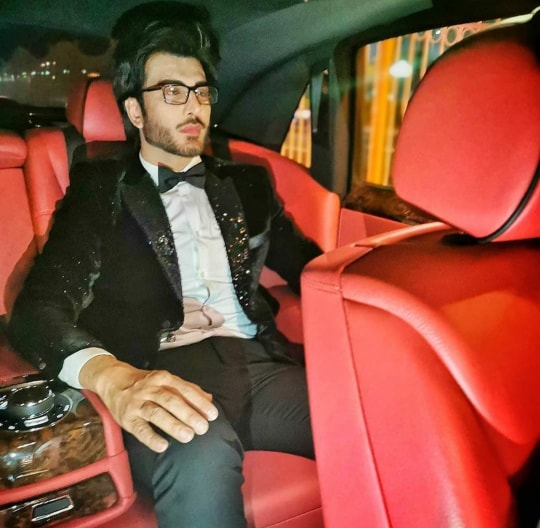 Ayesha Omar
After a lot of trials and errors, Ayesha Omar finally found herself one such gown which did justice to her petite frame and made her look elegant. Ayesha Omar wore a creation of Kuwaiti designer label LabourJoisie. Let's just say, Ayesha Omar should rely on international designers for such events because their gowns are made in such a way which hug the body perfectly and are classy. This gown was sparkly, it was blingy, it had tassels and it was just perfect. Ayesha Omar wore dainty accessories. She kept her makeup bold because the dress was a shade of pastel gold and silver. She wore her hair differently, she has been pictured in two different hairstyles. Let's just say, this was definitely Ayesha Omar's night and she looked gorgeous.
Sana Javed
Sana Javed wore a creation of Nomi Ansari and she looked absolutely beautiful. It was a gorgeous solid black base which was amped up with silver metallic mukaish work. It was a beautiful creation and Sana Javed carried it with utmost grace. Sana Javed wore her short hair in loose curls, she kept her makeup glamorous. It was obvious that Sana Javed wasn't screaming for attention and she went for a relaxed traditional vibe and she nailed it. There's actually nothing like traditional dresses and this jora by Nomi Ansari proves it!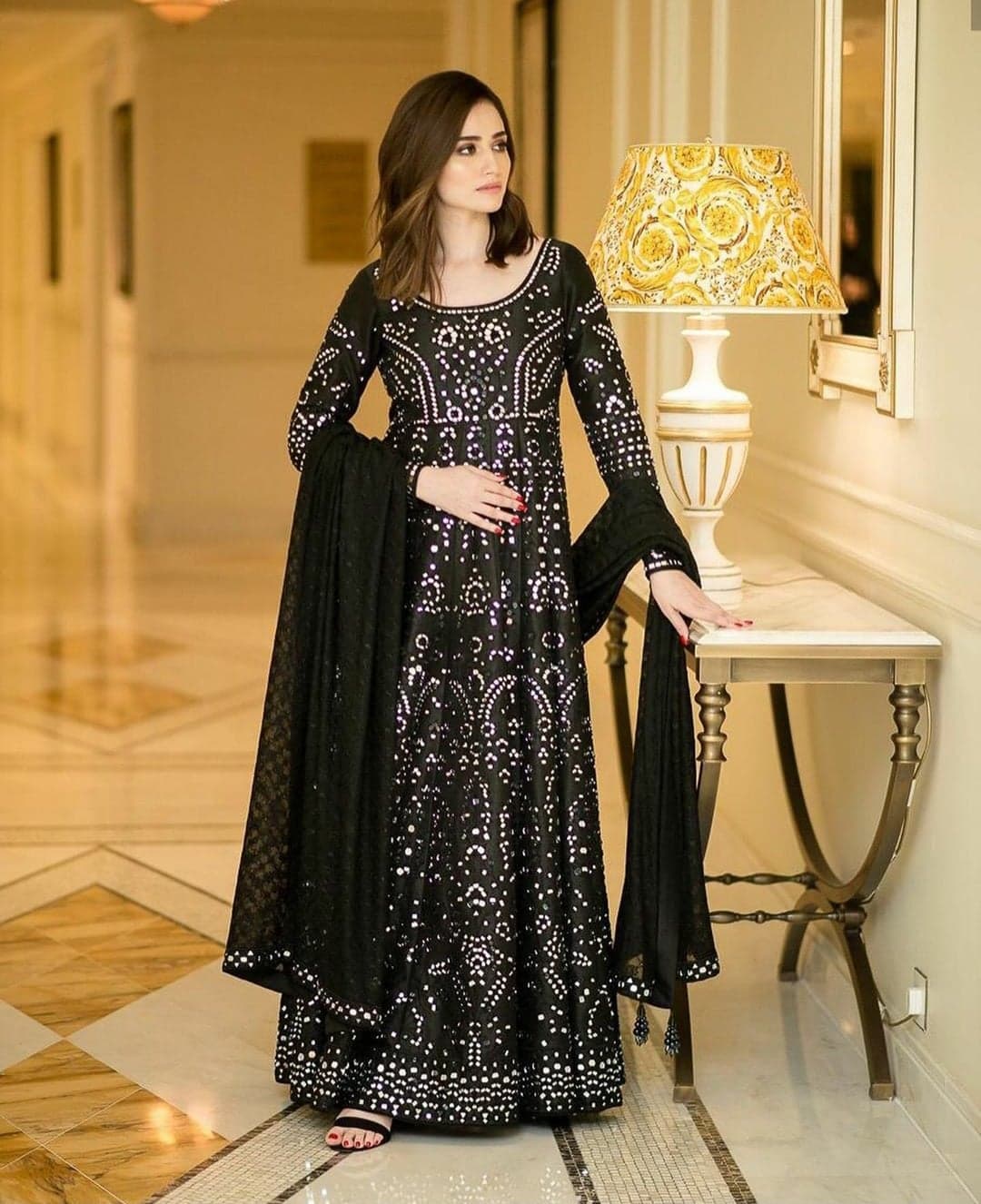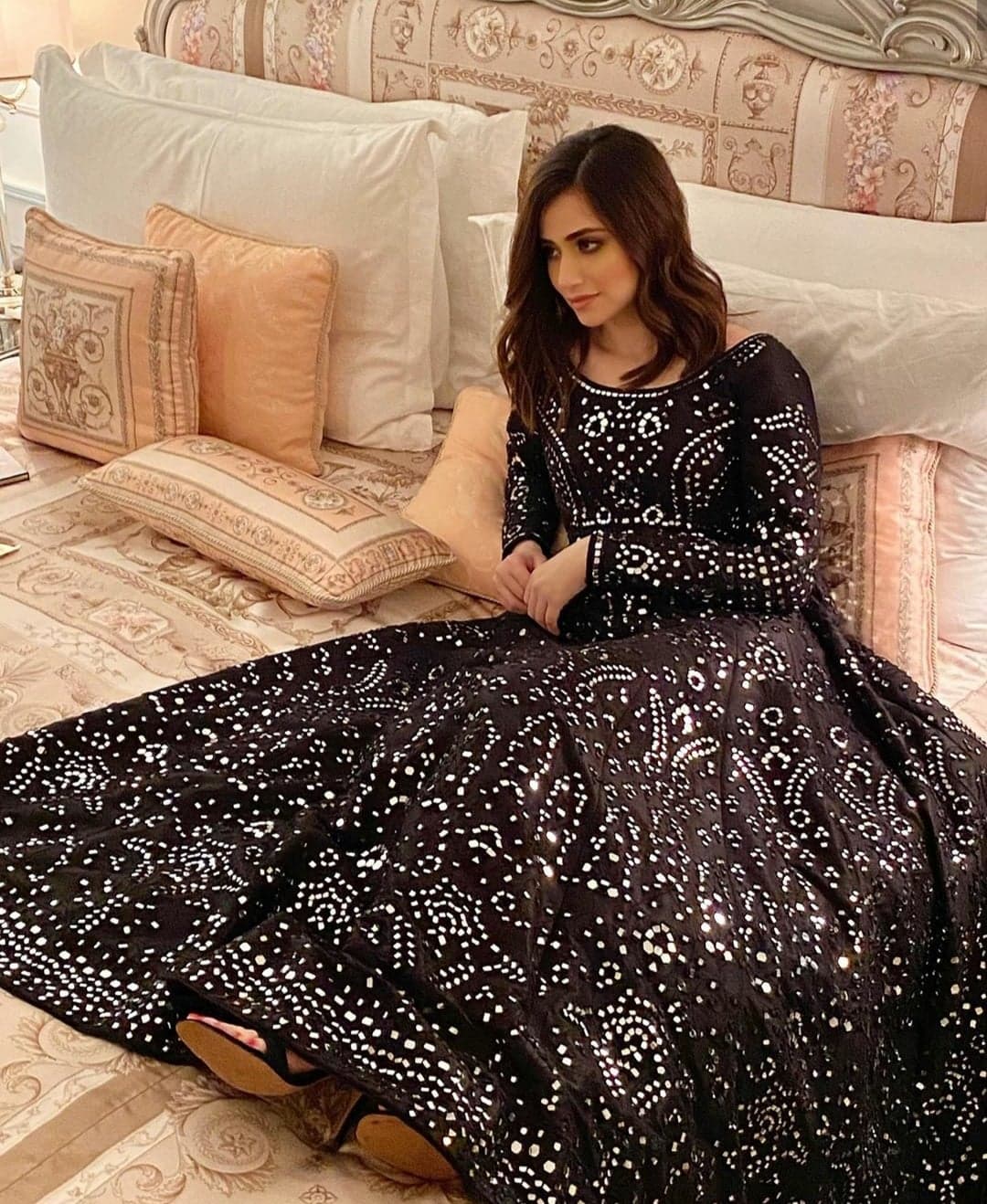 Mahira Khan
Mahira Khan also wore an international label. Her outfit was by Lebanese designer Rami Kadi and it was a stunning outfit, perfect to make a dazzling statement on an award function. Mahira Khan let the gorgeous bling sleeveless gown do the talking. She kept her hair and makeup simple, something that she always does but this time, it worked in perfect harmony with this outfit because it was over-the-top and eye-catching. A beautiful metallic shade which shifts of multi colors, Mahira Khan definitely looked stunning in this beautiful outfit by Rami Kadi.
Zara Noor Abbas
Zara Noor Abbas went for a traditional ethnic look with banarasi blouse and saree. She wore her hair in an updo and carried a beautiful statement necklace to complete her look, it won't be wrong to say that she looked like a younger version of the ever-so-gorgeous Asma Abbas. Zara Noor Abbas looked graceful and charming. The beautiful shade of green that she picked complimented her skin tone. Her full sleeves blouse was a beautiful shade of purple and pink and it was a perfect match to the green saree. Zara kept her hairdo simple and makeup fresh and basic, without making it look like she put in so much of an effort, she ended up being a head-turner at the event.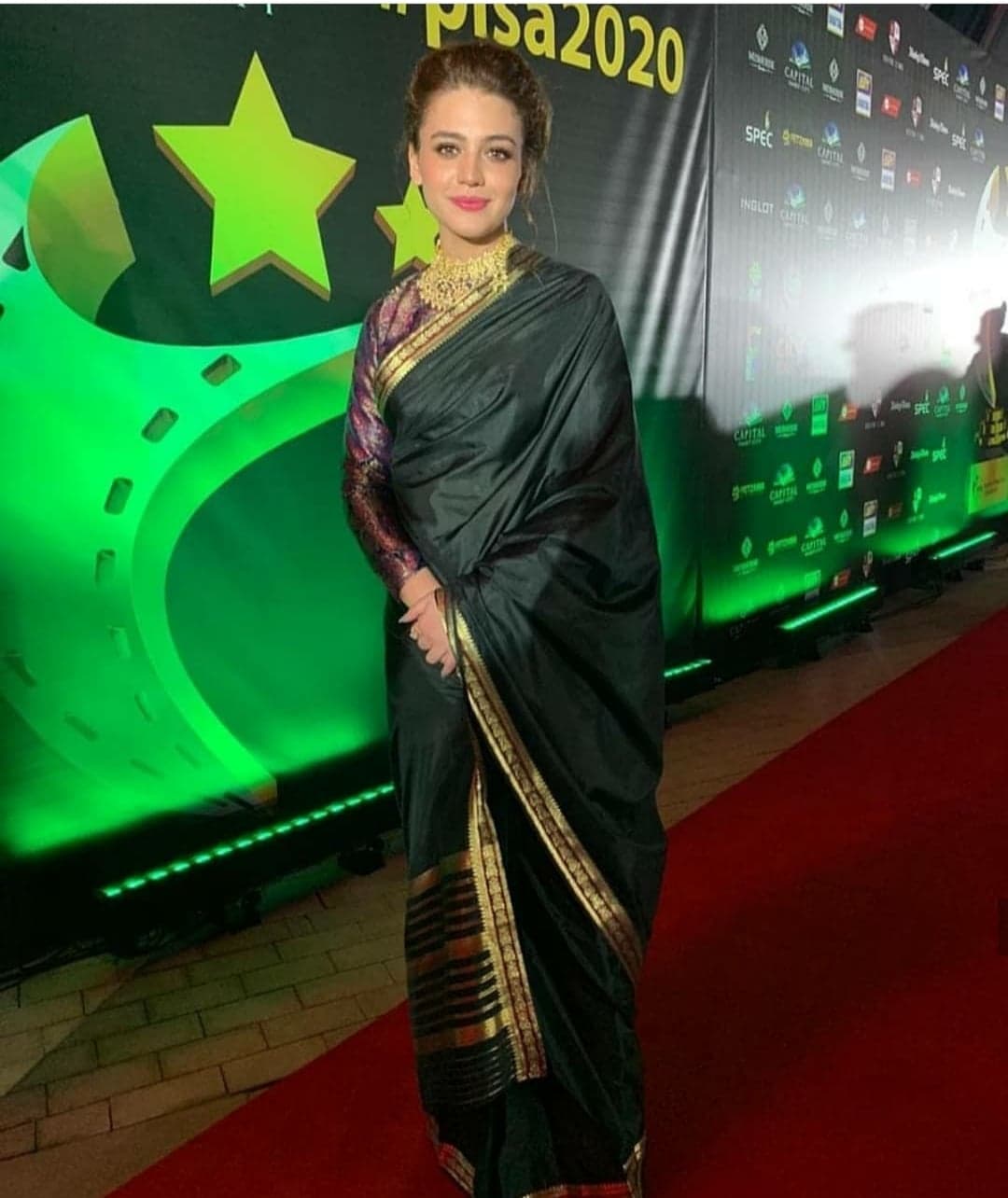 Urwa Hocane
Urwa Hocane came in wearing a princess dress and she looked gorgeous. Her outfit was a beautiful silver sleeveless gown. It was heavily embellished and flared, it accentuated Urwa's petite waistline beautifully. It was a perfect red carpet, award function appropriate dress. Urwa also changed into a saree later but this outfit was a perfect choice to make a statement at the event. She wore her hair straight and kept the overall fresh and simple. Urwa also did not put much effort into wearing any accessories, which showed that she wanted this outfit to take the limelight and do the talking, which it did!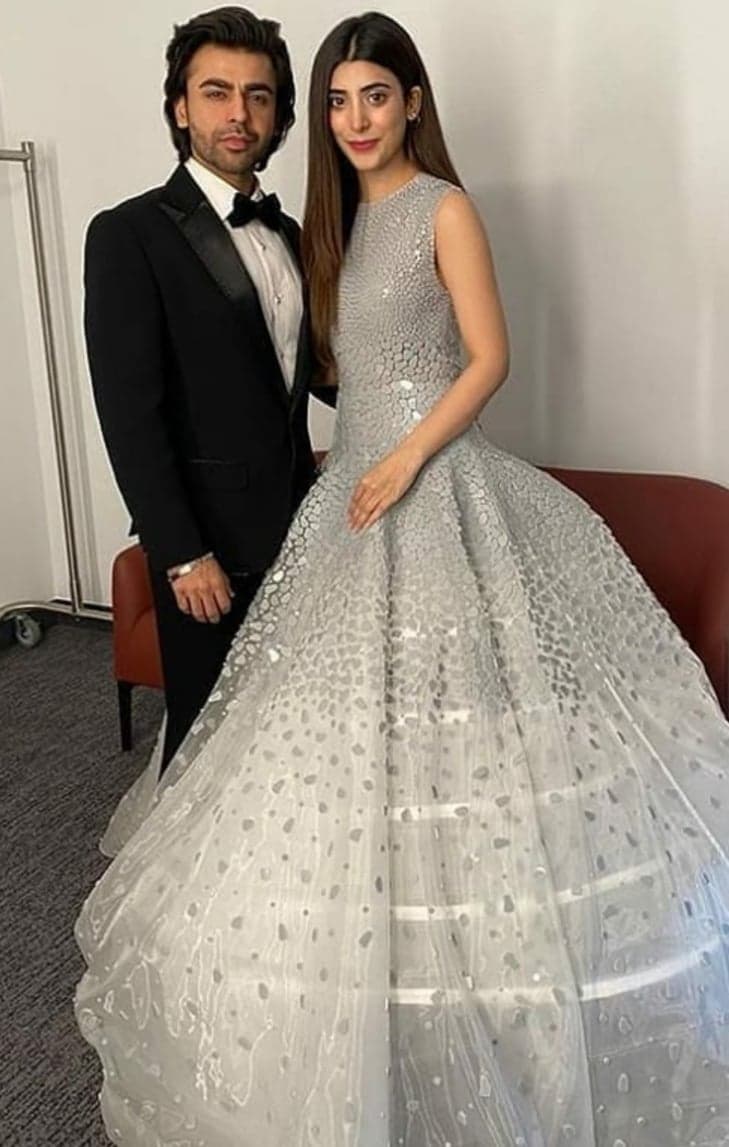 Hira Mani
Hira Mani wore a blingy straight gown with a slit to PISA 2020. Hira Mani is new to these award functions and this is why she is exploring her styling and getting comfortable at the idea of making a statement. This time around, her outfit was beautiful and not over-the-top. It was a simple straight gown which sat beautifully on Hira's frame. The shades were neutral and pastels which looked flattering on Hira's beautiful complexion. She wore her hair in loose waves and her makeup was fresh and glowy.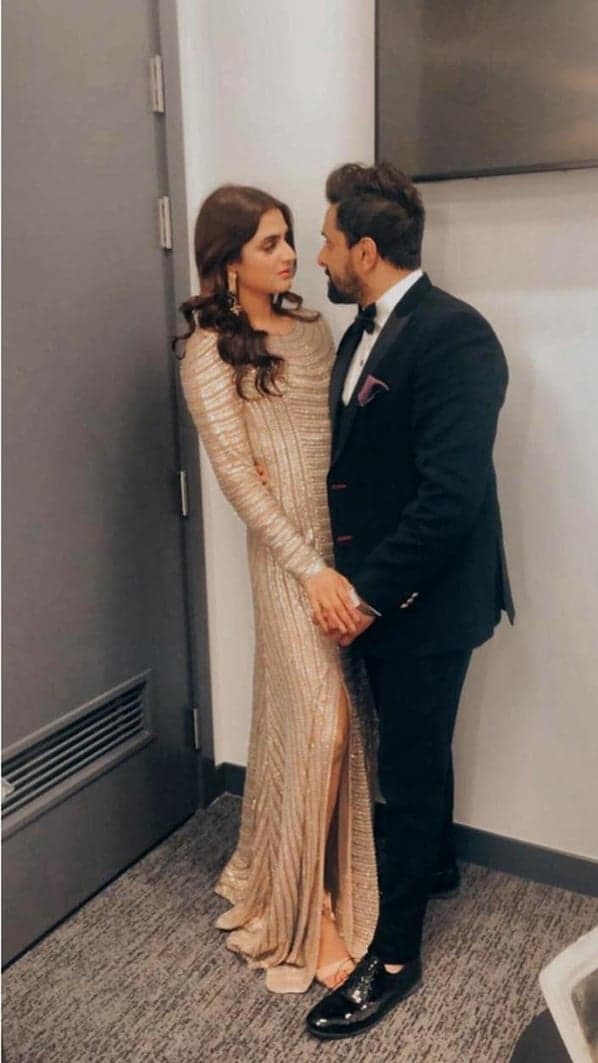 Adnan Siddique
Adnan Siddique showed up on the red carpet wearing red sherwani and he did make quite a statement. Adnan Siddique looked fit and the shade of red suited him best. Adnan Siddique, like quite a lot of other celebrities also had a change of outfit during the award ceremony. He later changed into a basic black suit but the sherwani that he chose to make an entrance was perfect.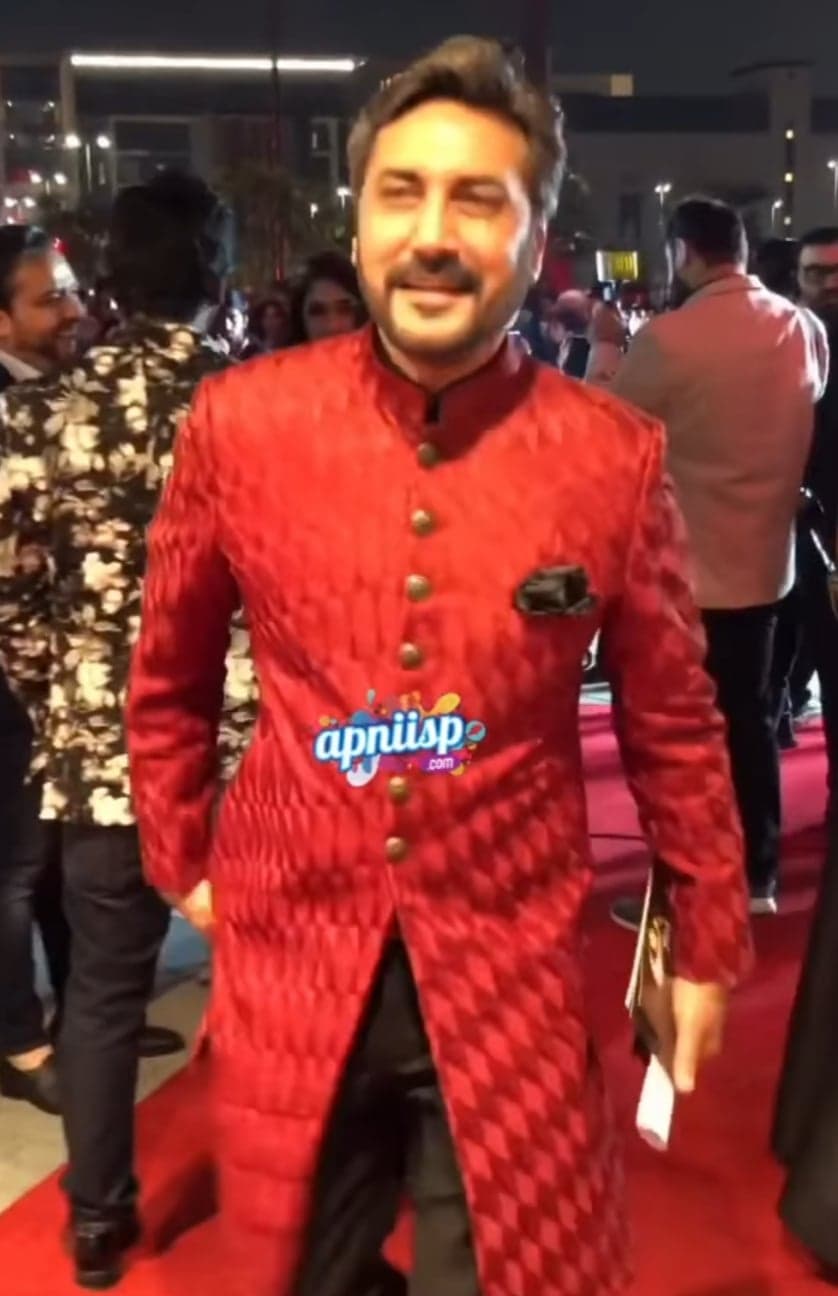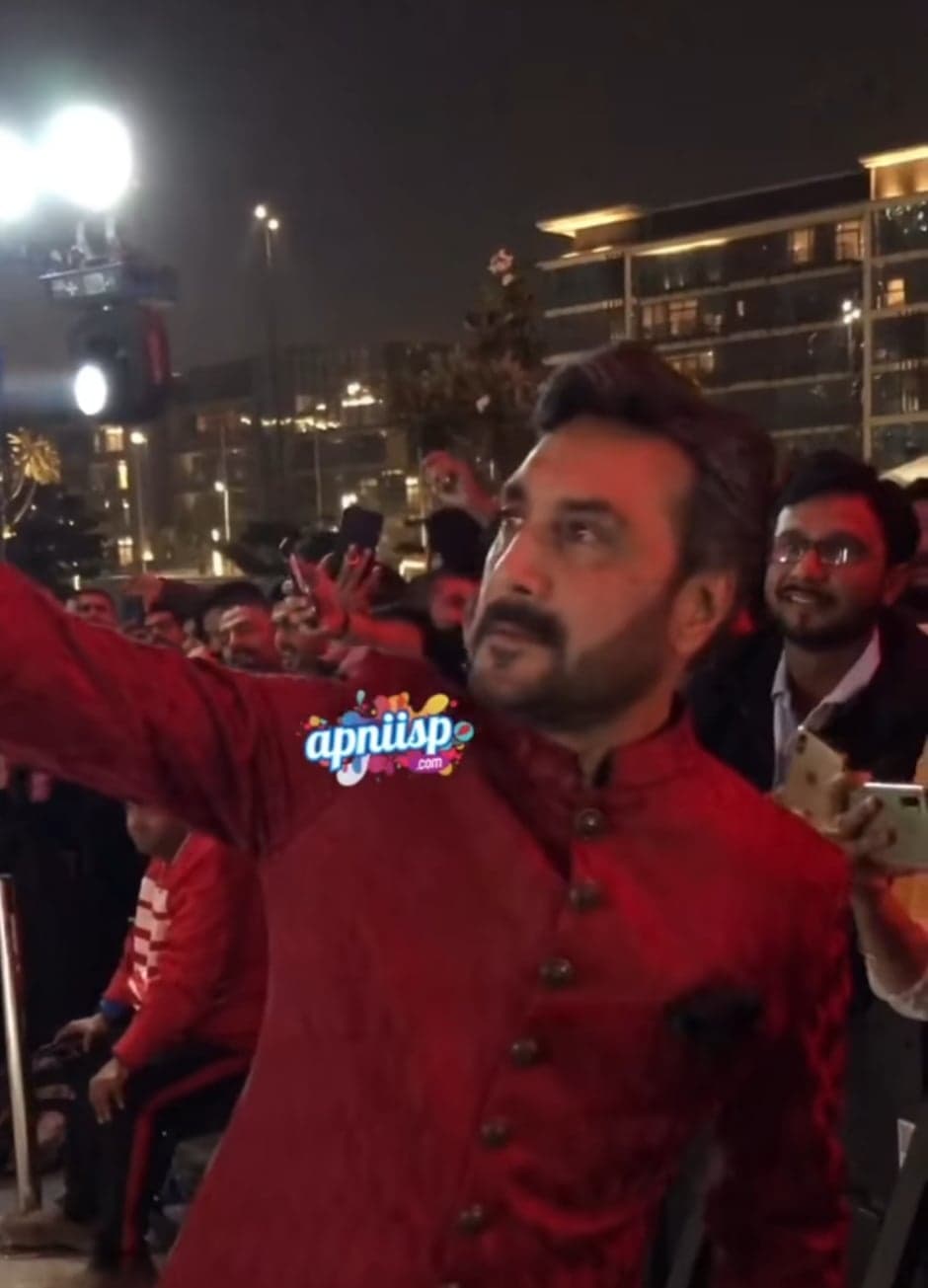 Shehryaar Munawwar
Shehryaar Munawwar wore a simple black and white tuxedo. He went for a clean and basic look for the night. The white coat had a pattern and the rest of the articles of clothing were plain and simple. Sherhyaar Munawwar without putting too much of an effort ended up looking quite nice at the event.
Sarwat Gillani
Sarwat Gillani wore a beautiful net saree and looked graceful. She picked a beautiful shade of navy blue which looked gorgeous on her skin tone and complimented her hair color as well. Sarwat Gillani did wear an off-shoulder blouse which too was embellished. The saree was beautifully draped around Sarwat's petite frame. She went for a classic hairstyle which looked good on her and wore makeup that accentuated her eyes a lot more. She did make a statement and looked stunning.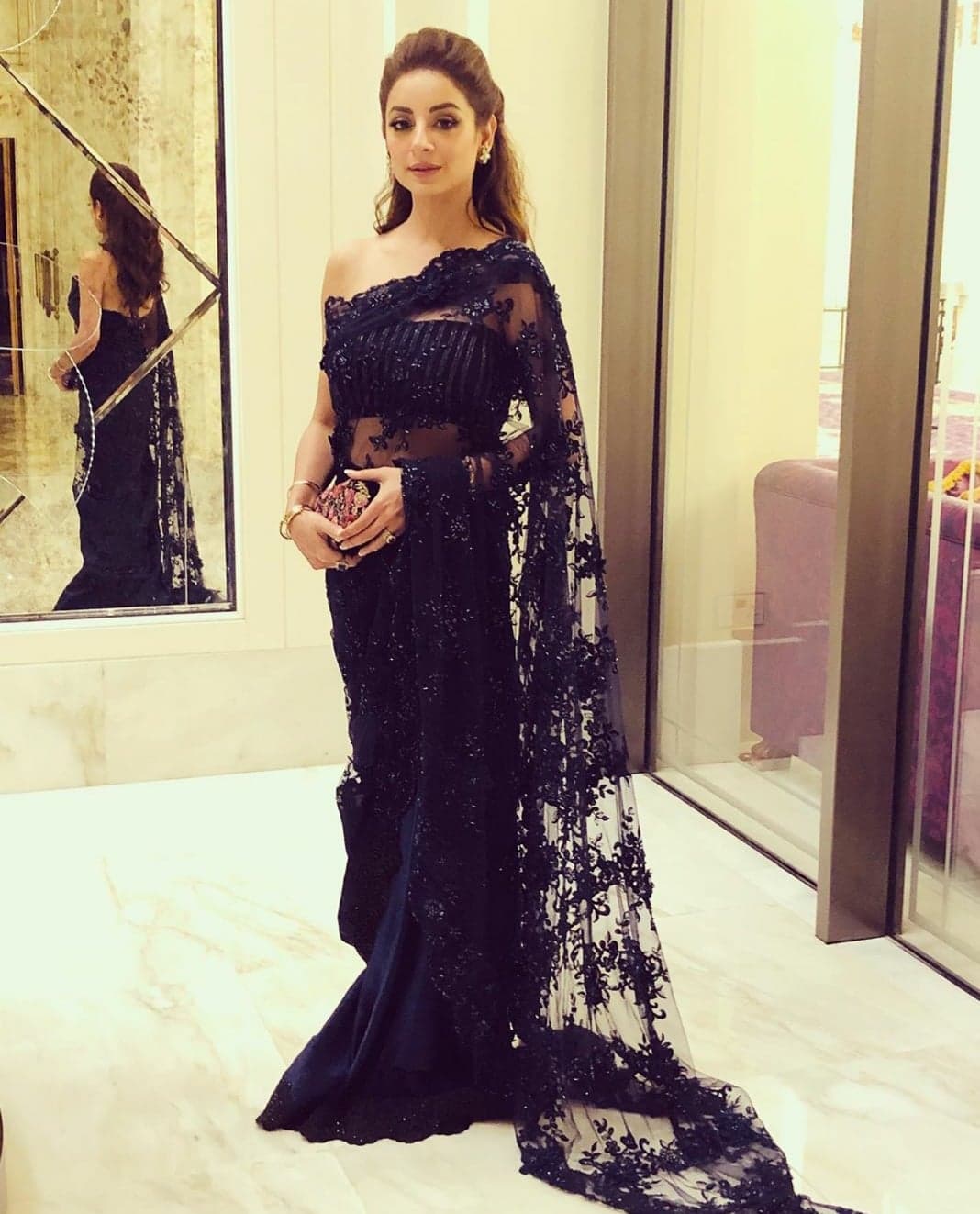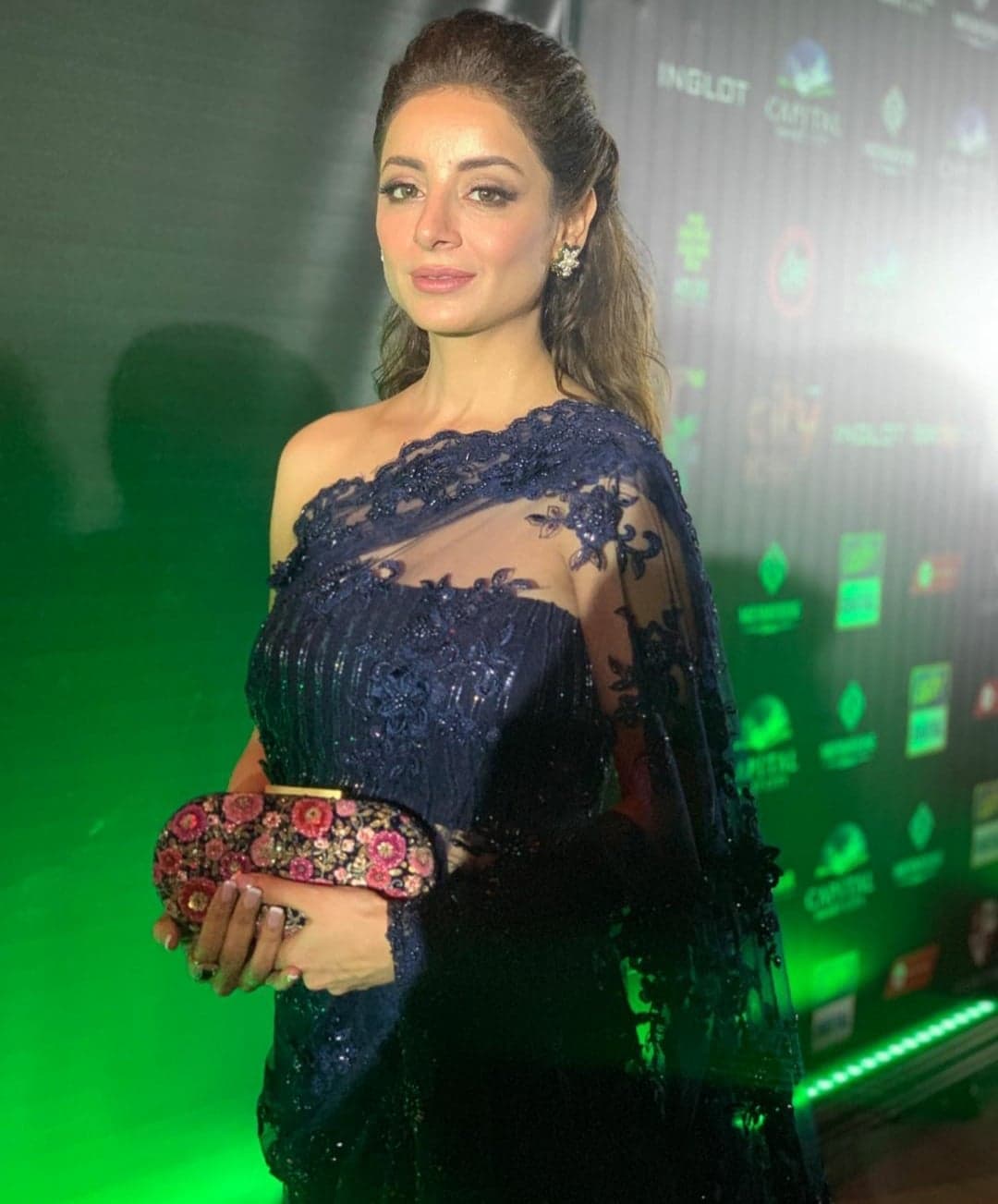 This concludes the list of best dressed celebrities who were spotted at PISA 2020. Which one of these celebrities impressed you the most? Feel free to share your opinion in the comment section below!