Finally an episode with some emotional scenes to its credit, this episode reminded me of Saba and Irtiza's chemistry and their relationship which was the main attraction of this drama in the first few episodes. The way this relationship was completely relegated to the background once Saman came into the picture was the most disappointing turn in Bin Roye. The kind of conversations Irtiza and Saba had today should have been a constant part of this drama, this way the viewers wouldn't have been left wondering if Irtiza really knew Saba or not! Irtiza's reaction to dadi's proposal was very different from that of Saba. He refused to marry Saba because he felt he was not good enough for her and not because he could never imagine getting married to her or because he had never thought on those lines. Saba's refusal and ultimately her decision to get married to Safeer resonated with me a lot more than Irtiza's overall behavior. His concern for Saba reminded me of the person we had seen in the first few episodes and I wondered why the writer and the directors failed to keep this side of his personality alive. Same is true for every other person in the house for whom Saba was all of a sudden a first priority now that Saman was gone. Although Saman was supposed to be the "perfect" one in this drama and Saba not so perfect but Saba's flawed personality has always been much more attractive therefore it was easier for me to connect to Saba's feelings tonight. Also, Saba's character is the only one in this drama which has been consistent and which has always made sense. Mahira Khan's flawless performance is another reason why I never had any problem relating to this character.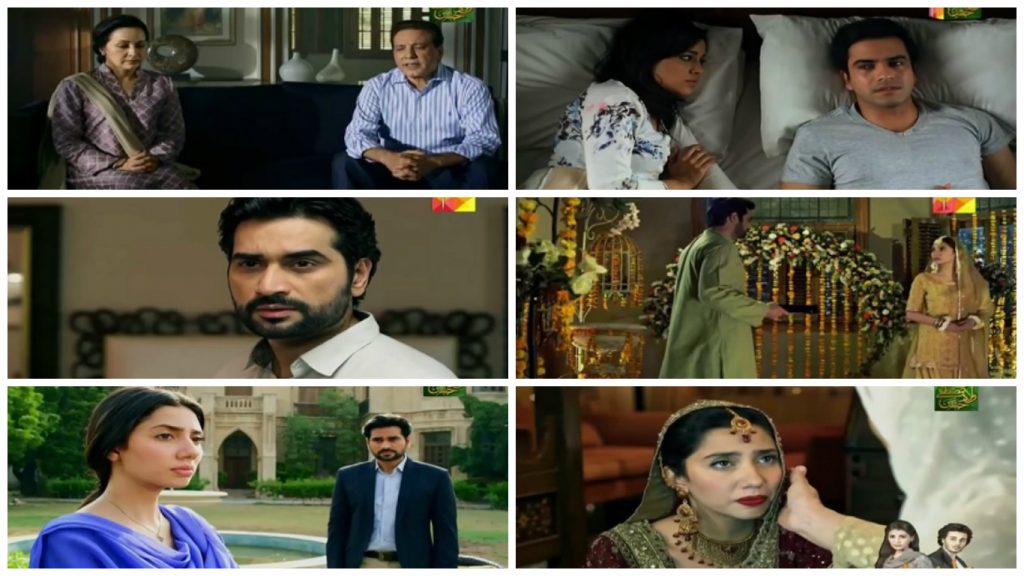 Safeer's mother's "obsession" with getting him married to Saba had to be the most unconvincing and forced development in this latest episode. This is bound to be another marriage which will not work out but I wish there was a better reason why it took place. Safeer is another weak male character in this drama who could have easily avoided this marriage by telling Saba the truth. It was however good to see Saba stepping into this next phase of her life with the objective to move on. The scene in which Saba makes coffee for Irtiza and the one in which Irtiza tell her how much he loved her were the best scenes of this episode.
Although this episode was much better than the last few but I feel that it could have been far more emotionally overpowering if the dialogues were more powerful. The conversations reminded the viewers of the good old days when Saba and Irtiza were closer to each other but the dialogues weren't as deep and meaningful as one would have hoped for them to be. The relationship between all the characters in Bin Roye leaves a lot to be desired too like when Dadi talks about her love for Saba you can't help but wonder where this "love" disappeared in between! Same is true for Saba's relationship with Irtiza. These relationships needed to be explored and shown on screen accurately.
Mahira Khan/Saba is the only reason why I tune into Bin Roye every week otherwise the drama is filled with characters which fail to make an impact. Hamayun Saeed is doing exactly what was expected from him but Irtiza's character does not have a lot to offer.
How many of you watched this latest episode? Do share your thoughts about it.