Introduction:
Ohkay so, the writing of Zanjabeel Asim Shah, direction of Bader Mehmood & production of Big Bang Production; Cheekh is a drama that has promised to raise the issue of not suffering in silence. As the drama will progress, it will become evident whether the team has stayed true to the message or not but the first episode was deliberately & rightly kept light-hearted to give an introduction to the characters as well as an insight into their lives. The first episode of Cheekh was done well but it seemed that the entire cast of Balaa was immediately hired to do the image building in this drama after such a negative drama like Balaa.
Cast, Characters & Scenarios:
The binding factor between all the character happens to be Haya (Azekah Daniel). Haya has 3 brothers Yawar (Aijaz Aslam), Shayan (Emaad Irfani) & Wajih (Bilal Abbas). Yawar is married to Shehwar (Maira Khan) & Shayan is married to Mannat (Saba Qamar).
Haya has 2 best friends Mannat & Nayab (Ushna Shah) & it was Haya who convinced her brother Shayan to get married to her best friend Mannat. Nayab on the other hand comes from a lower middle class family where her father Ramzan (Noor ul Hassan) is a clerk who remarried after his wife passed away & Nayab was probably 10 years old. Nayab's step mother is going to play the character of Balaa in this drama where she just wants her husband to get Nayab married off to any wealthy man who will later take care of Nayab's family too. Nayab's step mother is selfish & typical who has nothing nice to say about Nayab.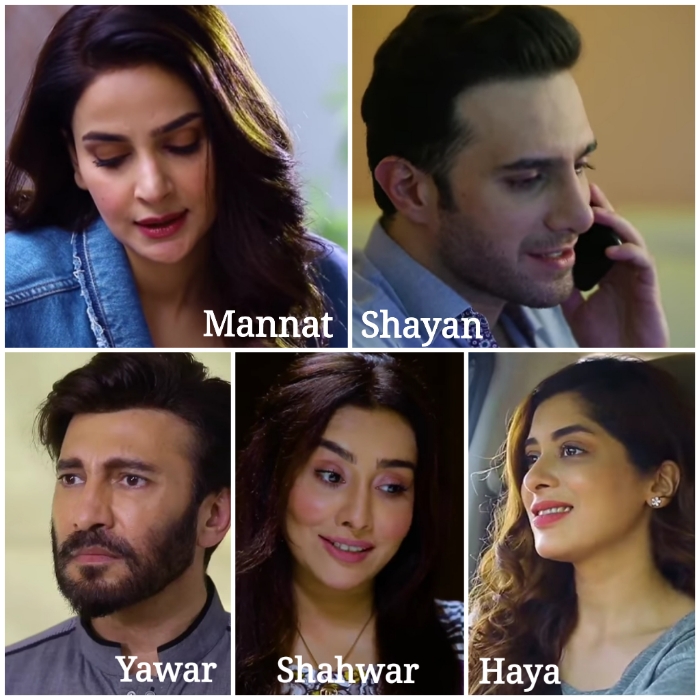 Haya, Mannat & Nayab share a very strong bond & their scenes were the most enjoyable aspect of this episode. Mannat takes care of Nayab like her sister that is why she goes out of the way to keep her step mother happy too so that she doesn't mistreat Nayab much. Haya gets engaged & that's when we get an insight into her entire family. They all are close knit & very warm & affectionate towards one another. Wajih & Nayab had some sort of chemistry going on which Mannat paid heed to & that is when she decides to convince Wajih of marrying Nayab. Mannat on the other hand is in a long distance relationship with her husband who is in America for his residency. Mannat has a very easy approach on the life where she is always happy & uplifted but I liked the fact that Mannat was also shown to be emotional & a good listener because of which she not only understood Nayab's hardships but also had Nayab confide in her. Nayab did fancy the idea of being with Wajih but she was hesitent considering the background she comes from but Mannat supports her & tells her that she will do what it takes to change Nayab's life by getting her married to Wajih.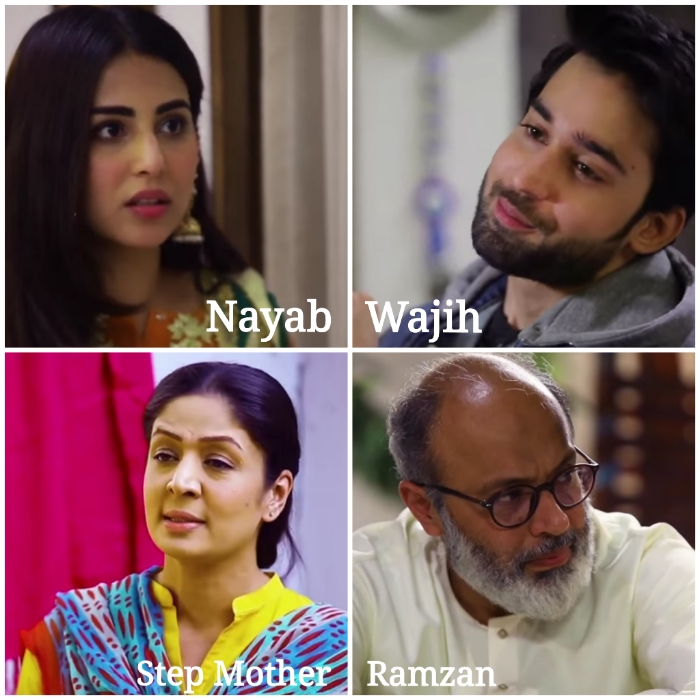 Wajih being the youngest of all three brothers happens to be everyone's favourite but he definitely has a personality & private life which no one is too aware of. We got a little glimpse of it when Wajih had a conversation with his friends at Haya's engagement. Well, Yawar has made some strict rules which he wants everyone in his household to abide by & one of those rules are that the female house help will not go to the quarters of male servants in order to serve them food. Yawar did make it pretty clear once again when he got to know that it happened yet again. He wants the ladies of his family to keep an eye on all the girls who work in their house in order to protect them.
Well, the episode ended on a completely different note which no one saw coming. Nayab was pretty disturbed because her father lost his job & asked her to consider one of the proposals of a man double her age who had a daughter too. Nayab seemed pretty disturbed with the idea that her father could even suggest something like this & that is when she goes inside the house to distance herself from the crowd gathered on one of Haya's functions. Wajih's friend who showed up drunk was sent inside the house because Wajih dreaded that Yawar might see him & he'll get upset. Yawar was shown to be going inside of the house as well & a few moments later Nayab fell off the first floor. Now this is the mystery that the rest of the story will revolve around as to who tried to cross the line with Nayab & what actually happened, was she pushed or she jumped in order to to save herself? I have a feeling that it would be Yawar, which will shake the entire  family up as well as turn Mannat's life upside down, but let's see.
Overall Execution:
The first episode of Cheekh was decent but it did have some clichés too. The sight of yet another drunk guy in ARY drama was definitely off-putting. The editing seemed a bit too choppy & acting a bit forced at times but the overall direction was decent. Saba Qamar looked amazing but she definitely didn't look like an age fellow of Ushna or Azekah. All the actors did play their part well. Here's to hoping that Cheekh being Saba Qamar's drama will turn out to be good because she happens to be the selling point of this drama for me because I don't really have high hopes with Zanjabeel Asim Shah & the rest of Balaa cast. Please share your thoughts about the very first episode of Cheekh.
Keep Supporting,
Cheers,
Zahra Mirza.