Opening Thoughts – What An Epic Episode:
Ohkay so, what an amazing, intense & perfectly executed episode of Cheekh. Team Cheekh should take a bow for giving us a gripping drama but for this episode in particular, Saba Qamar & Bilal Abbas Khan deserve a standing ovation. Their performances were impeccable & flawless. I am so glad that so far the team of Cheekh has kept things to-the-point & are not dragging anything by adding delays or moving the story around in circles. This episode was done so so so well that even for a second I couldn't take my eyes off the TV screen. Every emotion was elaborated to the T & that is why it was just so impactful. I can't praise this episode of Cheekh enough!
The Confession of A Culprit:
Even though Mannat didn't want to believe the fact that Wajih could do something like that, but a part of her was also convinced that is why she was trying to find the answers that would confirm her fears. It was like Mannat had this feeling that Wajih might be the culprit but she didn't want things to lead her to that. Mannat was determined but she was also confused because she didn't even want to believe that Wajih was capable of doing something like this.
Mannat didn't stop probing & the way Wajih's friends lied & informed him, showed exactly how hard it will be for Mannat to prove Wajih guilty in the future with so many people by his side. This is just the beginning & Mannat has no idea what she is getting into but a part of her is deliberately taking the risk because she can not get over the fact that such a harmless soul like Nayab deserved to be treated this way. No one can understand what Nayab meant to Mannat that is why I like how they keep on touching upon the past & reviving those emotions which remind everyone about the bond that Mannat & Nayab shared. Mannat & Nayab was soul sisters & that is the kind of bond which no one else can understand, that is why everyone casually tells Mannat to move on without even realizing that it is just impossible for her. Mannat continued looking for answers because she could feel she will find them & that is what exactly happened.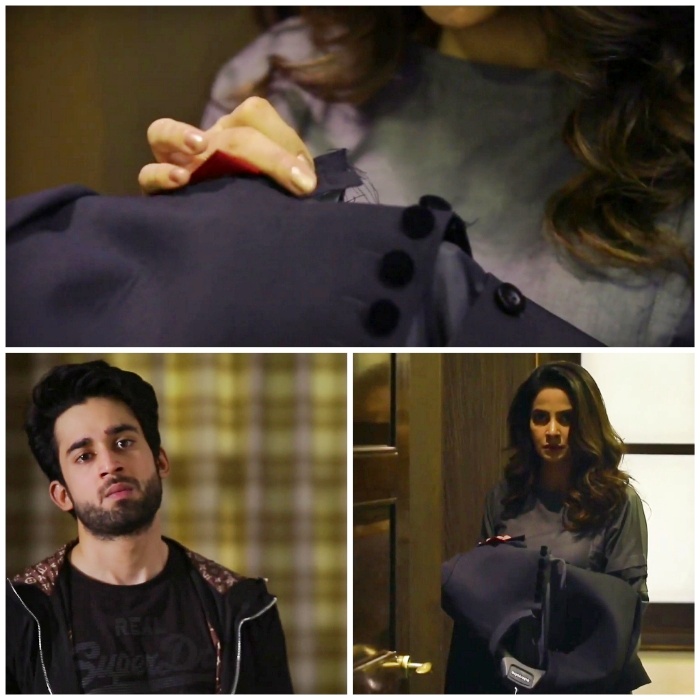 Wajih's friend called him & that was kind of what triggered him to finally confess because it seemed like even he was tired of carrying a facade & lying to Mannat as well as his entire family. Mannat searched through Wajih's belongings & the torn pocket confirmed her fears, her doubts & gave her all the answers that she was looking for. What happened after that was what I am sure not no one saw coming but that most certainly is going to change the course of the story which I am most certainly happy as well as excited about.
Wajih finally decided to tell Mannat everything, every little gruesome detail that she never could've imagined. Wajih is egoistic spoiled brat who feels entitled & that is only because he has been raised in such an environment, in such a manner that he thinks the entire universe revolves around him. Wajih is someone who can not take no for an answer & like he said, because he always got the kind of attention he wanted from girls, he thought Nayab was no different. Nayab actually went to speak to Wajih, because she trusted him & because she thought he also respected her but the face that she got to see of Wajih was horrific. Wajih openly told her about the kind of relationship he was looking for without having any strings attached. Wajih, having this sense of entitlement thought that Nayab was so desperate for his attention that she will agree to whatever he was demanding. A slap & a rejection was something that Wajih couldn't handle & then the fear of being exposed was what drove Wajih to that point where he didn't even think for a second before pushing Nayab to death. It did seem that Wajih again had this feeling that nothing will happen to him & he will get away with this, but I am glad he will be proven wrong very soon!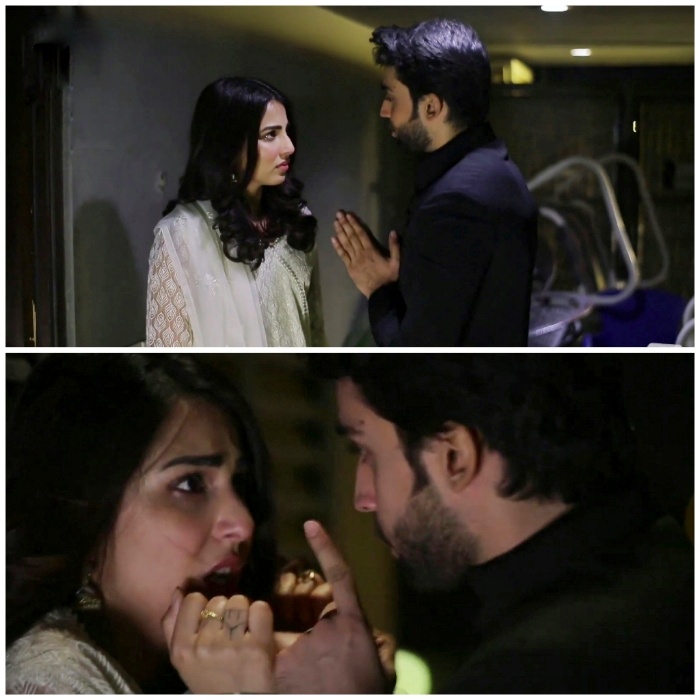 Mannat could not believe what she heard & the way she slapped Wajih went to show how disgusted she felt & how angry she was. Mannat wanted to punish Wajih for whatever he was saying that is why she couldn't resist hitting him so that even he realizes what he has done. Mannat left & the first shocker she got came from her mother who not only wanted Mannat to brush everything under the carpet but also wanted her to apologize to Wajih so that it doesn't affect her marital life. Unbelievable but very realistic. No mother would ever want her daughter to waste her time or a chunk of her life in court hearings, visiting police stations, meeting lawyers & most importantly, fighting against her entire family who also happens to be quite resourceful.
Sadiq came to the forefront in this episode. He admired Nayab & he liked her to an extent where he dreamt of getting married to her. Sadiq sympathized with Nayab & because he was ashamed of whatever trash he said about her, that is why he touched her feet to seek an apology. I am sure though he does look like a scaredy cat right now, he might be one of those who will eventually support Mannat, out of guilt or out of sympathy for Nayab, but he definitely will help Mannat because that is the kind of character he seems to posses, which was nice to see. After this episode, Yawar can be declared as a hypocrite, who preached about respecting women but contradicted it the moment he found his younger brother in hot waters. Yawar is going to be a face of all those people who clearly have double standards, are hypocrites & do not practice what they preach especially when it comes to their family members. I can not wait to see the fight Mannat will have with all of these people, this is just the beginning!!!
Closing Thoughts – Relevant & To The Point:
I loved this episode & I believe it couldn't have been any better. Saba Qamar & Bilal Abbas Khan were on fire & Ushna Shah was superb as Nayab, as a girl whose trust was shattered & who was scared as well as scarred for her life. Nayab did save herself by not succumbing to Wajih's pressures but then she lost her life because Wajih didn't let her go. I am glad that the story so far has stayed relevant & to the point but I do hope that the fight for serving justice to Nayab isn't too long or dragged because this usually does happen with our dramas. Let's just hope that they keep things on track & continue to make such an impact. The entire confession scene was just so intense & gripping. The direction, the editing & the acting has been top-notch so far & I am sure continue to get even better. Can't wait for the real battle. Please share your thoughts about this amazing episode of Cheekh.
Keep Supporting,
Cheers,
Zahra Mirza.