Today's episode was a bit on dull side; Though, few developments were made in the story but this time it had too many loopholes that they sounded kind of lame to me. Still, it was pretty much watchable. No wonder why Rameen's mother is not ready to buy what she has been telling her for so many days about Numair. And to add icing on the cake is Numair's acting, I mean seriously, this man knows all tactics to keep everyone blindfolded; The way he clarified himself in front of his MIL was way commendable and for once, Rameen was relieved to know that she won't be living with this torture aka Numair for some days.Finally Naila made her entry today too and we got to see some happy Rameen scenes too. But her contentment was not long run; She did not know that a gigantic dark cloud was waiting for her to destroy her life, forever.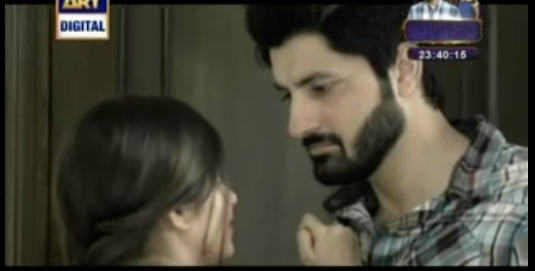 Evil plans emerge out from evil minds and our Numair had that diabolical cum satanic mind that assists him to play the cards right on perfect time. Inshort, Numair got succeeded in his heinous crime today; My heart cried when I saw Rameen crying infront of her mother. It is true that people like Numair do exist in our society and we can't deny the fact that mothers like Rameen's also pledge their daughters to keep their mouths shut, if and only if they are courageous enough to utter what exactly happened to them – sometimes in the name of so called 'respect' and sometimes for the sake of not ruining someone else's life.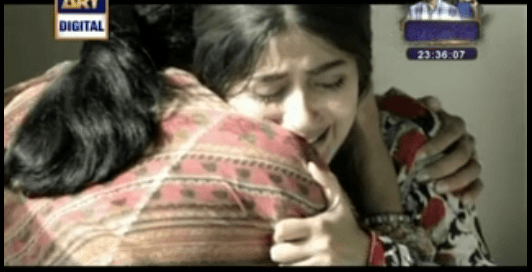 After this very scene, story sounded a bit lame to me. I mean why is Rameen thinking that her own fiancé will be of evil nature solely because his cousin is. Lets accept the fact for a moment that she is right, but the thing is that after getting married ,she won't be living in the same house with Numair then why is she refusing to marry Aazar now ?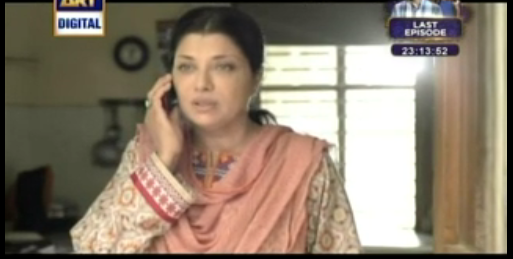 Above all, to reject someone after engagement, one needs a solid reason and the reason that Rameen's mother gave at first was bus beta kuch matt pocho . Was that excuse enough to break a relation within a fraction of seconds ? And soon after that , Rameen came up with a solid point that was at-least justifiable – Somebody please ask Yasir Nawaz , what was the reason behind adding that lame call scene ?
Bhaie jo bhi kaho, Jibraan is playing it very safe but at the end of the day, he will have to face dreadful consequences of what he had done throughout his life and at that time, there won't be any one for him to help him undo his brutal acts. By far, Story is going fine but they have to take serious measures to eradicate those unnecessary scenes. Baaki dekhtay hain kya hota hai..
I would love to read your feedback about tonight's episode.
Rabia Basharat.