This was another excellent episode of Dar Si Jati Hei Sila with meaningful conversations which said a great deal about the double standards which exist in our society and at the same time these conversations once again showed different shades of some of the characters. Who would have thought that Raheel will ultimately ask Sila the question he asked her tonight. Sila and Raheel's scenes tonight, just like the previous episode, showed that Raheel wasn't doing all this because he felt sorry for Sila but he really wanted to understand her. The way Raheel tried to convince everyone that Sila was not crazy showed that he believed in her and he was so sure that his faith in Sila could really change her for the better. Zaini was completely absent from tonight's episode but because of Raheel and Sila's scenes in particular, I didn't miss her a lot although I am really looking forward to watching what she has to say about her marriage with Raheel in the next episode.
The character development in this play has also been slow but gradual and therefore convincing. There isn't a single scene in this drama which has been added unnecessarily. There was a time when Raheel couldn't stand Sila but now that he got an opportunity to know her better, it is almost as if he finds her fascinating. Yumna Zaidi yet again gave an outstanding performance even though tonight too she didn't have a single dialogue to deliver. There were so many scenes in which she managed to convey what Sila was going through with precision only through her body language and expressions. Usama Tahir who is playing the role of Raheel has a different style of acting which has grown on me and he is definitely doing really well ever since Raheel started looking at things differently. The fact that his spoken Urdu is so impressive also helps since the script is such that only someone well acquainted with the language would have done justice to it. Raheel is gradually getting more interested in finding out why Sila rejected him especially because he saw his picture in Sila's diary and knows that she liked him too.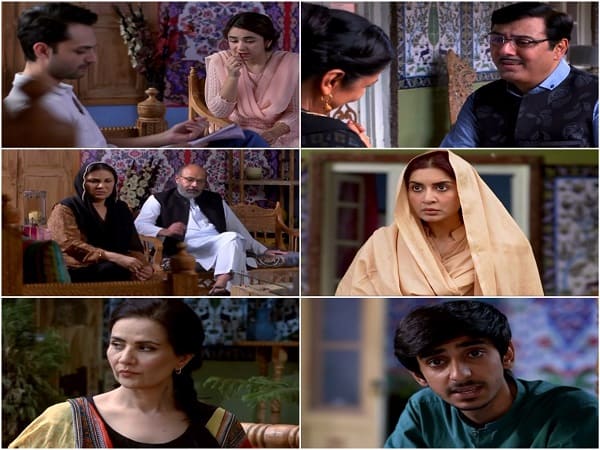 Hatim and Sila's scenes together yet again were extremely poignant. Sheikh Mubashar is so well-suited for playing this role and he shares amazing on screen chemistry with Yumna Zaidi – it is almost as if they actually are siblings! Hatim has no idea what is going on in Sila's mind but he knows that he loves his sister and he is one of those few people in the house whose love is unconditional. Everything which was once "normal" for Sila, the moments these two shared which were once special are now just awkward for her because she knows Hatim is Joi's son. There is so much going on in Sila's mind yet she has decided to not say a word which makes you feel for her even more.
My favorite scene from tonight's episode was the one in which Raheel appreciated Sila and wrote praise words on her arm. Sila was instantly reminded of all the times when she was rejected by people who should have loved and supported her. This scene said a great deal about why Sila wasn't like Zaini or any other girl her age. After being repeatedly belittled by her father, tayee and even her own mother, it was difficult for her to accept this compliment without thinking about everything she had heard about herself in all these years.
The fact that Joi isn't too happy about getting married and still insisted that he would much rather marry Sila showed what an evil person he was. He wants to continue making Sila and Sadia's life hell which makes him a nasty sadist. While I abhor Joi's character, I can't praise Nauman Ijaz enough for doing complete justice to a very difficult character. Bari Apa's dialogues were right on point tonight, although she runs the show in this house and wouldn't let anyone go against her will but when it comes to choosing a wife for her beloved brother, she wants someone who will be dependent on her and will be completely submissive! This has to be so true for so many strong and vocal women out there! Saman Ansari's realistic performance is always a treat to watch and makes it so easy to connect to her character. Sakina Samo is brilliant as Bari Apa – dictatorial, annoying and all over the place!
The entire team of Dar Si Jati Hei Sila deserves tons of appreciation for making a quality drama which also serves a bigger purpose. This drama has my undivided attention and I can't wait to see what will happen next! How many of you watched tonight's episode? Don't forget to share your thoughts about it.