Dar Si Jati Hei Sila continues to be different, convincing, interesting and meaningful. Nowadays when most of the writers and production houses rely heavily on stories which attract a certain kind of viewers who also unfortunately determine the TRPs of a drama, it is definitely refreshing watching plays like this one which have been written and executed with no such purpose in mind but the sole purpose of such plays is to give a handful of viewers like us the kind of entertainment which serves a higher purpose. Writing and executing such plays is also tough therefore I cannot appreciate all those people enough who dare to be different in a challenging environment even when they know that such content does not guarantee ratings!
Tonight's episode of Dar Si Jati Hei Sila opened with Zaini and her mother's conversation which yet again showed how differently both of them looked at things. While Zaini's mother wants her to do whatever it takes to make sure that Raheel gets married to her, Zaini couldn't care less. Zaini is one of the most powerful female characters this season because of so many reasons. She is strong yet extremely sensitive and she is one of those rare females in Pakistani dramas who does not need a man to save her. She is also not like one of those characters who do not fall in love because they are holier than thou therefore that too definitely makes her one-of-a-kind! This character has been etched-out remarkably and Aamna Malick continues to translate this character faultlessly on screen. Her body language and dialogue delivery is always on point which gives this character the edge it needs. The fact is that this drama has some of the most impressive performances to its credit and the director has done complete justice to the script. There are times when you forget that you are watching a drama because the overall setting and the performances are beyond brilliant.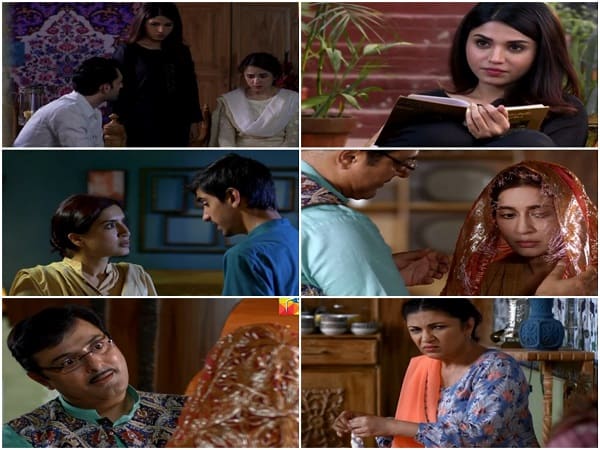 Raheel and Zaini sat down and tried to figure out why Sila was so scared of people around her and why she wasn't like any other girl her age. The fact that Raheel loved Sila all this time and only backed out because he thought she didn't feel anything for him, came as a pleasant surprise. This changes everything since now Sila will have his support unconditionally. He never tried to understand Sila before therefore letting her go seemed like the right thing to do. Raheel's character has changed dramatically in the past few weeks and this change has been portrayed superbly by Usama Tahir. It is always great to see new faces on television especially when they are such good performers. The way Raheel answered all of Joi's answers showed his new-found confidence. Now that he knows that Sila loves him too, he feels he has the right to protect and defend her. Yumna Zaidi once again didn't have too many dialogues but even then she makes you feel for her character every step of the way. Saman Ansari's performance tonight was right on point and Nauman Ijaz is so convincing as Joi that you forget he is the same actor who has played the most charming roles in the recent past.
Hatim's scenes in every episode are short but they are extremely poignant which is why you can't help feeling for this boy since he has no idea why his own mother hates him so much. The recent change in Sila's attitude has made him feel even more lonely and confused. He is convinced that Joi is the only person who loves him. He is a loving boy who did not learn to hate even though the odds were against him and the preview of the next episode suggest that thing will only get more complicated from him.
Dar Si Jati Hei Sila has multiple tracks and variety of characters and each one of these tracks and characters has its own appeal. The script is well written, the direction couldn't have been better and the performances are always impressive. This was another powerful and brilliant episode of Dar Si Jati Hei Sila and the preview of the next episode was extremely enticing.
How many of you watched tonight's episode? Do share your thoughts about it.