This was another meaningful episode of Dar Si Jati Hei Sila filled with positivity and depth. The writer has intelligently put forward the most inspiring messages and the dialogues are always the highlight of every episode. The language used is easy, the conversations are concise and every scene says a great deal about the characters and their story. Nadia's outburst tonight and Bari Apa and Joi's reactions yet again showed that these two only managed to dominate everyone in the house because their dominance was so readily accepted! Even though Joi did whatever he could to intimidate Nadia but she stood her ground and ultimately got what she wanted. This entire episode focused on one really important aspect – you have to fight for your rights yourself and if you do, you most surely get what you deserve. However, it is easier said than done, something which is clear from Sila and Sadia's situation in the house. Even if someone like Sikandar had a wife like Nadia, he wouldn't have treated her, the way he treats Sadia. Kiran Haq is beyond amazing as Nadia, her gestures and dialogue delivery couldn't have been better. The character has been written brilliantly too. Nadia's dialogues about Joi's "hasiyat" were brilliant! She gives Bari Apa and Joi the kind of reality check which no one else can. The director Kashif Nisar also deserves tons of appreciation for giving this script the right treatment.
Nauman Ijaz continues to impress as Joi. Joi's personality has many different shades but so far the most conspicuous one of them all is that even though he harasses Sila and has been blackmailing Sadia for years but the fact is that he is a coward. Highlighting this side of Joi's character was crucial to the role and Nauman Ijaz did just that. Everything that Zaini said to Sila tonight was an extension of the same message which was highlighted over and over again in this episode. This is such an important message and could actually benefit a lot of girls out there who think they don't deserve better and who feel that whatever abuse they are subjected to is their fault. Aamna Malick has been phenomenal as Zaini. Her character is one of the best female characters we have seen in our dramas in recent times and Aamna Malick has done complete justice to it. The best part of this drama is that there are all kinds of characters in the play. This drama is free of stereotypes and all the characters are there for a reason. The positive and negative characters are equally important and the drama wouldn't have been the same if even one character was missing from it.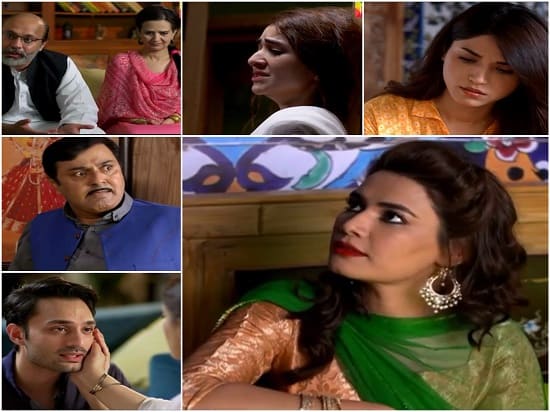 Hatim's scene in this episode again was poignant. His character is so convincing which is why you can't help feeling for him. Although he was never loved by his own mother and naturally he feels deprived but his approach is so positive and he is so loving. His scenes are heart-wrenching because every scene highlights his weaknesses as well as his strengths. I don't remember watching a character like this one ever in our dramas, so nuanced and intelligently written.
Raheel and Zaini's father's characters show that not all men are narrow-minded and controlling. The fact that these two men did whatever they could to make sure that Zaini gets to do exactly what she wants sends out a great message and gives men like these due credit! Bari Apa's reaction to Zaini's future plans was shown accurately too, Sakina Samo's body language and dialogue delivery has been brilliant! It is interesting how the writer has shown the difference between women who really are strong (Nadia and Zaini) and a woman (Bari Apa) who is only in control because of those people who are so willing to be controlled! Zaini and Nadia know exactly what they deserve and they believe that they are right therefore they always stand their ground, Bari Apa on the other hand is being unfair therefore she doesn't have a lot to say in her defense when someone confronts her.
Tonight's episode was brilliant as usual. Everything about this drama has been phenomenal; the subject, the messages, the performances, the direction and the dialogues. The preview of the next episode suggested that Nadia will finally find out about Sadia and Joi's relationship. Can't wait to watch what happens next!
How many of you watched tonight's episode? Do share your thoughts about it and especially about Bari Apa's reaction when Nadia gave her a piece of her mind!! Wasn't it hilarious and so gratifying!