Dar Si Jati Hei Sila is the only play right now which I truly look forward to watching all week and it never disappoints. The compelling and realistic performances by all the actors, dialogues and conversations which are effective, meaningful, impactful as well as engaging because they are executed flawlessly by an ace director, who has proved yet again just how amazing he is at what he does are few of the reasons why this drama is a class above the rest. Saman Ansari's outstanding performance, Nadia's parting dialogue, the scene covering Sila's response when Nadia shouts out the truth and Raheel's dialogues when Joi tried to escape the situation were some of the best moments of this episode.
This episode opened with Zaini getting married and later on what seemed like an end to a tiring day took a turn which changed everything for everyone in Noor Manzil. Although Nadia decided to leave Noor Manzil after realizing that no one was going to believe her but she didn't go without saying everything that was on her mind. Her dialogues were mind blowing and covered so much!! Nadia's character has been the most brilliant addition to this play. Even though her character was introduced only a few weeks back yet she has played a major role in changing the course of the story. Kiran Haq's performance has been powerful throughout, she understands and owns this character. Nadia's fearless personality has been a delight to watch because her character has been written beautifully and has been translated on screen superbly.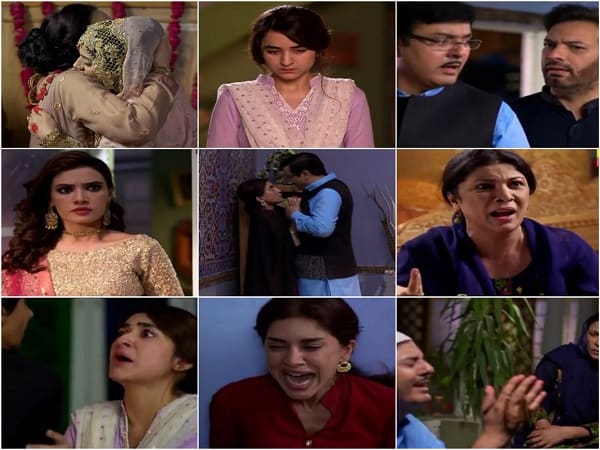 Sadia's reaction when everyone seemed to believe Joi, was covered really well. That scream was a mix of pain and helplessness and it couldn't have been more on point. It was an apt response to a situation which wasn't in her control. Saman Ansari translated the pain and agony Sadia had endured quietly for all these years impeccably on screen and this time around when she couldn't hold it back anymore she let it out in the most powerful manner. Although for all these weeks Sila had been trying to convince herself that she didn't love Hatim any more but when everything came out in the open, she instinctively rushed to save him. This was one of the most poignant scenes in this episode. Hatim and Sila's relationship has always been one of the best parts of this drama and now that things have taken a turn for the worse, Hatim will find out the ugly truth. I am waiting to find out how far Sila will be willing to go to save the only person she truly loves in Noor Manzil.
The viewers also found out today why Bari Aapa's husband lets her run the show – the reason made tons of sense. It also goes to show just how well thought out this script is, there is a good reason for everything no matter how minute it is. Sikandar always wanted Sadia out of his life and this was the perfect time for him to leave her therefore he wasn't interested in finding out the details but wanted a verdict which suit his needs. Nauman Iajz and Sakina Samo's performances have been remarkable right from the first episode, they give every single scene their best.
Overall, this episode of Dar Si Jati Hei Sila was mind-blowing and the next episode is going to be even more powerful. Can't wait to find out what will happen once everyone finds out Hatim is Joi's son!
How many of you watched tonight's episode? Don't forget to share your thoughts about it.