Tonight's episode of Dar Si Jati Hei Sila was simply amazing! This drama never fails to impress; It is a well-crafted, brilliantly told tale of both the dark and the good side of relationships. Most importantly it is filled with powerful messages which have been brought to life in a compelling manner by everyone involved. The skillful direction, a script which couldn't have been more on point and outstanding performances make this drama one of the very few dramas of its kind which remained poignant and effective throughout.
I must say that tonight's episode was so intense that it would be hard for me to pen my thoughts down. Also, I feel that no praise words can do justice to the depth and precision with which this drama has touched upon so many important issues. Although every episode of this drama has some important and impactful message but this episode was especially significant because Sila finally broke her silence and Bari Apa for the first time saw Joi for who he really was. Just like every other episode of this drama, this one too shed light on the important role a father plays in a family; a father's duty isn't only to earn for his family but his primary responsibility is to give them love and protection. Bari Apa's character shows that with great power come even greater responsibilities! She let Joi make a complete fool out of her and it was really good to see her admitting her mistake. Her dialogues, just like all the other dialogues tonight, were spectacular. They reflected her state of mind perfectly and it could easily pass as the moment we had all been waiting for.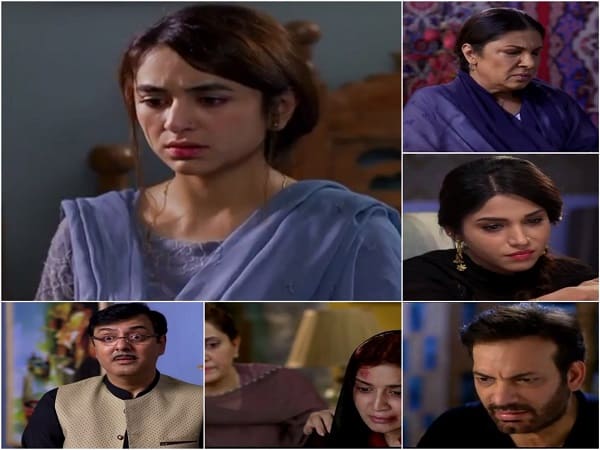 The underlying message behind Sila breaking her silence and the change that followed is the same as Udaari but the way it has been presented is far more powerful. The fact that this drama has no commercial element makes it a masterpiece. When a victim decides to stand up for herself nothing can stand in her way – what an inspiring message presented faultlessly on screen. Yumna Zaidi's honest and powerfully moving performance in this episode made her scenes unforgettable. Although Nauman Ijaz has a vast career and he has given many impressive performances but this is most certainly one of his finest performances. His expressions throughout this episode were remarkable. Saman Ansari's gripping performance in this drama has been one of the many reasons why Sadia's character was always easy to connect to.
Zaini's character has always been one of my favorites and tonight too she gave words to my feelings. Everything she said made perfect sense and I hope that there are fathers out there who are watching this show and will learn something from it. Aamna Malick's convincing performance made this character even more likeable and impactful.
Bee Gul and Kashif Nisar continue to break taboos and push boundaries, we need more people like them in the entertainment industry who know how to entertain and educate simultaneously. A special shout out to MD Productions because every now and then they continue to head plays which offer something different. Dar Si Jati Hei Sila is a must-watch for all those people who like watching thought-provoking dramas which fit the bill. (primetimetallahassee.com) This drama will not disappoint you and it will give you tons to reflect upon. I sincerely believe that dramas like this one give the victims hope and courage and they show people like Sikandar, Joi and Bari Aapa the mirror. They also play an important role in educating the masses.
The preview of the next episode was the only disappointing part of this recent episode because it gave the final twist away! Tonight's episode however couldn't have been more powerful and hard-hitting.
Do share your thoughts about this episode.