I truly appreciate the fact that the makers of the drama and the actors involved have put in a lot of hard work into this project but there are plenty of scenes in every episode which are repetitive. I don't mind watching a drama which is slow paced as long as every episode offers something new and there is no repetition. The different shades of the characters are being revealed gradually therefore I am pretty sure that the writer has a lot of surprises in store for the viewers, the drama however will be much more interesting if it picks up pace. Some of the scenes covering the family politics in this episode were stretched but the scenes covering Sila and Sadia's track and the one's showing the change in Zaini's behavior were to the point and added something new to the story.
This episode opened with Sila packing Hathim's bag and telling him to go back to the hostel because he deserved better than staying in Noor Manzil. Hathim and Sila's relationship has to be the best part of this drama because very often in dramas like this one, the victim hardly ever has someone in the family who tries to understand her and supports her. Hathim and Sila love each other and they have their own ways of showing this love for each other. Hathim wants to stay in Noor Manzil because that is the only way in which he can protect Sila and Sila wants him to leave because she wants him to stay away from all the negativity which is a part of everyday life in Noor Manzil especially for this particular family. The actor playing Hathim's role is doing complete justice to his role and Yumna Zaidi has been handling her role superbly too. These two also share amazing on screen chemistry.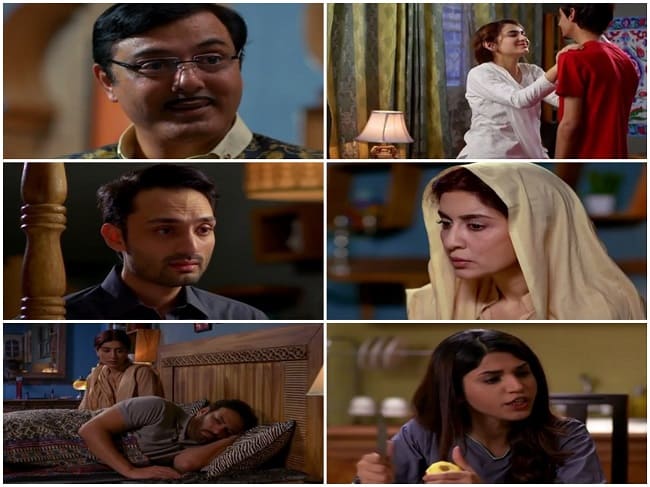 Saman Ansari's performance in this episode was just as remarkable as it has been throughout. She gives you so many reasons to feel for Sadia and you understand her helplessness completely. Unlike Sila, there is no one in the house who understands or loves Sadia. Even Sila hates her mother because she thinks that her mother has been highly irresponsible and selfish. This episode once again showed that although Sila didn't have the confidence to share her opinion in front of her father but she told her mother exactly what she thought about her every chance she got. Sila's conversation with Zaini showed the difference between these girls and it was really good to see Zaini trying to convince Sila to take a stand for herself.
Raheel's character has taken an unpredictable and interesting turn. It was good to see him taking a stand for Sila. Sikandar was shown judging his wife and daughter once again without questioning his own behavior towards them even once. Joi understands Sikandar's mindset a little too well, which is why he does whatever he can to manipulate him. The scene in which Sadia "presented" herself to Joi but he refused went to show that this was more about taking control than anything else. Nauman Ijaz has never played such a character before but he is beyond amazing as Joi. His body language, overall outlook and expressions are always faultless.
The most appealing aspect of this drama has to be the seriousness with which different issues have been highlighted and the variety of characters. There are plenty of characters who are now supporting Sila in their own ways which is a good change. The downside of the play is the emphasis on family politics and the overall pace of the show. The preview of the next episode looked really interesting, Zaini's character is turning out to be my favorite! She is an unapologetic strong girl who knows exactly what she wants and is completely capable of helping someone in need!
How many of you watched this episode? Do share your thoughts about it.