Dar Si Jati Hei Sila continues to be one of the most intelligently written plays on air at the moment. The variety of characters, impressive screenplay and realistic performances make this drama a must watch. The drama has also picked up pace and unlike before every episode offers something new. Tonight's episode focused on Bari Aapa's bizarre proposal which was readily accepted by those members of the family who thought that Sila and Joi's marriage will help further their interests in some way. Everyone's reaction was different and interesting in their own way. All these reactions were covered impressively as well.
I am glad that it wasn't a Sila against the word kind of a situation but there were plenty of people who could see just how inappropriate and unfair this decision was. The fact that the writer has told this story without any reservations and has allowed the viewers to draw conclusions from different events makes it more attractive. Raheel and Zaini once again did whatever they could to help Sila, Sadia did whatever she thought would make Joi change his mind and Tullo and Noshi supported the decision because both of them want to see Raheel and Zaini getting married. Sikandar's reaction did not come as a surprise as well since he trusts Joi and he would be happy to hand over his responsibilities to him.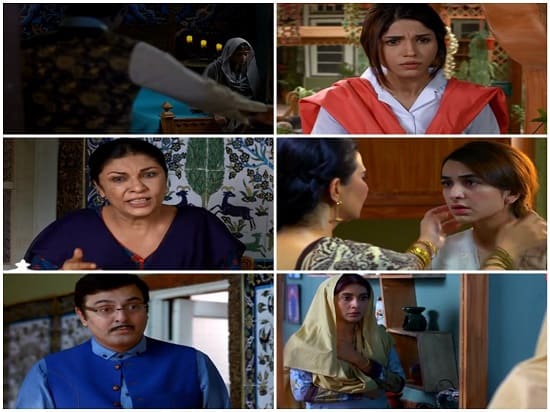 Zaini's father's character is another one which is being revealed gradually and is fast becoming my favorite since he is the only one who can see that Joi isn't as harmless as he appears to be and also someone who truly values his daughter although that is not the norm in Noor Manzil! His reaction when Noshi told him what was going on in the house was priceless. Also, when Bari Aapa told him all those lies, he chose to trust his own daughter. This went to show that how a father's trust and faith in his daughter can shape up her personality in a good way. Although everyone blames Sila for the "flaws" in her personality but no one except Zaini can see that her father is the one who is actually responsible for them. This could be because Zaini knows what it's like to have a father who loves and supports you. The only reason why Sadia and Sila are in this situation is that the man in their lives who is supposed to look after them hasn't only abandoned them but also holds them responsible for whatever goes wrong in his life.
Like every other episode of this drama, this episode too had many meaningful conversations which revealed a little bit more about the characters. Zaini feels frustrated now because she thinks that Sila is not even trying to change the situation she is in and at the same time she also feels that Sila is stronger than Raheel since she had the guts to tell her father that she did not want to get married to Raheel. While Raheel has "forgiven" Sila, his mother has not been able to do so. It was ironic how Bari Aapa made up so many stories after seeing Raheel and Zaini together but she can never tell what kind of a person Joi is even when she watches him do something which is anything but normal! Bari Aapa's "blind love" for Joi is the main reason why even those people in the house who can see that he is a twisted character decide to keep their opinion to themselves. Joi constantly devises plans to put Sadia in difficult situations and he always executes them confidently because he knows that he has the support of his Aapa!
Overall, this was another brilliant episode of Dar Si Jati Hei Sila with some exceptional performances to its credit. The director Kashif Nisar has done complete justice to Bee Gul's script and the honesty with which all the actors have translated their characters on screen clearly shows in the final product. Noor-ul-Hassan's solid performance as Saleem in this play and his brilliant performances in Aangan and Meeras have completely won me over. Nauman Ijaz, Sakina Samo, Saman Ansari, Aamna Malick, Munazzah Arif and Yumna Zaidi's performances have been faultless throughout.
The preview of the next episode was powerful. Looking forward to how the story unfolds from here on.
How many of you watched tonight's episode? Don't forget to share your thoughts about it.