Ohkay so, the production of Baber Javed, writing of Hashim Nadeem & the direction of Ali Faizan; Dhaani is a drama that is currently being aired on GEO Entertainment on Tuesdays & 5 episodes have gone on air so far. The very first impression that I had about this drama was good & now that I am done with all 5 episodes, my impression hasn't changed & I believe that it qualifies as a quality entertainment that one can tune to. The production value is good & the direction is great, the acting of all the actors is amazing & the chemistry between all the characters makes it a treat to watch.
So far, we have been introduced with 2 families & the story is pretty much going to revolve around them too. The first family happens to be of Sheikh Kaleem ud Din (Touqeer Ahmed Nasir), who has two daughters Dhaani (Madiha Imam) & Shaani. Kaleem ud din's sister Bee Jee (Azra Aftab) along with her son Raja (Mubarak Ali) also lives with them & they are a close-knit family. Bee Jee is like a mother to Dhaani & Shaani & Kaleem is like a strict father to Raja that he doesn't have. Kaleem ud Din is a man of principles, he is loyal, he is simple & he is very very conservative & that is why he has made sure that his household follows his footsteps too. Bee Jee makes sure that Dhaani & Shaani don't really do anything to upset their father but when she feels Kaleem is taking it a bit too far, she always intervenes & requests Kaleem to go easy on his daughters. Kaleem most certainly is not appeased with the way Raja is leading his life. In order to instill the sense of responsibility in Raja, Kaleem opens up a kite shop for him which Raja along with his friends takes care of. Raja may seem a bit immature but when it comes to Dhaani & Shaani, he is like an over-protective brother who is mature enough to deal with any situation that his sisters report to him.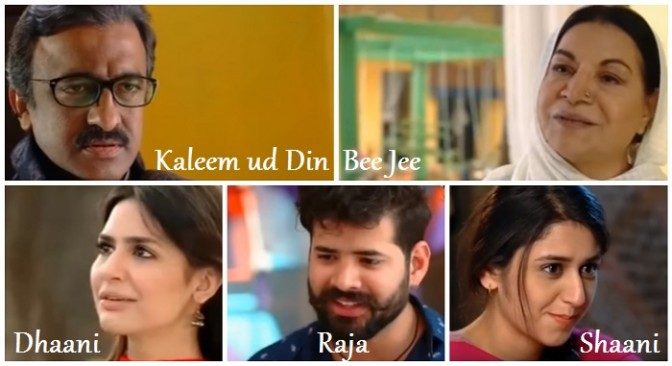 The second family that got introduced was of Rehan Seth (Asad), who is a son of a late politician who belonged to the interior part of Lahore. Rehan Seth's family includes his wife (Ayesha Sana) & his two sons Tanveer & Sameer (Sami Khan). Tanveer is married whereas Sameer is a fresh graduate from London & is a party animal. Rehan's father was a down-to-earth sort of a politician who stayed true to his people even after he won the elections & moved out of the interior Lahore, that is why even after his passing, the people of that neighborhood still respect him & his family. Rehan went abroad to study & that's when he became far more commercialized & grew indifferent to his roots that his father was way more in touch with. On the request of his friend Riyasat, Rehan decides to join the politics again & that's when he decides that he will contest from the same area that his father used to contest from, as he knows that only because of his father's name, he will be able to win the elections & he will get a massive support of the residents of that area.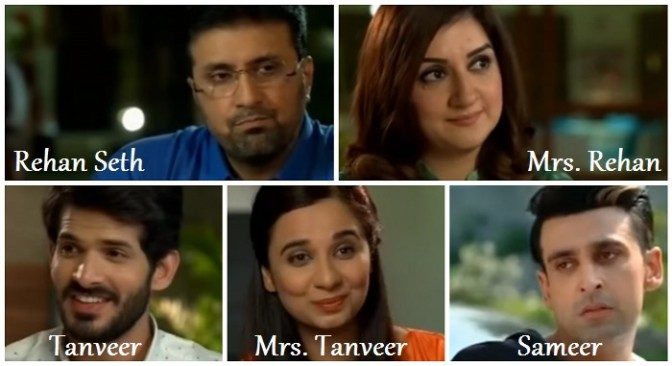 Kaleem ud Din manages the Haveli that belonges to Rehan's family & he has been doing that from the time when Rehan's father used to be alive. Rehan decides to celebrate Basant in the interior Lahore in his father's Haveli, only to form a connection with the residents of that area & to let them know that he still is in touch with his roots, which actually is nothing but just an act that he puts up. That's when Dhaani & Sameer come across each other & their track begins.
Sameer's friend Maya, who happens to be Riyasat's daughter is interested in him & even Rehan & Riyasat feel that Maya & Sameer should be together, that is why they don't mind their friendship & allow them to hang out with each other as their parents feel they need to spend time with each other in order to form an understanding. Maya seems a bit more involved in this relationship whereas Sameer doesn't take her too seriously.
On Dhaani's front, she is a care-free, happy-go-lucky sort of a girl who is actually quite content with how her life is rolling. She shares a beautiful relationship with Shaani & Raja happens to be her partner in crime. These three are like best of friends but Dhaani & Shaani still draw a line in front of Raja at times as they know that he is not only over-possessive about them but he is short-tempered too, so they most certainly don't want any more restrictions upon themselves as Kaleem has set plenty for them. On Shaani's demand, Kaleem allows them to attend the college & that's when Raja makes it his duty to keep a check on his sisters, so much so that he makes sure the cyber cafe is vacant when Shaani goes to get her notes printed & also he makes sure his friends follow their rickshaw when they go to college.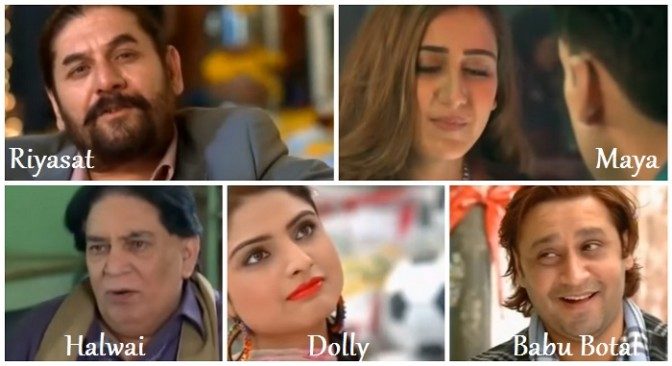 Everything in this drama was working for me & I actually really enjoyed how the story was situtational rather than being narrative, but the way the relationship between Dhaani & Sameer established & developed was something that was hard for me to digest & I most certainly believe that they could've used Basant & kite challenge as the grounds to do that too. As far as they have shown, Dhaani belongs to a very conservative background, so I didn't really understand how she took 'peena pilana' so lightly that she went ahead with the bet initiated by Sameer as something that will restore her name & status. I know the writer was trying to make things different but I most certainly don't agree with how in the name of comedy, questionable things are rubbed on our faces where Sameer challenged Dhaani to have a 'drinking' session with her & she went ahead with it, whereas in normal situations, girls from such backgrounds wouldn't even dare sharing a conversation with such guys who so openly talk about drinking & drink right in front of them too! Yes, it would've looked far more justified if Dhaani belonged to an elite class because that thing wouldn't have been such a big deal for her but to see a girl from such a humble background being totally cool with the idea of peena pilana was a bit hard to absorb. Anyways, this was the only thing that I most certainly didn't enjoy & I am glad that it lasted for a very few scenes & I wish they subside the 'drinking' habits of Sameer because it will still feel a little out of the place if a girl like Dhaani will ignore these habits of Sameer & fall for him. I still believe they could've used Basant & the kite challenge as a reason for establishing a relationship between Dhaani & Sameer, but sadly, it was an opportunity wasted.
Sameer has developed an interest in Dhaani only because he finds her different & also because she happens to be different from those girls who drool over him. Dhaani only took his bet seriously & there were no strings attached from her side, but looks like Sameer is going to pester her till he will have a conversation or two with her. There are a few side characters too like Babu Botal (Kamran Mujahid) who supplies alcohol in the area & he is someone Kaleem loathes the most. Then we have Halwai whose daughter is Dolly. Dolly is interested in Raja & Raja is now trying hard to get away from her.
Overall, I really really liked the first 5 episodes of this drama & I thoroughly enjoyed watching them. There are a lot of great things about Dhaani but the best one for me is the relationship that Dhaani, Shaani & Raja share. Even though all three of them belong to conservative background, but they live their life to the fullest. I actually really like how things have evolved situationally & that keeps the entire journey a lot more light-hearted & interesting. I definitely like the comic dimension that the script has & that is something which earns extra points from my side. All the actors have done a fab job but Madiha Imam along with the actor playing the role of Raja take the crown. Madiha Imam impressed me with her acting in her debut project & she has grown so much as an actor. She really has done justice to this character & has carried the entire drama on her shoulders. I actually enjoy watching the scenes of Raja the most & I feel that is only because of the actor who has played that character to perfection, so much so that he not only has adapted that body language but even his accent is on-point. Touqeer Nasir & Azra Aftab add so much intensity & warmth in their scenes & that's only because of their experience which speaks for itself. Sami Khan on the other hand looks comfortable for the first time, even though he is used to playing the roles that are quite opposite to what Sameer is like. I will however say that in the beginning the entire scenario of Dhaani did remind me of Preet Na Kariyo Koi because the similarities were quite evident, like interior Lahore, a close-knit joint family, girls not having a mother & a guy not having a father, a little touch of politics & an entire scenario being dedicated to the festival Basant & then the focus on kites in general. The way the life of interior Lahore was highlighted was what I loved about Preet Na Kariyo Koi the most & similarly, this is what I loved the most about Dhaani too. The director has done a flawless job & he actually has done justice to the energy & the vibrancy that Lahore offers by capturing it aptly. I am definitely looking forward to what is yet to come & if you're following this drama, please share your thoughts about the first 5 episodes of Dhaani.
Keep Supporting,
Cheers,
Zahra Mirza.