This was another interesting episode of Dil Banjara which had quite a few important developments to its credit. So far Dil Banjara has given its viewers some interesting characters and the best thing about this drama is that all the characters get plenty of screen time in every episode. None of the characters is "forgotten" which is why in all these weeks all of these characters have been well-established and I am equally interested in all the tracks at this point. The opening scene of this episode however was the weakest one tonight because of the camera shots and also because of the weak dialogue delivery by both the actors involved. Also, apart from voicing her insecurities in one of the conversations with Sikandar, Shama is being too naive especially for someone who is supposed to be an intelligent and observant person. Why can't she tell that Sikandar isn't excited about this wedding even though he says that his life is incomplete without her! Shama's mother too is an independent and smart woman who somehow decided it was okay for her to force this marriage on Sikandar. The way these scenes have been shown imply that Sikandar makes it quite obvious that he is not interested in this wedding yet both these women choose to ignore it. Although Sikandar is quite selfish but somehow I find his character and his habit of putting himself before everything else and escaping difficult situations quite interesting! I am wondering if Sikandar is once again trying to escape this situation by "fleeing the country"!!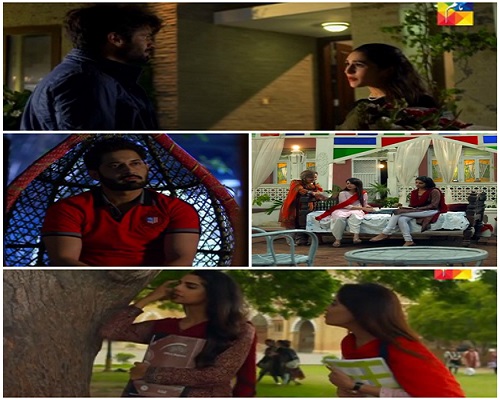 It was good watching Sikandar and Nida trying their best to move on but finding it hard to do so. My favorite scenes in tonight's episode were the ones in which Nida gives Zahra the gift and Faseeha's remarks about Zahra's state of mind! The way this attention that Zahra is getting from someone who did not have the courage to take a stand for her once has changed her says a lot about her character. Zahra's conversation with also highlighted her frame of mind. Faseeha's character and her scenes are always on point. They make you laugh and fall in love with her character even more! Hina Bayat is absolutely brilliant as Faseeha. Zaman's track took a new turn which wasn't very alarming since his conversation with his mother in one of the previous episodes did suggest that he might be married. Although Nida's friend told her about Zaman's secret marriage yet the preview of the next episode suggested that Nida might go along with this wedding after all. After Zaman's recent demand, there is no reason why Nida's Taya and father would still be willing to get her married to someone who is not only spoiled but also greedy therefore I am wondering what turn this track will take.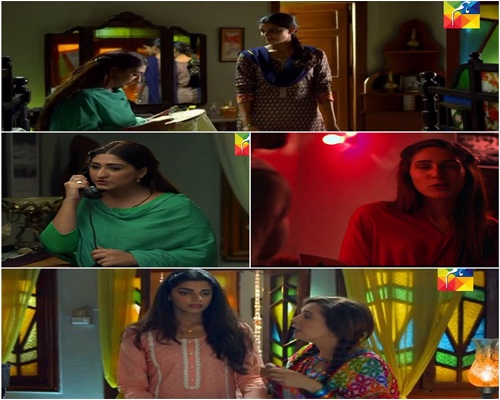 After giving a relatively more stable performance in the past few weeks, Adnan Malik's performance was yet again slightly shaky but he somehow fits in this role and isn't annoying me just yet! Overall, Dil Banjara's story is simple but I do feel that its characters add more life to the story. Also, unlike many other much hyped plays of recent times there have been no continuity or editing bloopers in the play. The fact that I am just as interested in Zahra's track as I am in Nida's and I actually look forward to Faseeha's scenes goes to prove that these characters have been beautifully etched-out and their stories have been presented well on screen. Also, at this point it is difficult to tell what turn the story will take next.
How many of you watched this latest episode? Don't forget to share your thoughts about it.