This episode had quite a few developments to its credit some of which were quite clichéd and had done-to-death written all over them but all of them were shown in a convincing manner. I also hope that we are ultimately being led to a climax which will be worth the wait! Nida's Taya abu wants this marriage to take place at any cost and watching him going the extra mile to please phupo was nerve-racking. The viewers also found out the shocking truth; phupo knows about Zaman's not-so-secret nikkah. Zaman also shared his "grand plans" with his mother and honestly speaking this track reminded me of Safeer and his mother's track in Bin Roye mainly because of the fact that Zaman's mother wants to get her son married to Nida so desperately that she is willing to cheat her close family in the worst way possible in order to have a bahu of her choice. Also, Zaman will only get the haveli if he gets married to Nida. The overall scenario of course is different because Nida already knows that Zaman is married but even then she is willing to go ahead with this marriage because she would much rather suffer herself than to make her family suffer. Nida's character has turned into a complete Allah mian ki gaye. While you completely understand why she was unable to share the truth with her father, it is difficult watching a girl ruin her life like this. Nida's father's majazi khuda, koi bhi faisla le sakte hei dialogues were quite disappointing because he was shown as a person with a thinking quite different from the typical mindset.
Rida and Zaman's scene showed that he was not going to tell her about the wedding. Zaman's character is turning into one of those black characters which are introduced in the story only to add a major twist and they don't have much going for them. There were times when phupo felt guilty about what she was doing but it looked liked she was majboor because she did not want to let her son down. Taya Abu was majboor because of other reasons therefore this whole affair finally got this far because of all these majbooris.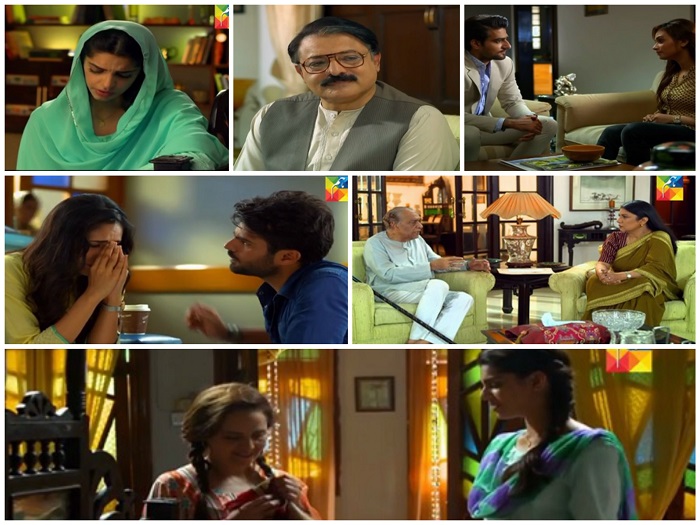 The reason behind Mehtab aunty's heart attack had to be one of the most clichéd part of this episode. She was introduced as a strong woman who actually raised someone's son and her own daughter all on her own but now even after being sure that Sikandar isn't even sure whether he should marry Shama or not she wants this marriage to take place like he is the last man on earth! Sure Shama would be heart broken if she found out Sikandar never really loved her like that but then getting her married to someone who does not even feel that way about her isn't really a wise thing to do. Watching someone like Mehtab forcing her daughter to marry Sikandar was definitely not the best part of this episode. After hearing the conversation between Shama and her mother, Sikandar decided to delay or perhaps cancel his trip. This particular scene in which he was shown listening to their conversation was the weakest scene of this episode in terms of direction. He was standing in the middle of a half-open door for the longest time yet no one noticed he was there! Nida's scene with her mother was the only one in this episode which I truly enjoyed watching. Watching Nida think about how she felt about this entire situation would have helped the viewers relate to her character.
The preview of the next episode gave me hope that Sharmeen might tell Nida's father and this marriage may not take place. Looking forward to Nida's father taking a stand for his daughter in the upcoming episodes.
How many of you watched this latest development? Do share your thoughts about it.