January the first month of the new year 2017 has already started and with respect to the Urdu cinema so far it is a mild month. Only one Urdu film is releasing in this month which is not an encouraging sign for the already struggling cinema industry. The one film also lacks the star power as it features all new faces in its credits whether its actors, director, writer or musician.
Lets look at the only Urdu film releasing in January 2017
Thora Jee Le (تھوڑا جی لے)
Thora Jee Le is releasing on 20th January 2017. The film is produced by the widely respected and acclaimed television host, social activist and politician from Sindh Ms. Mehtab Akbar Rashdi. As per the producer it is the story of youth of the current age and they can easily connect to this film.
The sons of Ms. Mehtab Akbar Rashdi, Rafay Rashdi and Suhaib Rashdi are the leading names behind Thora Jee Le. Rafay Rashdi is the writer & director while Suhaib Rashdi is the music composer of this film.
Almost the entire cast of this film is making their big screen debut though some have worked earlier in modelling and television dramas.
Rizwan Ali Jaffri the main male protagonist is a famous model who occasionally acted as well as sung few tracks. Bilal Abbas Khan is also playing an important role in this film, who also worked in few television dramas before like Sayae Deewar Bhi Nahin on Hum Tv. Salman Faisal is the son of television artist Saba Faisal and brother of Saadia Faisal and Arsalan Faisal.
The female leads Ramsha Khan and Fatima Shah Jilani and relatively unfamiliar faces.
The film is shot entirely in the Sindh province in the cities of Karachi and Larkana.
Film: Thora Jee Le (تھوڑا جی لے)
Release Date: 20 January 2017
Genre: Coming of Age / Comedy / Drama
Starring: Rizwan Ali Jaffri,Bilal Abbas,Kasim Khan,Fatima Shah Jillani,Ramsha Khan,Salman Faisal,Ahsan Mohsin Ikram
Studio: 1NFLUENCE
Music & Score: Suhaib Rashdi
Executive Producer: Mahtab Akbar Rashdi
Screenplay by, Written & Directed By: Rafay Rashdi
Distributor: Hum Films/ Eveready Films
Website: http://www.thorajeele.com/
Facebook: https://www.facebook.com/thorajeele
Youtube: https://www.youtube.com/channel/UCkK68HvpV2TPyRJqPHH53ig/videos
Plot outline
A story about self discovery, dosti, tafreeh, jigri & yaari between friends, who venture on a journey of a lifetime, only to discover that, Kismet has different plans. For all of them.
Live a little – Thora Jee Le –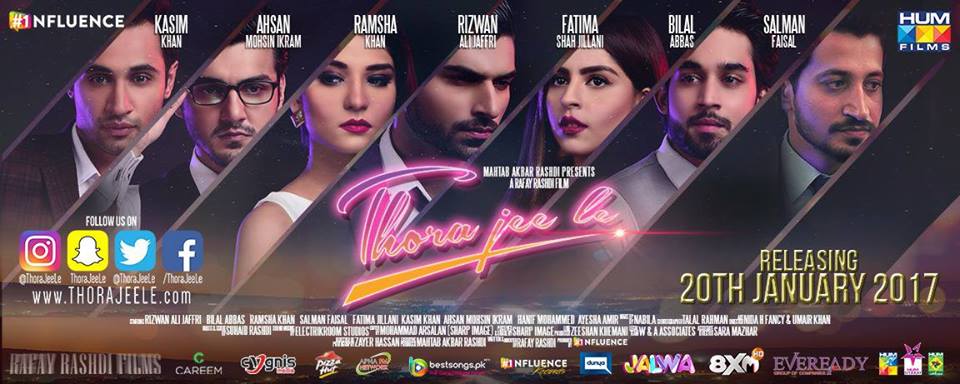 So it sums up the details of the only film releasing in January 2017.
Thanks for reading and keep supporting Pakistani cinema.
Rashid Nazir Ali